An adult golden eagle was spotted by Allan Keith as it flew over Sheriff's Meadow Sanctuary on Jan. 13, heading toward Oak Bluffs. That small property in downtown Edgartown has been in this column a lot this past year, as it has hosted a wide variety of unusual birds including common mergansers and common nighthawks — neither of which are common, despite their name — and now this. Golden eagles are exceedingly uncommon on the Vineyard and they are not easy to identify. Bald eagles are their close cousins which have been seen regularly in recent years and there were at least four of them here in mid-December.
Even more spectacular might be Tony Lima's photographs of a small grayish bird that by body shape is clearly a flycatcher. The only flycatcher that we can expect to see at this time of the year is the eastern phoebe, but this bird has two distinct wing bars and a distinct eye-ring. The phoebe does not show either of these field marks. The bird was seen and photographed on Jan. 9 at the John Presbury Norton Farm (at the intersection of State Road and Old County Road). The photographs may facilitate the identification of this bird, but these small flycatchers are incredibly difficult to identify without hearing their vocalizations. Unfortunately, they tend not to vocalize at this time of the year, and it has not been seen again.
Bird Sightings
Sharon Simonin saw the flock of at least 21 turkey vultures as they were soaring low over William street early in the morning of Jan. 13. These birds roost in downtown Vineyard Haven. That they are flying so early in the morning is testament to how warm it was, since to get airborne they generally need warm air rising from the ground.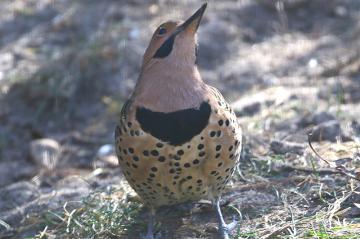 Slough Cove can be a great place for birds. The trio of Luanne Johnson, Margaret Curtin and Nancy Weaver spotted a greater yellowlegs and a common merganser there on Jan. 12. They also spotted the more expected double-crested cormorant, field sparrow and yellow-rumped warbler.
On Jan. 12 I spotted three northern pintails. There were two males at Chilmark Pond and one female on small pond at the state forest headquarters. Also at the state forest pond were four male, green-winged teal.
A northern harrier was spotted by Danguole Budris at Lucy Vincent Beach on Jan. 10. She also observed a hooded merganser on the pond, while she found eiders, scoters, and red-breasted mergansers at Menemsha.
Tony Lima spotted an eastern meadowlark at Trade Winds Field Preserve in Oak Bluffs on Jan. 9. This species used to be common across the Vineyard.
Marquisandro Robadel spotted a great blue heron that appeared to be hiding while standing in shallow water under a dock on Jan. 11. The gray of its plumage could have easily been overlooked in the dock's dark shadows. Great blue herons have also been seen by Lisa Maxfield at Brush Pond on Jan. 8 and Sharon Simonin at Farm Pond on Jan. 4. Wayne Smith observed an adult sharp-shinned hawk on Jan. 8. I have mentioned avian history for a few species in this column, so here goes again. How many of you remember when sharpies were more common than their near look-a-like cousins, the Cooper's hawks?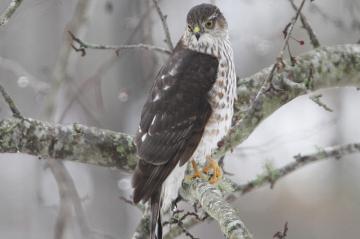 A winter wren and a hermit thrush are the highlights of Bob Shriber's birding in Aquinnah on Jan. 7.
New to my feeder in the past week are a flock of 19 mourning doves and a catbird. The catbird was first observed as it was gorging itself on inkberry berries in my front yard.
Last but not least, a number of people have asked where the snowy owls are. My answer is that apparently they are not here this winter. The only sighting I know of was a single bird on Norton Point back on Dec. 8. This here-one-day-but-gone-the-next is more typical of how we saw them before the winter of 2013-14. That winter we had what must be a record 25 snowies on the Island! That was the first year of their invasion, as there have been at least three or four present for several months every year since then. Have they now returned to their normal, pre-2013, rarity?
Please report your sightings to birds@mvgazette.com.
Robert Culbert is an ecological consultant with Nature Watch LLC living in Vineyard Haven.