Last week's column mentioned Allan Keith's unexpected sighting of a golden eagle at Sheriff's Meadow Sanctuary. And this week there is another highly unusual sighting, an immature greater white-fronted goose. According to Allan Keith, this is only the seventh sighting of this latter species on the Vineyard in the past 100 years.
This unusual goose was first observed, identified and photographed by Jeff Bernier on Jan. 17. It was about half the size of the Canada geese it was with, and stood out due to its overall brownish-gray coloration. Gus Ben David confirmed the identification from the photographs, and Marshall Illff (eBird) adds that the dark tip of the bill tells us this is an immature as the adults have pale tips to their bill. Jeremiah Trimble of Harvard University, and Wayne Petersen of MassAudubon also confirm the identification. Lanny McDowell found the bird again on Jan. 19, but neither Bob Shriber nor I could find it the next day, even though we looked carefully at more than 500 geese.
Jeff Bernier also photographed a small flock of green-winged teal in the small pond near Morning Glory Farm on Jan. 16. Matt Pelikan was the first to notice that one of the males in the photos was the Eurasian subspecies of these small ducks. A horizontal white stripe on its side distinguishes this less common subspecies from the more commonly observed American green-winged teal, which has a vertical white stripe in front of wing. The Eurasian subspecies is observed on the Island every few years.
Bird Sightings
Jeff Peters was in the right place at the right time to observe a short-eared owl as it flew across the road from the State Beach dunes to the salt marshes at the Edgartown end of the beach. These owls used to be common here, but now they are quite unusual.
Other birds are lingering into the winter. There are at least three male Baltimore orioles on the Island as Mary Beth Baptiste has had one visiting her West Tisbury feeders all week. Mary Austin has had one visiting her feeder for a couple of weeks, and Stephanie Elliott reports seeing one at her Vineyard Haven feeders on Jan. 16. The splash of yellow is always appreciated — they will not get their orange and black finery until April or May.
On Jan. 19, Bob Shriber and Lanny McDowell found a flock of four pine warblers along the edge of a Katama field and they watched as one of them found and consumed a bright green grasshopper that was not concealed well enough in the leaf litter. These warblers are showing up in a variety of places with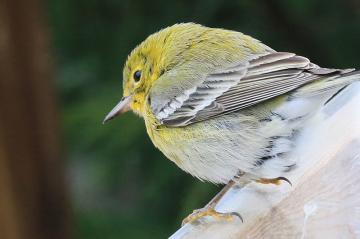 the recent cold weather. Sue Shea had a flock of four visiting her suet feeders on Jan. 18, while Kevin Nydam had at least six of them at his feeder on Jan. 19. Warren Gossen even recorded one singing near Allen Farm that same day.
Penny Uhlendorf and Scott Stephens have "had the pleasure of seeing a yellow-breasted chat feeding on privet berries in a thicket off Lambert's Cove Road, along with a Hermit Thrush and a Catbird" on Jan. 14 and 15. Adding to the scene was a yellow-bellied sapsucker on a nearby tree.
Both species linger into and even through the winter, although they may head further south if the weather gets too cold and snowy.
The Gay Head cliffs are still a good place to visit to see ocean-loving species. Allan Keith observed a common murre near a small flock of razorbills about 250 yards offshore on Jan. 13. He also found a red-necked grebe and a couple of northern gannets. On Jan. 18 Eric Schultz visited there and found 12 razorbills, 80 great cormorants, six harlequin ducks, all three species of scoters, common eiders, long-tailed duck, horned grebe and both loons.
Allan Keith also reports that a gadwall and all three species of mergansers can still be found at Sheriff's Meadow Sanctuary. Nelson Smith reports snow buntings at the Farm Institute on Jan. 17. Hatsy Potter reports a flock of 10 to 12 snow buntings on Chappaquiddick, all busily feeding on seeds in the narrow grassy strip between the parking lot and the ferry line. She points out that they fly up frequently when cars go by, but they usually return. Eric Schultz also saw them there on Jan. 17. Mike Ditchfield has twice seen a winter wren in his yard. He had never seen one there before, so it was a nice surprise.
At long last the diving ducks are starting to show up. On Jan. 18 on Lagoon Pond, Luanne Johnson spotted 17 greater scaup and 14 common goldeneye. I observed a flock of 40 of each species near Sarson's Island on Jan. 19. These two species are often the last ducks to head south to escape from northern lakes that freeze over.
Nancy Weaver spotted a flock of at least 18 turkey vultures sunning themselves on a roof near Lake Tashmoo on Jan. 15. They roost every night in some evergreens in downtown Vineyard Haven.
Finally, Danguole Budris had a Carolina wren trapped between a screen and a storm door. She let it go as soon as she discovered it on Jan 15. These wrens have not stopped singing since last summer. Tami Dinkel heard one singing its "rather loud (but pleasant) song" on Jan. 14. And I regularly hear the three pairs in my neighborhood, although they do not sing through the day as they do in warmer weather.
The first north-bound migrants will show up soon! Please report your sightings to birds@mvgazette.com.
Robert Culbert is an ecological consultant with Nature Watch LLC living in Vineyard Haven.