Oak Bluffs selectmen held a forum Wednesday night to introduce two energy-efficient design plans for the Oak Bluffs town hall renovation project.
Ned Collier and Stephen Moore of Icon Architects presented the three-story designs which both have identical interiors, including a large board room and conference room on the ground-level floor. The second and third levels are equipped with large offices for each town official. The two proposed designs also have an elevator that will service all three floors.
The major difference in the two designs, which Mr. Collier said were modeled to fit the character of the architecture in Oak Bluffs, is the roof and the potential for installing solar panels. A flat roof would provide 5,600 square feet of space to install solar panels that could generate about 38,000 kilowatt hours of energy per year. A pitched roof would provide 3,700 square feet of roof area that could produce around 27,000 kilowatt hours of energy per year.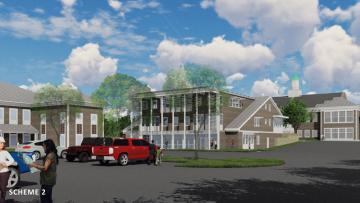 Oak Bluffs voters had previously approved a $9.8 million proposal to build a new town hall at town meeting in November of 2017. However, the project was rejected by voters a few days later at a special town meeting after bids came in that were more than $1 million above the previously allocated amount for the project.
The price estimates for the current renovation designs are close to $11 million, Mr. Collier said. He also reminded the attendees that "every year that goes by, costs are increasing."
Town administrator Robert Whritenour pointed out that the designs reflect a more user friendly building for the public.
"The biggest improvement to this building is how the local residents use it," he said. "It's so dysfunctional now, it just plain doesn't work for folks. With this design, when you enter the front, you can see where every department is, each office is labeled, you've got the whole financial and administrative suite clustered together on the first level. And directly above it, directly visible from the front entrance, is all of your building and permitting oriented agencies."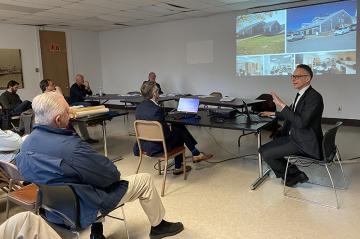 Oak Bluffs selectmen will hold two additional public information forums and then factor the public's opinion into alterations to the designs before town meeting in April.
"Tell your friends and bring them, we want everybody to come through to see the presentation," Mr. Whritenour said. "We're at the point now where we're trying to introduce the community to this type of concept and having the construction manager on board so we can guarantee the price."