As coronavirus numbers continue to skyrocket statewide, Vineyarders are bracing for the pandemic spread on Island. The Vineyard confirmed a third positive Covid-19 test in Dukes County Saturday.
Tisbury health agent Maura Valley confirmed the case, but was unable to provide further details.
Statewide, confirmed cases of the virus continue to rise. On Sunday the Massachusetts Department of Public Health reported 698 new cases for a total of 4,955. There were four new deaths, bringing the total to 48.
Confirmed cases for Nantucket and Dukes counties now total eight.
The Nantucket Cottage Hospital is reporting daily on the number of confirmed cases on its website.
The Martha's Vineyard Hospital does daily briefings by email but not on the weekends, leaving gaps in available information about the number of cases for Martha's Vineyard as the pandemic emergency unfolds.
Edgartown health agent Matt Poole, who is also a member of the Chilmark board of health, said Saturday that the numbers for confirmed cases are tallied daily for the Vineyard by the Island boards of health. But he said the numbers don't always show the whole picture.
"The boards of health are always investigating new possible cases and point of contact information that may not reflect the DPH numbers," Mr. Poole said.
WIth a stay-at-home order in effect Islandwide, the Vineyard was blanketed in quiet through the weekend, with rain and wind moving in on Sunday, adding to the shuttered mood.
Gov. Charlie Baker announced Friday morning that the state would be instructing all travelers to the commonwealth, regardless of their health and symptoms, to self-quarantine for 14 days.
Governor Baker said New York has seen a surge in cases, and urged any traveler with symptoms to avoid coming to the state.
Travelers coming to the state would be given information flyers at major transportation hubs like Logan Airport and South Station, as well as on turnpike and roadside message boards, he said.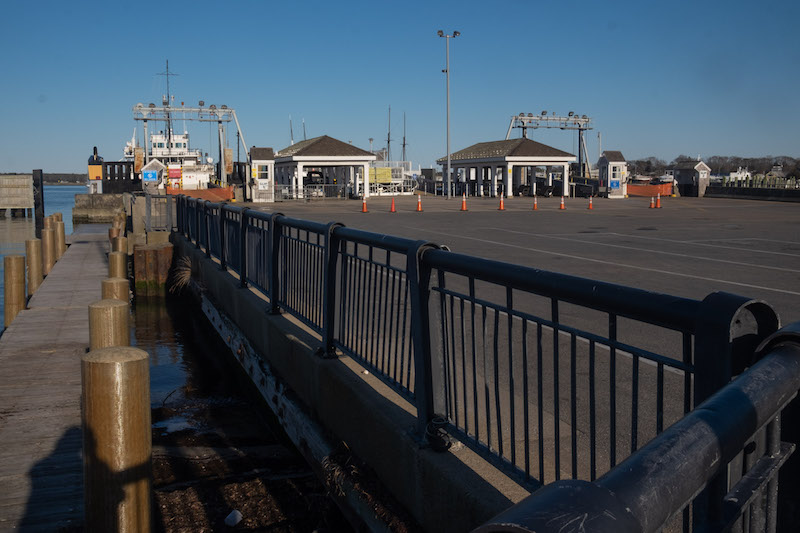 Transportation workers, public safety officials and health care professionals are exempt from the requirement.
Questioned about enforcement, Governor Baker said there would not be a penalty. "I would call it at this point instruction and advisory," he said. "There is no enforcement mechanism."
Over the weekend there was still no official word back from Governor Baker after all six Island towns and Nantucket delivered a letter protesting a statement from the governor's office that they had exceeded their authority by enacting construction bans.
Town officials are asking residents to honor the construction ban pending a resolution of the issue with the state.