On Katama Bay, oyster farmers are still working, tending their mesh cages. But due to dramatically depressed demand, most oysters maturing this spring will not be harvested.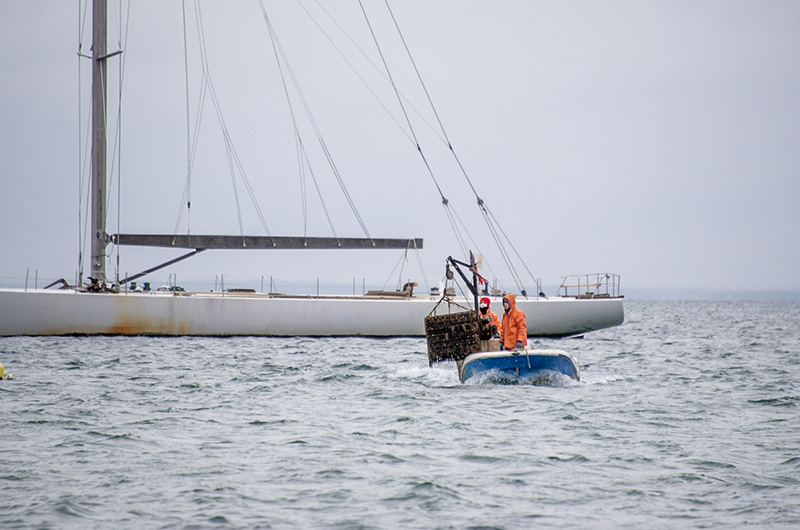 The coronavirus pandemic has disrupted every corner of the agricultural and seafood industries. But the oyster farm industry occupies its own unique corner in the emergency. Without a viable market, oysters that were seeded last year and just now reaching maturity will soon grow past their prime size for retail sale. With restaurants closed, weddings canceled and summer gatherings on hold, the oysters will have to be sold to a cannery for a fraction of the price — or discarded back into the sea.
Further complicating the process, mature oysters need to be sold to clear space for fresh seed, which can take up to 18 months to reach maturity. Without a crop in progress, losses this season could stretch out even longer.
Scott Castro runs the Blue Moon Oyster farm in Katama bay. He said sales usually ramp up around this time of the year. But he has not sold a single oyster since March 10.
"Everything just came to a screeching halt pretty much overnight," he said. "It is a complete stoppage of the whole chain, top to bottom. It's a chain reaction. Normally I would be selling a large load once a week to a wholesaler. That's not happening. So I don't have the empty cages to plant the small ones."
Dan Martino, who co-owns Cottage City Oysters in Oak Bluffs, had similar remarks.
"What hasn't changed is the fact that we still have millions of baby oysters coming in for the year. We still ordered seed and it's still coming," he said. "What has changed is that demand has dropped to zero. The longer we sit on them, the bigger they are going to get, and the less valuable they will become."
The disruption comes just as the relatively young oyster farm fishery had begun to take off. In the past decade the industry has grown from $5 million to $28 million, making it the third most profitable fishery in the state, according to the state Division of Marine Fisheries.
On Martha's Vineyard, the growth of the industry is evidenced by the oyster rafts that dot the tidal saltwater bays and ponds from Katama to Menemsha. Farmed oysters have become a staple in the local seafood market, with festivals and other celebrations held in spring and fall. Once a quaint vocation for a handful of Island fishermen, farmed oysters are now a multi-million dollar industry that provides a solid living for dozens of families.
The market has grown in tandem with increasing demand from restaurants, banquets and weddings. Oyster farmers said as much as 95 per cent of their business is dependent on these local markets — all of which have dried up since the state of emergency was declared.
Ryan Smith of Signature Oysters is a grower in Katama. Two days before restaurants were ordered to close, he had delivered 6,000 oysters to a wholesale distributor in Boston. On March 16, the wholesaler called to say the oysters would not sell. That night he drove back to Boston, returning to the Island with 4,000 oysters. The rest that had been shipped to restaurants were dumped, he said. Under contract with his distributor, he swallowed the loss.
Now Mr. Smith, like many other oyster farmers, is unsure what the future will bring. He said he is sitting on 800,000 oysters that are ready for market, growing larger and less valuable by the day.
"Unfortunately, I'll probably have to throw them out or just give them away," he said.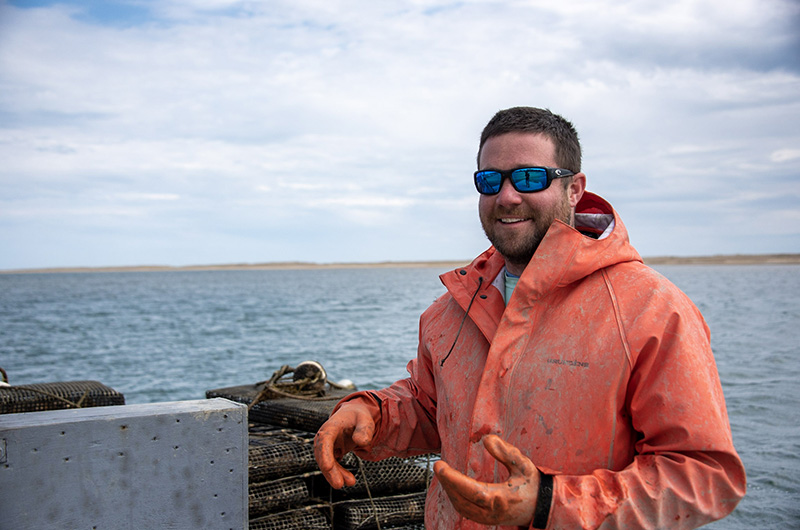 A few Island growers are adapting. Mr. Martino has been harvesting and delivering directly to customers, under a special license he holds as a home sale dealer. He also is trying to secure a permit that will allow him to sell oysters at open air markets. He said the process is unfamiliar, as he usually relies on bulk sales.
"Necessity breeds creativity," Mr. Martino said. "We are still moving product, just not at the rate of restaurants . . . It's not ideal, but we need to start building up different markets."
Many farmers also said they are cautiously counting on the $2 trillion federal stimulus package which set aside $300 million in aid to the fishing industry, including oyster farmers.
Others said they have been unable to secure retail licenses, which require hours of training and pricey fees to meet federal safety standards.
Jeremy Scheffer, who owns Spear Point Oysters in Menemsha, has both a wholesale and a retail permit, and is working on a plan to retool his operation too. Speaking to the Gazette by phone with the sound of seagulls and the tinkering of oyster cages in the background, he said he was still on the water, preparing his gear amid all the uncertainty.
"I'm just trying to stay busy," Mr. Scheffer said. "I don't know what to expect, or what to be ready for."