Building and landscaping projects stuttered back into gear for the first time in more than a month, as one and two-person crews returned to work under strict health and safety guidelines approved by all six Island towns.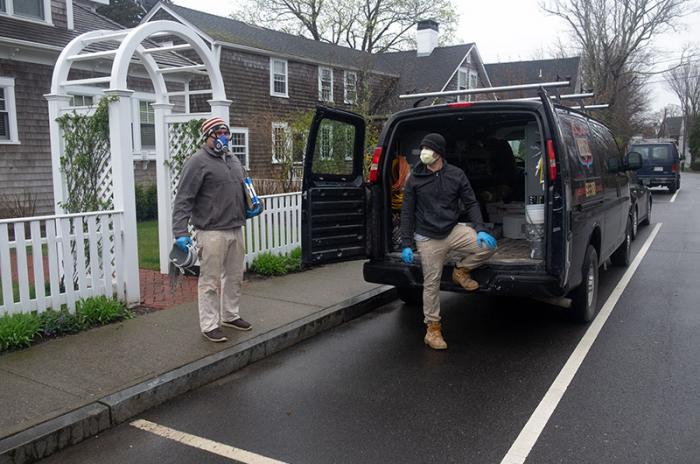 Across the Island, construction workers and other tradesmen were taking steps Monday to comply with the phase one guidelines, designed to allow work to resume on a limited basis. Lumber yards and building supply stores reopened, providing everything from construction material to porta-potties. And building inspectors and town health agents were busy monitoring the sites and authorizing work to continue.
In Edgartown, building inspector Reade Milne said 50 construction sites were inspected and almost all were authorized. In Vineyard Haven, building inspector Ross Seavey said 35 sites were inspected and only one was not approved. And in West Tisbury, health agent Omar Johnson said he inspected five sites, two of which he said were not initially authorized, adding that the town building inspector handled the bulk of inspections.
"We found that most people were complying with all requirements; any issues were pretty minor," Mr. Seavey said. "Out of about 150 to 200 permits that are open . . . I would expect all or most will be up and running by the end of the week. Even some of the really big projects that generally have huge crews, even they are opening back up."
The new guidelines contain detailed protocols for hygiene and social distancing. Measures include disinfecting shared surfaces, monitoring the health of workers and providing access to a hand-washing station. Though all types of job sites, like landscaping and carpentry, must observe certain practices, the guidelines contain more rigid protocols for those specifically working on construction sites. Only construction sites must be authorized by a town official before work can continue.
On Monday, health agents and building inspectors received a mixed response from general contractors and laborers. They said many were enthusiastic about returning to work. But they also acknowledged the frustrations of the limited scope of work permitted under the new guidelines.
"It is running a lot more effectively than we were expecting," said Edgartown health agent Matt Poole. "This is just the first step in this process. It's a building block to get more workers on more complex sites."
Dan Strem is a self-employed stone mason. Earlier in the year he was contracted to lay a brick veneer as one part of a large renovation on High street in Edgartown. For the last six weeks, he said his bricks and tools sat on a pallet on the lawn. Following authorization from the town health agent, he said he was the first crew allowed to return to work on the site.
"I'm glad to be back, but we're not going to be getting a lot done, that's for sure," said Mr. Strem, setting a brick into the wet cement siding. "Usually the framers would be here, a couple of carpenters, a plumber banging down in the cellar. Now it's just me . . . It's a pretty big job. This is just a piece. I'm really just trying to get it done so the carpenters can get in and do their bit."
Though many understood the hygiene protocols, laborers and contractors said they felt hamstrung by limiting a site to only one and two-person crews. They said that the limitations will likely delay deadlines and some larger projects will need to be postponed entirely.
"What construction?" said Jay Guest, a general contractor and tradesman, sitting in his truck near a job site in Oak Bluffs. "It takes ten to 12 people to build a house. Now only two can work. With all the precautionary measures, is it even worth going back to work?"
He continued: "Everybody is scrambled. Work is bottlenecked. Everything is going in slow motion."
Tom McDonald of Waterfront Builders was at Cottle's Lumberyard in Edgartown on Monday. The general contractor for four construction sites on the Island, he said he was not yet ready to buy construction materials. Instead, he was in the process of preparing his sites to be inspected.
"We have to buy sinks, washdown stations, posters. It's costing a lot of money out of our pocket," he said. "It's going to take the week, at least a few days to get back into it."
Mr. McDonald also said he faced a challenge in fairly balancing the shifts on each of his construction sites.
"Who gets to work? The people who show up first?" he said. "Hopefully phase one phases out pretty quick."
Some workers said they had been discreetly working on projects through the six-week moratorium. Most asked not to be identified for fear of repercussions.
"Sure," said a man who identified himself as B the Painter, winking behind a dust mask. "First day back."
For their part, health and building inspectors reminded workers that the guidelines are not punitive, but part of a larger public health plan to safely transition the workforce back into gear once the coronavirus threat subsides.
"The frustrations that they bear are just something that has to be accepted and dealt with at this point because there is something much more important on the line — safety," said Mr. Johnson in West Tisbury. "We are protecting the health of the community . . . and working hard to allow them back to work."
This week, Mr. Poole said he is focused on ensuring compliance and authorizing work sites to continue operation. In the coming weeks, he said workers can expect more frequent drop-ins to make sure the guidelines continue to be followed. He said he and other health agents will begin monitoring landscapers and other trades which do not need town authorization, to ensure those sites are meeting requirements as well.
Meanwhile, suppliers are stepping up on volume to meet an uncertain demand.
Maciel and Sons Inc., which provides porta-potties and hand-washing stations now mandatory under the new guidelines, has been inundated with orders from contractors. Employee Lisa Williston said the company has been working with the boards of health to ensure they can stay on top of increasing demand. She said the company is currently in good supply, and expecting additional shipments next month.
Cottle's in Edgartown began preparing inventory on Thursday last week, anticipating a rush. But owner Ed Cottle said sales of lumber and other construction materials on Monday were slower than expected. With only two-person crews allowed on site, he said it was likely because the larger jobs are on hold.
"We're busy, but not back to normal," he said. "We don't expect it to be normal for awhile."