The sound of blaring sirens and horns echoed from Edgartown to Vineyard Haven Tuesday afternoon as a long line of police, fire and rescue vehicles wound through the mostly empty streets. But this was no emergency — it was parade to pay tribute to medical professionals, grocery store workers and other essential workers on the front lines of the pandemic.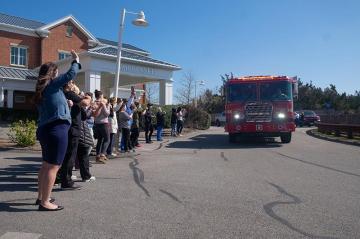 There were smiling faces and waving neighbors as the procession left the Edgartown School, led by cruisers from all six police departments.
The cruisers were followed by fire engines, a Coast Guard truck towing steel rescue vessel, vehicles from the Dukes County sheriff's department and state police cruisers from the Oak Bluffs barracks.
"We wanted to show our appreciation for all they have gone through," Aquinnah police chief Randhi Belain, who organized the parade, told the Gazette Monday. "They are essential workers in this pandemic."
The procession traveled up the Edgartown-Vineyard Haven Road, passing Martha's Vineyard Community Services office to honor the staff that plays a large role in assisting first responders. It then traveled down Barnes Road and up Circuit avenue, eventually looping around the Martha's Vineyard Hospital. It continued through Five Corners, ending at Cronig's Market in Vineyard Haven.
Many onlookers said they were grateful to take part in a community event after weeks of isolation.
Following social distance protocols, community members came out to show their support. Hospital workers took a respite. People sat in their cars along the seawall in Vineyard Haven, wearing medical masks and waving American flags. Outside Cronig's, a small crowd gathered, at a safe distance.
Nicole Palacios, an Oak Bluffs resident and gardener, stood with her young son outside the market. Both wore masks and greeted the procession with applause.
"We just came out to support all the people in this community who are keeping us going," she said. "We tend to take for granted all the things we need . . . I'm grateful for all of them."