The Martha's Vineyard Hospital's main entrance — shuttered since mid-March due to the pandemic — has officially reopened to patients, marking a major milestone as the hospital, and Island, look toward the summer.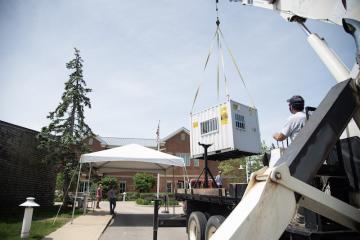 Hospital officials announced during a press briefing on Wednesday that triage tents are being removed, patient intake procedures are being transferred indoors, and that hospital beds are nearly full with non-Covid patients — signaling a new phase of the pandemic even as other measures to combat the virus, like the institution of external trailer pods in place of the temporary tents, take on increased permanence at the site.
"Our hospital is certainly full and busy," hospital president and chief executive officer Denise Schepici said Wednesday morning. But she reiterated again that "we are not out of the woods by any means" yet regarding the virus, with surge planning staying in place.
Ms. Schepici began the briefing by expressing solidarity with protesters of racial injustice and police brutality both on the Vineyard and nationwide, urging them to maintain caution while standing strongly with their message.
A demonstration at Five Corners on Monday drew hundreds of Islanders — nearly all of whom wore masks.
"I always worry," Ms. Schepici said. "But I respect the protesters immensely. I am with them in solidarity around their cause and their passion. I just ask everybody to stay safe."
The briefing was hosted by Ms. Schepici, chief operations officer and head nurse Claire Seguin, and hospital spokesman Katrina Delgadillo.
Closed off to walk-in visitors since mid-March with strict procedures for screening through a tented area, the hospital began slowly reopening last week, offering limited elective procedures and developing new safety protocols for visitors to the site. Officials formalized that reopening process on Wednesday, saying that the building's front door would be open to patients and that the triage tent outside the ER would come down within the next week.
For the past two months, all patients went through the triage tent at the ER entrance. Now, intake procedures will be moved inside, officials said Wednesday, as they continued to adapt to the new normal. Only ER patients will use the emergency room entrance moving forward. Ms. Schepici thanked her facilities team for the adaptations.
"These are part of the solutions of how we have to reimagine space for a world that includes Covid," she said.
Patients coming to the hospital are still urged to schedule an appointment or contact their primary care physician before entering the building. There will be new signs, the presence of ushers, numbered doors and other decentralized entrances.
Ms. Schepici said the hospital is now nearly at normal capacity with non-Covid patients. She estimated there were three empty beds available as of Wednesday morning. No one is currently hospitalized with the virus; the hospital has had four Covid patients hospitalized since the outbreak began.
Officials also announced they would be replacing two tents on the campus with pods, which they described as similar to trailers one might find on a construction site. The pods are scheduled to arrive Thursday and will be located at the drive-through testing site. Another pod will be set up in place of tents for employees to don and doff personal protective gear.
"These pods will be a longer-term solution to the tents that we have had on our campus these past couple weeks," Ms. Schepici said.
She added that the pods do not reflect a change in surge planning, but would serve as a more permanent solution that will allow the hospital to maintain Covid-preparedness in tandem with more normal operating procedures.
"We are not abandoning our surge plans," Ms. Schepici said. "We want to be ready at all times as we also try to get back to business as usual."