Food Pantry Braces for Summer Demand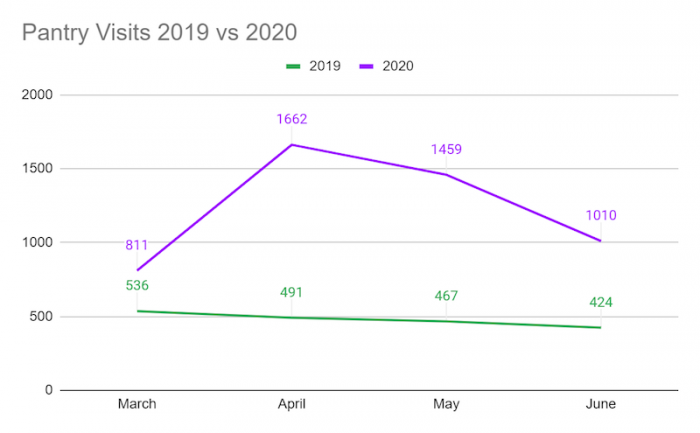 Since the Covid-19 pandemic reached Martha's Vineyard in mid-March, the Island Food Pantry has provided Islanders in need with the groceries for nearly 100,000 meals, according to numbers released by the pantry last week.
And because of the increased need, the pantry said it will not be scaling back its hours for the summer as in past years. "After seeing unprecedented attendance numbers in April and May, June is slowing down a bit, but we're bracing ourselves for our busiest summer to date," food pantry executive director Kayte Morris wrote in a message to pantry volunteers last week.
"In May alone, we reached 1,762 Islanders, (including 467 children and 178 seniors) and welcomed 85 new households," she wrote.
While the first half of June was slower than April and May, Ms. Morris said it is still busier than any previous June the food pantry has seen. In June, 2019, there were 424 visits to the pantry; she is projecting more than 1,000 this month.
"We suspect that this sustained trend will continue through to the fall," she wrote.
The pickup spot on Church street in Vineyard Haven will remain open three days a week: Monday and Wednesday from 2 p.m. to 4 p.m. and Saturday from 10 a.m. to noon.
In other changes from earlier years, food pantry volunteers are delivering groceries to a number of seniors and homebound Islanders and a new pre-order system is being developed so families can indicate their grocery preferences in advance, to reduce waste.
To learn more about the Island Food Pantry, make a donation or volunteer, visit islandfoodpantry.org. Donations can be sent to Island Food Pantry, P.O.Box 1874, Vineyard Haven, MA 02568.