The Oak Bluffs open air market opened its 2020 season Sunday morning at Washington Park under sunny skies as customers donned masks and patiently waited their turn to visit vendor booths one party at a time.
Gwen Nichols said a lot of familiar faces came by to say hello and check out her collection of hand-made wampum jewelry.
"We've been in the house for so long, seeing my friends is awesome," she said. "It's just awesome to be alive and out in the sun. It was difficult to be inside that long. At least I work with my shells so I have a lot to show for it."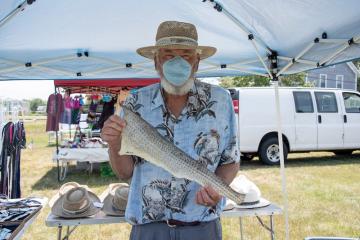 Just under a dozen vendors sold items ranging from hand-thrown pottery, sea glass and wampum jewelry to decorative T-shirts and hand carved wooden boxes and pens. Contact-less payment was encouraged as vendors were equipped with Venmo QR codes and credit card swipers.
"We just want it to be nice, safe and easy," said Kathleen Cowley, owner of Enchanted Chocolates and organizer of the open air market.
Ms. Cowley said the plan going forward is to have music and food vendors, including Cottage City Oysters and sea scallops from the Martha Rose.
Mary Tahmoush, a retired teacher who divides her time between South Boston and Oak Bluffs, said she had waited to come to the Vineyard until most of the restrictions in Boston and on the Island had been lifted. "I'm trying to be very, very careful," she said.
For Ms. Tahmoush, her lifestyle on the Vineyard is similar to her Boston way of life. "I can walk to everything, I use the car very little. I'm really happy to be here."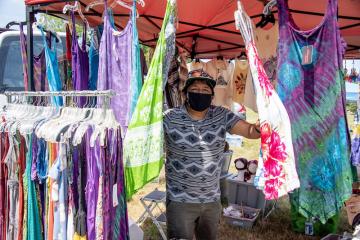 She described the atmosphere at the market as "perfect."
Under the shade of his tent, Eric Lakso displayed a collection of hand-crafted cheese and chess boards, keepsake boxes and decorative pens. Mr. Lakso said traffic at the market was a bit spotty, but overall "pretty good."
On the far side of the market Taneisha Bonfield displayed her collection of T-shirts, handbags and handmade keychains in the shape of the Island outfitted with the theme of self-care.
Ms. Bonfield said creating different kinds of art in different mediums was one of her favorite things to do as a child in Jamaica. Last summer was her first experience owning a business and running a booth at the open market.
"I tried it, liked it and people encouraged me," she said. "They said I love your message, you should keep going. So I thought why not do it again this year."
"If people are careful, we'll all be fine," she continued. "Some people are terrified but I think just staying positive helps."
The Oak Bluffs open market takes place on Sundays, from 10 a.m. to 2 p.m. at Washington Park on Oak Bluffs. To fill out a vendor application, contact Ms. Cowley at 508-939-1076 or through her website at enchantedchocolates.net.