White picket fences are draped with bunting, roses are in bloom and flags are flying.
But with the Fourth of July parade and fireworks cancelled, downtown Edgartown won't be the same this weekend.
"It's definitely a little different this Fourth of July," said assistant town administrator Kristy Rose, a key parade organizer who in recent years has become a fixture in the festivities, when thousands ordinarily stream into town for the holiday events. "It's going to be so quiet this year," Ms. Rose said.
But she said there will be plenty of Americana throughout downtown Edgartown. And on Saturday the town will swap the educational safety banner across Main street for one with a Fourth of July theme.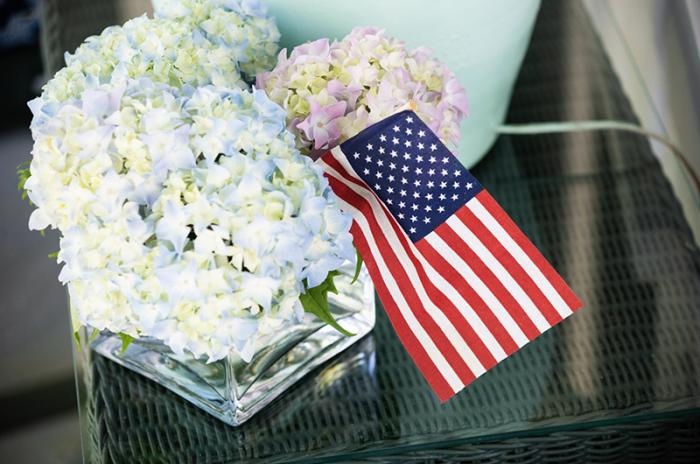 And while protecting public health during the pandemic continues to be the central theme this year, there will be a handful of smaller events in Edgartown and around the Island for the holiday.
Beginning at 9 a.m Saturday, the American Legion Post 186 will hold a wreath laying ceremony at the three veteran memorials in front of the Edgartown courthouse.
"It's going to be a quick and quiet ceremony to remember the veterans we lost this year," said Joe Sollitto, grand marshal for the parade who will lead the wreath laying. "This is something we felt we should do to commemorate the Fourth of July."
At 10 a.m., the Martha's Vineyard Peace Council will hold a silent vigil at Memorial Park in Edgartown. The council has had a float in the parade for many years. This year instead, members will hold posters and signs that advocate for peace on the planet and justice for all.
"It's kind of a stationary parade," said Bruce Nevin, a member of the Peace Council. "There is a lot of conflict in the country today, and that is what we mean that there is a need to heal, to be and act as one country, as one community."
Mr. Nevin said all participants must wear masks and practice social distancing. He underscored that the event is not a protest. "It is about what we all have in common," he said.
But come 5 p.m. on Saturday, there will in fact be a parade — a small one with a big heart.
Two World War II veterans, Bob Falkenberg and Herb Foster, plan to drive the parade route — from the school down Main street — to honor members of the armed forces who gave their lives for the country. The two veterans will "step off" in Mr. Foster's Jeep at 5 p.m. — the traditional start time for the parade — with an escort from Edgartown police.
"We felt we had to do something for the guys and the women who are no longer with us," Mr. Foster said. "To let all those that are not here know we have not forgotten them."
Other events include a Saturday morning parade in Aquinnah honoring essential workers that steps off at 10 a.m. on Moshup Trail and Old South Road. Participants are encouraged to decorate their vehicles, with the best float winning a prize. MVY Radio will air a special parade soundtrack at 88.7 FM.
The Renaissance House will continue its tradition of reading the Frederick Douglass speech "What to the Slave is the Fourth of July?" which will be streamed on MVTV and other outlets instead of being read aloud at the Inkwell Beach in Oak Bluffs.
"It's a nice way to celebrate the Fourth because it has a sense of meaning to it. It's a real sense of history, naked history, without adorning it," said Renaissance House founder Abigail McGrath.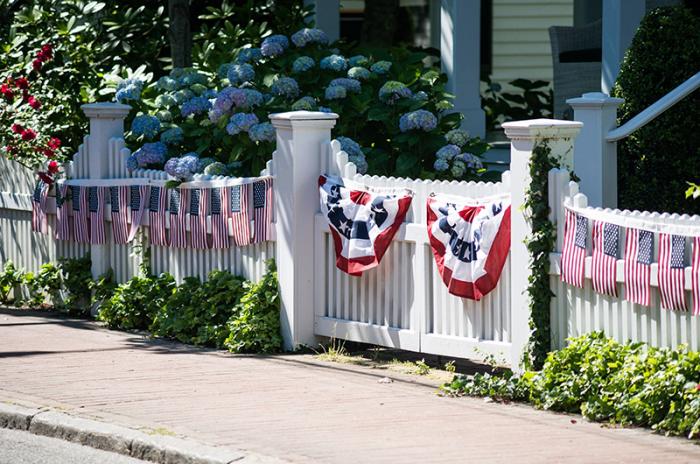 Meanwhile, despite drastically scaled-back events, at mid-week the Island was gearing up for a bustling weekend.
Steamship Authority spokesman Sean Driscoll reported ferry reservations for cars were nearly sold out, with a few openings available late on the night of the Fourth.
At the Martha's Vineyard Airport, traffic is picking up, according to assistant manager Geoffrey Freeman.
"Traffic has increased overall at the airport, commercially and privately," Mr. Freeman said. He said JetBlue began limited service Tuesday, while American Airlines begins flying to the Vineyard on July 19, and Delta will begin limited service on July 26.
Harbors too are reporting sold-out reservations for moorings.
"Everybody on the Cape that has a boat is trying to get here," Edgartown harbor master Charlie Blair said. "They've been cooped up for too long and are trying to get out of the house."
Anticipating an uptick in amateur fireworks displays along with noise complaints, down-Island police departments are putting on additional coverage for the weekend.
"We are increasing our coverage, in large part because we don't know what to expect," said Tisbury police chief Mark Saloio. "We plan on having a safe weekend, but it is certainly going to be strange."
As for the cancelled fireworks, Mr. Blair had an alternative idea.
"We'll do it on Zoom," he said.