A new gallery in Edgartown is opening a window on the contemporary New York and Los Angeles art scenes, showing recent work by emerging artists and one established contemporary leader.
"I put together a lot of artists that I admire," said curator Ingrid Lundgren, who opened the Winter Street Gallery with her partner George Newall earlier this month. "Some of them were cold DMs (direct messages) on Instagram."
With the exception of neo-Conceptualist Peter Halley, known since the 1980s for his multi-hued grids evoking themes of incarceration, the artists she selected are still building their careers.
Among the fresh takes Ms. Lundgren is introducing to Island art audiences are ceramic sculptor and painter Scott Reeder, photographer Angal Field and Cynthia Talmadge's hand-dyed sand on panel work.
For one of the show's most compelling pieces, LaKela Brown's used door-knocker earrings to impress their shapes on a plaster tablet with touches of gold acrylic. The resulting work, one of the first in the gallery to sell, pulls together the energy of contemporary hip-hop culture with the timelessness of an Egyptian antiquity.
"There's something archaeological about it," Ms. Lundgren said.
Like the artists in her show, Ms. Lundgren is developing her own career as well. A longtime seasonal Katama resident, she worked in a New York city gallery until the coronavirus shutdown began in March. Mr. Newall also comes from a New York gallery background, she said.
The Winter Street Gallery is the couple's first enterprise, and marks Ms. Lundgren's debut as a curator.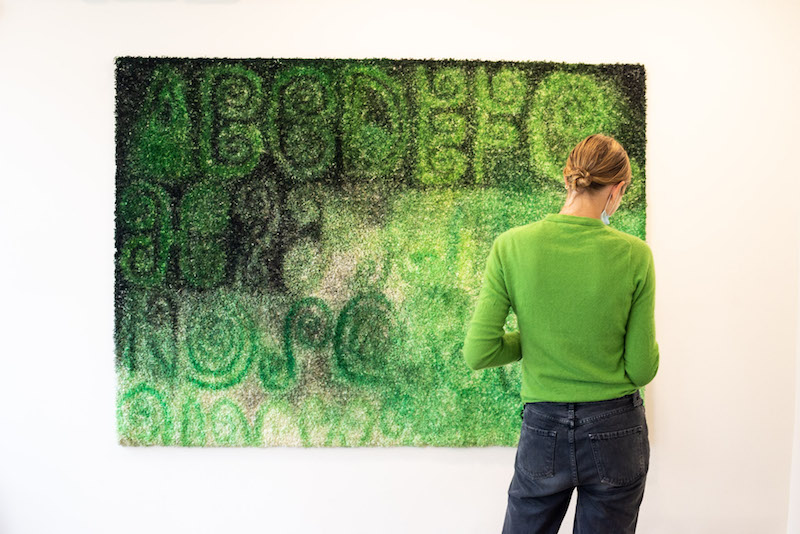 "This has been an amazing opportunity to experiment with an independent curatorial project," she said.
She arrived at the concept for the current show, titled A group of more or less than 10, while filing for unemployment this spring. The experience made her reflect on how numerical systems and other repetitive sequences influence the way we live, Ms. Lundgren said.
But the exhibition itself is far from programmatic. While systemic symbols appear in some of the works, the effect is never forced. For example, the alphabet letters in Brook Hsu's painted rug, titled the Law of Names, seem to emerge and then recede into an infinity of greens—not unlike the way sonic motifs follow one another in the interwoven patterns of minimalist music.
"It's another instance of sequencing," Ms. Lundgren said.
Ms. Lundgren plans to follow the current show, which is up through August 2, with an exhibition of work by Island artists, to be titled Vol. 1. The gallery will retain a nominal 10 per cent of proceeds from the upcoming group show, with the remainder going to the artists and local causes, she said.
Winter Street Gallery intensifies a two-block gallery scene that includes the North Water and Eisenhauer galleries that face one another on North Water street. For traditional art and a collection of historical maps and nautical charts, the two-story Christina Gallery just across Winter street is the neighborhood's grande dame.
The new gallery is open from noon to 5 p.m. Wednesday through Sunday and by appointment. The website is winterstreetgallery.com.