Vineyard men of all ages lined the seawall in Vineyard Haven Saturday afternoon to take a stand against domestic violence in the Island's ninth annual demonstration, marking a pandemic milestone for the community.
With the sound of honking cars and cheers of support pulsing in the background, the men gathered on the wall, clad in face masks and bearing signs indicating the reason they chose to stand.
Ryan Araujo, 13, who has been attending the event for a few years with his father David, held a sign reading "For My Mom." A few feet down the line, Jack Holmes 18, waved one that read "Escape the Man-box."
The event was organized by Connect to End Violence, a program of Martha's Vineyard Community Services, in conjunction with Men Opposed to Violence Everywhere (MOVE). The stand saw a sizable turnout of roughly 25 men from its start time on.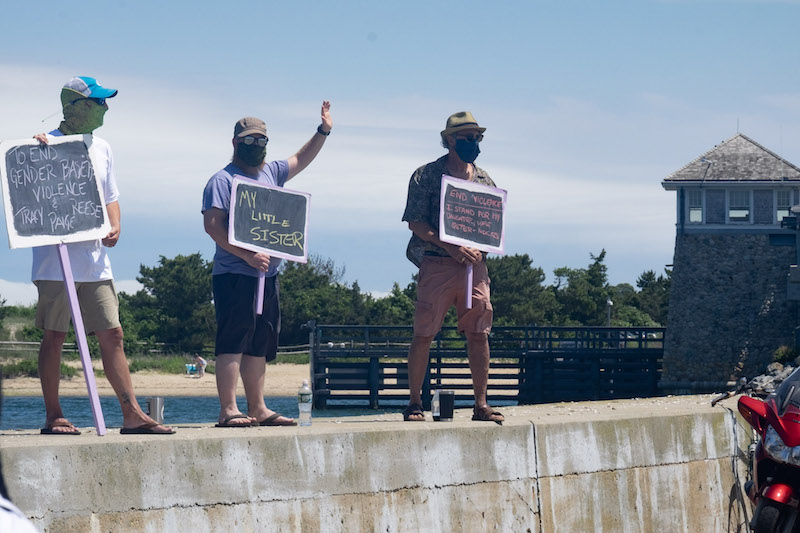 Tisbury police Sgt. Max Sherman, who has been involved with the event since its inception, said that for years, it has been an opportunity for Island men to change the conversation around masculinity.
"A minority of men are involved in domestic violence, but if the good ones don't speak up, you won't know they exist," he said. "We're just trying to get people to be aware and to be supportive."
This year more than ever, showing solidarity was imperative.
For organizers and participants alike, the challenges and hardships brought on by the pandemic made gathering on Saturday even more impactful than in past years, explained Matt Malowski, a high school guidance counselor who is a leader in MOVE.
"In those first few months [of the pandemic] there was definitely a big spike in the amount of domestic assaults and violence, because people were isolated, or stuck at home or couldn't get access to one another," he said, citing recent statistics. "I think there's definitely much more importance in standing this year."
In keeping with state-issued guidelines, event organizers distributed customized Seawall Stand 2020 face masks and asked participants to remain six feet apart while they stood, but despite the additional hurdles, canceling the event was never on the table, said Connect to End Violence program coordinator Jennifer Neary.
"Not having it wasn't something that we really seriously entertained," she said. "Domestic violence is happening whether we know about it or not so it's important to bring people together."
Other participants, like Islanders Bill O'Brien and Ewell Hopkins noted the importance of being an ally in this fraught national moment, citing the marches and protests that have been going on around the country this summer.
"[Right now] there's a level of awareness that I have not experienced in my 60 years of life, about the human condition. People are realizing that they can no longer be good personally, because there are structural impediments that are impacting people's lives," said Mr. Hopkins. "An event like this that is not new, needs to continue to be supported. We've been here, and we will continue to be here."
His sign read "Black Trans Native Women," a show of solidarity for women who are disproportionately affected by gender-based violence but who are most often overlooked, he said.
Though pleased with the turnout and the outpouring of support, event organizers stressed that there is always more to be done.
"I would love to see more guys contacting me and asking me questions," said Mr. Malowski. "I just want to see more guys showing their support. They've got to step up."