With Reciprocity, her new show at Kara Taylor Gallery in Chilmark, the longtime Island artist explores timely themes of race and ecology in a series of paintings that blend human and environmental elements.
"My work in the past has been very autobiographical, whereas this is about all of us," Ms. Taylor said, at her gallery Sunday afternoon. "It's a bigger picture."
Long known for her Martha's Vineyard landscapes, Ms. Taylor's work has undergone a major shift over the past few years, since she began living for half the year in Cape Town, South Africa.
"It's the endless summer," she said of her Persephone-like existence, which began with an intercontinental romance and continues out of her sheer delight in African living.
"I go back just because I love it," Ms. Taylor said. "It feeds me."
The influence on her painting is evident in the colorful African fabrics and dark-skinned figures she incorporates into her emotionally complex mixed-media works.
For one series of paintings, with titles like Eddy and Confluence, Ms. Taylor posed human forms as river systems, surrounding them with flowing fabrics and painted plants.
"Really, it's about the momentum of change," she said. "The river is about momentum in changing social perspectives."
Living in Cape Town, as part of an ethnic minority, has changed her own social perspective, Ms. Taylor said, while the drought-prone region also has raised her awareness of environmental crises—another theme of the river paintings.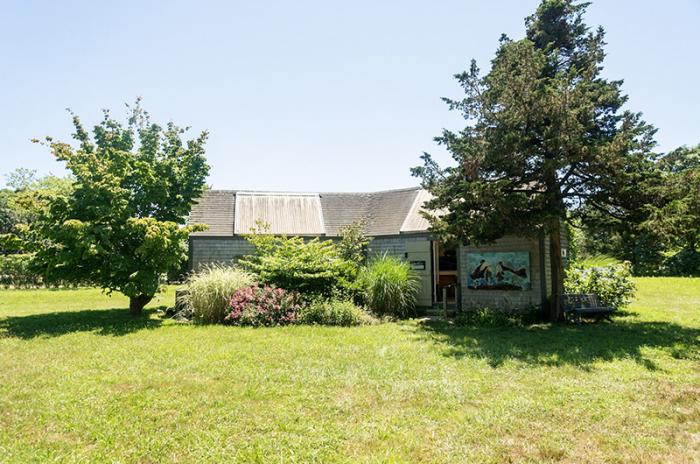 Along with her allegorical new pieces, Ms. Taylor is showing some of her work inspired from nature, including images of sturdy Island seedpods and vast African sand dunes.
A series of 12 abstract photographs originated in a mural near her Cape Town home, Ms. Taylor said. She zoomed in tightly to capture the different colors and textures of the painted wall as a way of referencing social differences and class divisions, she said.
"The cracks kind of say, 'Only time will tell of our fate and our history,'" Ms. Taylor said.
Ms. Taylor's gallery is located at 24 South Road in Chilmark, next door to the Grey Barn and Farm. She welcomes visitors Thursday through Sunday from 11 a.m. to 5 p.m. The meadow outside features stonework by Islander Eben Armer, steel sculpture by mainland artist Andrea Thompson and wooden benches by Midwesterner Tom Loeser.
To see more of Ms. Taylor's artwork, visit karataylorart.com.