Children and toddlers from around the Island community gathered with their parents at Ocean Park on Tuesday evening for a kid-friendly Black Lives Matter rally. The half-hour event was organized by Michelle Lynch, a guidance counselor at Martha's Vineyard Regional High School, with the help of fellow Island advocates and Black Lives Matter organizers.
Ms. Lynch said she was inspired to organize the event after attending a Black Lives Matter demonstration earlier in the summer with her two children, Matteo and Daniela (8 and 5 years old respectively) and struggling to keep them engaged.
"I really wanted to listen to all the speakers but my kids were bored pretty quickly," she explained. "I decided I wanted to do something that would be more meaningful to them, something that they'd be able to understand."
Bringing discussions of racial justice to a youth audience was a priority for Ms. Lynch, who spoke candidly at the event about her experience as the mother of two bi-racial children and her time working as an educator in predominantly black and brown communities in Boston.
"The goal was definitely education," she said. "I'm an educator and my kids are biracial, so I wanted my kids to be able to see their mom stand up for what she believes in."
The event opened with a moment of silence to honor the lives of children of color around the country who have faced violence and discrimination. It was followed by a Black Lives Matter chant, shared by a chorus of little voices, and then a brief speech delivered by Ms. Lynch.
Ms. Lynch's niece, Kaitlyn Rhea Hughes, also took the stage to share her words with the crowd.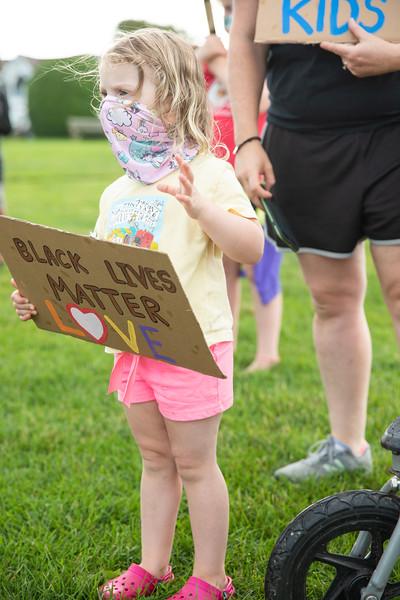 "The fact that my cousins can't do the same things that I can because of their skin is not fair," said Ms. Hughes, referring to Matteo and Daniela. "They should be able to live the same experiences I did without any fear. We need to make a change."
Following the speeches, children and parents voiced their support for the rally and for the conversations about racial injustice taking place nationally this summer.
Alex Wilson, 8, and his mother Claudia, who have attended other rallies together this summer, expressed the importance of standing up against injustice. They held a sign that read "If you are neutral, you have chosen the side of the oppressor."
Hannah Buckley, 8, who came with her two-year-old sister and her mother, Veronica, said she attended the event because she feels that everyone, no matter their skin color, should be treated equally. Her sign read "Love Everyone, Black Lives Matter."
At the conclusion of the event, as children played in the grass and parents chatted, Ms. Lynch reflected on the moment.
"I just hope the conversation continues on the Island," she said. "And I hope that we're open to what's going on in the greater world."