When Dana Nunes began kneeling at Beetlebung Corner in early June for the Black Lives Matter movement, she didn't expect any visitors. But to her surprise, when she arrived at the intersection on her second day, she found a crowd of eager Islanders waiting to take a knee beside her. Ms. Nunes hasn't knelt alone for one day since. "It's so refreshing seeing all these people who actually [care]," she said. "I'm glad I have all these people standing with me. They endlessly impress me."
With the help of Chilmark summer resident, comedian Amy Schumer, Ms. Nunes has transformed the event into a meditative service, where participants share stories, personal or otherwise, and reflect on racial inequality they have encountered on and off the Island.
The group gathers each morning at 10:30 a.m. in front of the Chilmark Public Library.
"I refer to it as a vigil," Ms. Nunes said, distinguishing the event from a protest for its focus on commemorating lives lost to race-based violence.
For Ms. Nunes, who is encouraged by the community support the vigils have garnered, kneeling every morning is her way of reminding those who contest the BLM movement that she is here, she is fighting and she isn't going anywhere.
"We're in their face every day. You can't let up, it has to be constant," she said.
But the morning vigils are just one piece of a larger picture of social activism on the Island this season. Since early summer's protests and marches, organizations and individuals have turned their focus to the granular, beginning the long-term work of incorporating social justice values into their day-to-day lives and work.
Jackie Friedman, executive director of Martha's Vineyard Nonprofit Collaborative, said looping the Island community into national conversations about race has been a priority for the organization.
"As the Black Lives Matter movement was gaining momentum, what I was hearing is that people on the Island felt really isolated and inoculated from the movement," she said. "There was a real call to feel like they were participating or part of a dialogue, but because we're not in Boston and we're not in New York, I think they didn't know how to do that."
For the residents of Chilmark, starting a dialogue has meant branching out from the vigil to create action-focused events for the community, said Ms. Nunes.
One activist and summer resident, Awet Woldegebriel, has been working with Ms. Nunes and Ms. Schumer to facilitate bi-weekly forums where participants can speak frankly about systemic racism and how to fight it. The "salons," as the organizers call them, are held every Wednesday and Saturday at the Yard, free of charge and open to the public by sign-up.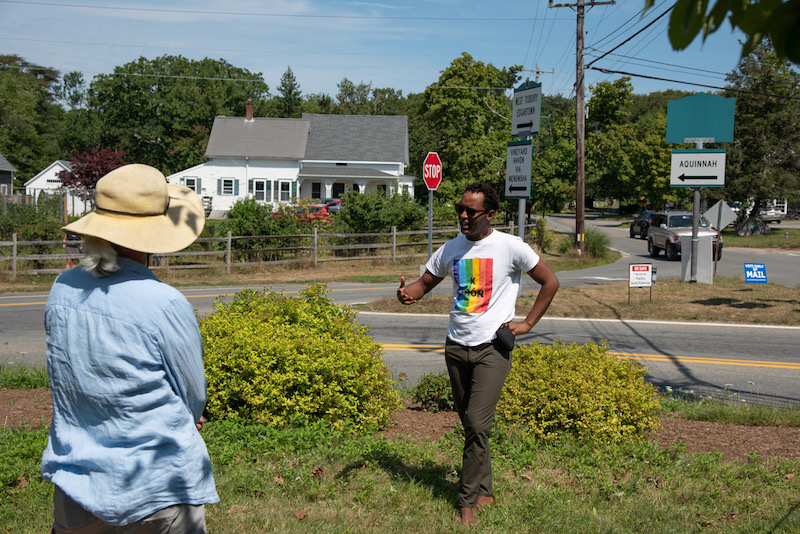 "The best way to get action is to get people to think first, get them out of their comfort zones," explained Ms. Nunes. "Don't come to Black people asking us to teach you about what racism is or what our experience is. Go get a book and learn, talk to other people and then come to the table and talk to us about how you feel you might be able to make change," she said.
The salon discussions are kept confidential, but broadly speaking they tackle the question of how to support the movement by making changes in one's personal life and local community—whether it be thinking critically about the businesses one frequents or the people one hires.
So far, the event has seen about 300 participants, with sign-ups already booked solid for the coming weeks. "It's amazing what people bring to the table with them. They're engaged, they want to learn, they want to know more," said Ms. Nunes.
At the Martha's Vineyard Nonprofit Collaborative, Ms. Friedman has been busy organizing a series of webinars tackling issues of diversity and inclusion in the workplace. The three-part series, hosted by Dr. Robin Stacia, psychologist and principal consultant at Sage Consulting Network, is aimed at educating Island nonprofits on responsible and ethical leadership.
About 50 organizations on the Island attended the first two events of the summer.
"Dr. Stacia provided a lot of historical understanding of racism in America, of where this movement came out, and of how to begin having those conversations," said Ms. Friedman.
The third webinar is slated for September, but already organizations around the Island have taken steps to rethink the make-up of their leadership teams, said Ms. Friedman.
"People are looking at their board composition and asking if it's actually representative of the Island," she said.
At Island Grown Initiative, president of the board, Lynne Whiting, said the organization has launched a Diversity, Equality and Inclusion task-force. The organization has also set up an opportunity for CSA subscribers to donate to The Land Loss Prevention Program, an organization that supports Black farmers.
"We're continuing to look for ways for our staff and our board to interact over these issues because there's an impact on all of us," Ms. Whiting said.
For the Nonprofit Collaborative, acknowledging issues of racial inequality on the Island has been a priority. "We take it for granted, thinking that discrimination and inequality don't exist here," said Ms. Friedman. "Part of this is helping people to see that it's your responsibility to help identify those inequalities and to help eradicate them."
Ms. Nunes echoed the sentiment. "It's an Island-wide thing. It's not just in one little corner," she said.
Looking ahead, both Ms. Nunes and Ms. Friedman stressed that their work is only beginning.
The Nonprofit Collaborative is already planning a series of events for the fall with speakers and educators on the topic of racial justice. "Our goal is to continue programming. We don't want it to be just one moment in time and then the conversation falls flat," said Ms. Friedman.
Ms. Nunes agreed. Similar vigil-style events are cropping up around the Island, like in Katama, she said. And with summer waning, she has no plans to slow her momentum.
"I'll be standing out there until it gets too cold and if I'm by myself, it doesn't make any difference," she said. "It doesn't take a whole lot of talent to stick your[self] out on a corner and stand there, but it has made change and I'm so happy to see that it has."
To get involved with the vigils and salons contact mvblm2020@gmail.com. To contact the Martha's Vineyard Donors Collaborative, visit mvdonors.org.