A most unusual summer closed with a most unusual Labor Day on Monday, as the season's traditional exodus also provided a bustling weekend on-Island, replete with beautiful weather, sold-out harbors, Portuguese Man O'War and a Trump boat parade.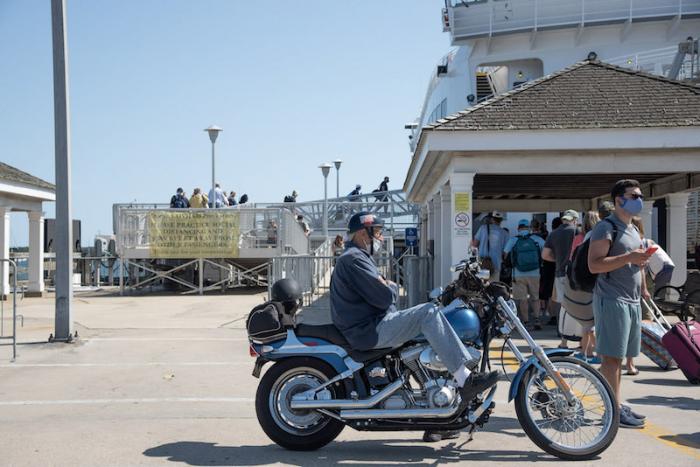 The surprisingly crowded Labor Day weekend — on the town and on the beach - is the latest update in what has become an unpredictable season on the Vineyard. But Islanders and off-Islanders alike spent Friday through Monday enjoying what they could of it, soaking in the last gasps of a summer unlike any other.
Although Steamship Authority data from the weekend is not yet available, passenger ferry lines, some struggling from a slow, pandemic-impacted season, suggested that Labor Day provided a solid weekend of traffic to and from the Island.
The Island Queen, a passenger ferry from Falmouth to Oak Bluffs, was overflowing with travelers on Saturday. And the Pied Piper, a passenger ferry from Falmouth to Edgartown, said they had sold out boats on Friday, Saturday and Monday — which was unusual for the 2020 summer.
"The last couple of weeks had been pretty quiet," said North Wilson, who works in the ferry's ticket office. "But it was pretty busy [this weekend]. And the boats coming back today, we've got totally full boats."
Restaurants in town reported similarly busy weekends. At the Sandbar in Oak Bluffs, bartender Shay Hill said the Labor Day holiday provided one of the summer's strongest weekends for business this season, which had slowed down the last few weeks of August.
"Saturday was one of the busiest shifts I've had all summer," Mr. Hill said. "It was really, really busy."
On the waterfront, harbor masters presented a similar story, as good weather and changes in Gov. Charlie Baker's boating regulations, which on August 18 began to allow the rafting-up of three or more vessels, helped spawn an influx of boat traffic to the Island.
In Vineyard Haven, harbor master John Crocker said the four-day swath of excellent weather prompted boaters from the Cape, south shore and Boston to flood the harbor and Lake Tashmoo. Tisbury sold all of its available moorings on Friday, Saturday and Sunday night.
"This is probably the busiest weekend of the summer for us," Mr. Crocker said. "We had basically four spectacular days in a row."
Like Vineyard Haven, the Oak Bluffs harbor was sold out every night of the weekend. And the town mooring field was completely full for the first time all summer, harbor master attendants said.
On Saturday at approximately 12:30 p.m., a flotilla of approximately 50 boats flying flags supporting President Donald Trump's reelection campaign arrived in Oak Bluffs from Falmouth. The boats paraded around the harbor, with a few setting up moorings or docking — and others rafting-up for the day. Most returned to the Cape.
The rally and subsequent boat parade through Oak Bluffs was organized through Facebook groups in Falmouth.
Beaches on the Island's north side also saw a crowded last weekend of summer. Lambert's Cove Beach in West Tisbury was at capacity Saturday afternoon, and cars packed State Road between Oak Bluffs and Edgartown on both Saturday and Sunday.
On the south shore, Edgartown parks administrator Jessica McGroarty said South Beach was busy, but slightly less crowded than past weekends.
An influx of dangerous Portuguese Man O'War last week had closed the beach to swimming on Thursday, as well other up-Island beaches on the south shore like Lucy Vincent and Squibnocket. On Friday, swimmers were asked to enter the water at their own risk. Ms. McGroarty said the infestation had appeared to quiet down by the weekend, with the beaches reopening for public swimming on Saturday.
At the Steamship Authority on Monday, a modest crowd gathered in Vineyard Haven for the 12:45 boat off the Island. The boat was filled with cars, filing off the Island as the unprecedented summer came to a close.
Jennifer Seligson, who lives on the north shore and visits the Island every summer, said she had a great trip this past week, despite restaurant closures.
"It was an amazing experience," Ms. Seligson said. "A ten out of ten."
Aaron Wilson contributed reporting.