Action during the first week of the 75th annual Martha's Vineyard Striped Bass and Bluefish Derby is mostly taking place offshore with sandy beaches and rocky jetties not nearly as productive.
Early reports show a decent amount of bonito and false albacore. Bluefish are in but still on the small side. Striped bass are sitting this one out, given a pass this year by the derby committee due to their dwindling population along the Eastern Seaboard.
On Monday and Tuesday northeast winds stemming from Hurricane Paulette churned up the surf at popular fishing spots like Tashmoo and Menemsha, spraying saltwater into the eyes of hopeful anglers lined up searching for a bite. But on Wednesday, the Island got a bit of a reprieve with some calm, southerly winds. Derby committee member Alex Friedman was on filet duty that night, gutting fish and slicing pristine fillets to be donated to Island senior centers.
"We've lost a lot of our yearly traditions and it's nice to have one going," Mr. Friedman said.
At the start of the night Gregory Clark Jr. held on to first place in the boat bonito division with his 10.81-pound fish. His father, Gregory Clark Sr., won the division last year, but father/son dreams of glory were dashed later in the evening when Aidan Gates weighed in an 11.58-pound bonito to take the lead. Mr. Gates said he was three miles offshore when he caught his fish.
As of Thursday morning Brad Townes led the boat bluefish division with an 11.03-pound fish and Ben T. Ciciora led the shore bluefish division with a 5.69-pound catch. David C. Kadison led the boat false albacore division with a 10.27-pound entry and Mark Mooradian led the shore division with a 9.77-pound catch. Gavin Smith rounded out the list with 7.06-pound shore-caught bonito.
But the big fish story of the week was the bonito that never made it to the scales.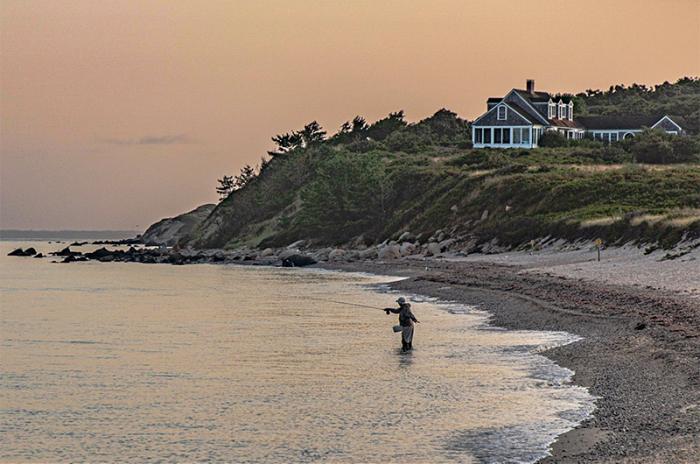 On Wednesday, as charter fishing captain Scott McDowell and first mate Devon Metters were making final preparations for a charter, Mr. Metters suggested to their customers that they register for the derby online before heading out. They passed on the opportunity.
Out on the water one of the fishermen reeled in a 31-inch bonito, the largest, Mr. McDowell said, he had encountered in 30 years of charter fishing.
"I've never seen anything close to it," he said.
The state record for bonito is 13.8 pounds and has stood since 2002. The derby record is 12.44 pounds set by Gary Look in 1994. Mr. McDowell said when Mr. Metters weighed the fish on their ancient scale, it read 15 pounds even. Given the scale's age, Mr. McDowell estimated the fish could have weighed somewhere between 13 and 14 pounds, but another captain chimed in to say it had to be at least 14 pounds.
Regardless, it could haven been a derby record which comes with a $1,000 cash prize, plus a chance to win the derby grand prize Cape Codder boat. Instead, the bonito became dinner, big enough for some sushi for Mr. McDowell and some pan-sear for friends back in Menemsha. "It makes sense to register for the derby," Mr. McDowell said.