A spate of sea turtle strandings occurred on or around the Vineyard this weekend, including two dead turtles that washed up on Island beaches as well as a vessel-struck turtle spotted in the Vineyard Sound.
The dead turtle spottings follow close on the heels of one last week, when a leatherback sea turtle that was found on the Vineyard Haven harbor side of West Chop. The leatherback had a clear boat propeller wound on its carapace, indicating a vessel strike.
Earlier in the summer, a dead loggerhead sea turtle was spotted washed up on State Beach — making five known sea turtle strandings this season.
"The Vineyard's had too many sea turtle strandings lately," said Karen Dourdeville, who coordinates the sea turtle stranding program for Mass Audubon in Wellfleet, in an email. "We expect it. But it's always sad."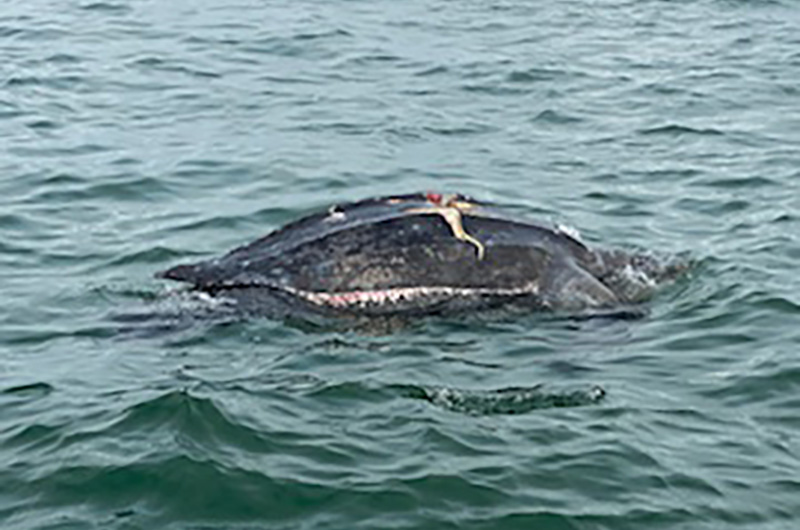 The recent trio of strandings began last Thursday, when the dead leatherback was reported by a boater on Middle Ground on the north side Island. According to Ms. Dourdeville, the turtle was spotted approximately one mile north of Makonikey, floating in Vineyard Sound.
Ms. Dourdeville said the turtle had a clear vessel strike wound, and that the reporting boat was not the vessel that struck the turtle. With strong westerly winds pushing tides, the sea turtle has not yet washed up on shore, although Ms. Dourdeville expected it could still beach in the Lambert's Cove area in the near future.
"Clear vessel strike, that looked quite fresh at the time it was photographed," Ms. Dourdeville said in an interview on Monday. "I'm a little surprised that one hasn't come up, and it still definitely could."
One day later, on Friday, Sept. 18, a dead, male leatherback sea turtle was spotted approximately 100 yards south of the Steamship Authority terminal at Inkwell Beach in Oak Bluffs. Ms. Dourdeville said that the turtle was likely struck by a vessel, although the condition of the carcass made it difficult to assess its cause of death.
"That one was pretty broken up," Ms. Dourdeville said. "The fact that the carapace, the upper shell was so crushed and it looked like vessel strike wounds in it — it was a little hard to tell. But usually if they are not vessel struck, they don't open up like that."
Then, the next day, on Saturday, Sept. 19, a dead, severely decomposed loggerhead sea turtle was spotted washed up on Cow Bay beach in Edgartown. According to Ms. Dourdeville, the sea turtle did not have any vessel strike wounds, but she suspected it was entangled in fishing gear or netting because of the turtle's condition.
Suzan Bellincampi, director of the Felix Neck Wildlife Sanctuary, measured the loggerhead at 67 centimeters, or a little more than two feet.
Loggerhead and leatherback sea turtles — two of the four sea turtle species found in Vineyard waters — are endangered. While leatherbacks can grow to weigh over 1,000 pounds, loggerheads are slightly smaller, with fully-grown adults averaging approximately 300 pounds in size.
The loggerhead found Saturday was a sub-adult, according to Ms. Dourdeville, meaning that it was too young for scientists to identify its sex. But the inability to identify the turtle's sex belies its actual age — loggerhead sea turtles likely do not sexually mature until age 30, and their estimated life expectancy is approximately 60 to 70 years, meaning the turtle found on Saturday could have been 20 or older.
"It can take a long time for sea turtles to get to the age that they can reproduce," Ms. Dourdeville said.
Experts from Felix Neck Sanctuary and the Trustees of Reservations responded to the beached sea turtles on Friday and Saturday. Although the Mass Audubon in Wellfleet is federally mandated to respond to all southeastern Massachusetts sea turtle strandings, Ms. Dourdeville said that because of the pandemic they have conducted special training sessions with scientists on-Island, including Ms. Bellincampi, Felix Neck education coordinator Liz Dengenis and Matt Pelikan, who is working for the Trustees and responded to the turtle at Inkwell Beach.
The Island-based responders are trained to do searches for tags on the turtles, as well as to take requisite size measurements, samples and other important data.
On rare occasions, the sea turtles that wash up around the Island have tags and can be traced back to the location where they laid eggs in the Caribbean. Although none of the recent turtles were tagged, scientists recently discovered that the dead leatherback found on West Chop was a reproductive female that had been tagged in Chiriqui Beach in Panama — one of the most important egg-laying spots for turtles in the region. Ms. Dourdeville said the West Chop turtle was one of only five tagged turtles found around the Vineyard that she could recall.
"They sort of get drilled into your memory," Ms. Dourdeville said. "Whenever you get two significant geographical points on an endangered species, that's important data."
Genetic data has also linked certain populations of nesting turtles to areas around the Vineyard, according to Ms. Dourdeville.
Both loggerheads and leatherbacks travel thousands of miles from the tropics to feed on gelatinous marine life, including Lion's Mane jellyfish, Portuguese man o'war and other species that flood the Island waters around August and September.
Historically, the peak season for turtle sightings has occurred in August, when warmer waters bring jellyfish and the turtles follow. But a combination of changing weather patterns and ocean ecology has shifted the migratory season later in recent years, with experts at Mass Audubon saying that September has really become the primary month for sea turtles in the Vineyard and Nantucket Sounds.
Ms. Dourdeville said that the wildlife center got very few calls during the summer — but that call numbers have significantly picked up in recent weeks, as the jellyfish arrive.
"We think [the shift] is real this year, and we have a couple of colleagues out on the water, and they said until late August, there really weren't jellies in the sounds. And then the jellies started showing up, and then we started getting leatherbacks, which makes sense, because they follow the jellies," Ms. Dourdeville said.
The later months, however, now overlap with the popular striped bass and bluefish derby, which brings fishermen to Vineyard waters in large numbers. Harbor masters have also reported increased boat traffic around the Island this year, likely due to the social-distancing requirements from the pandemic.
Although there is no fine for striking a sea turtle with a vessel, boaters are encouraged to report the collision so that scientists can respond, should one occur.
Mass Audubon continues to coordinate with the derby to increase awareness for boaters that encounter sea turtles on the water. Sightings can be reported to seaturtlesightings.org or phoned in at 888-SEA-TURT (888-732-8878).
Ms. Dourdeville encouraged boaters to avoid autopilot and to always be on the lookout for turles. She said the five strandings so far this season were unfortunate — although not necessarily out of the ordinary.
"Unfortunately, it's not surprising to get these strandings, really," Ms. Dourdeville said. "I just think it's good for the leatherbacks to stay out of the sound."