Edu Comp, the family-owned office and art supply store that has been an anchor business at the head of Main street Vineyard Haven for the past four decades, will permanently close its retail store, the owners announced Monday.
"After long consideration and with a heavy heart, the time is coming soon for us to permanently close the doors of our . . . retail store," owners Dorothy Gregory, her daughter Shannon and son in law Dan Carbon wrote in an email that went out to customers Monday.
"After decades of being here for you, due to the combination of sales lost to the internet and the coronavirus pandemic, sadly it is no longer possible for us to stay in business and serve this community that we love."
Edu Comp will continue to operate its technical department which includes computer sales and support for clients, the email said. But there will be no retail store and no walk-in service for computer customers.
In an email to the Gazette Tuesday, Dorothy Gregory said a final date for closing has not been decided yet, and that a going-out-of-business sale will begin Oct. 1. In a follow-up call, Ms. Gregory corrected herself, saying that owners had not yet set a date for the sale.
The Edu Comp building, an iconic, two-story brick building that is also owned by Ms. Gregory and the Carbons, will be placed on the market, she also said.

Edu Comp was founded by Dorothy Gregory's late husband Pat Gregory in 1980. Mr. Gregory, a well-loved Island businessman and former West Tisbury town moderator, died while hiking in northern California in 2014, the victim of a homicide in a case that has never been solved.
In 2015 Dorothy Gregory and Shannon and Dan Carbon bought the building, which had been placed on the market. The purchase price was $1.4 million.
In 1995, the building had a cameo role in the remake of the movie Sabrina, which was filmed on the Island and starred Harrison Ford and Julia Ormond. The building got a Hollywood-style makeover to make it look dilapidated.
In her email Tuesday, Dorothy Gregory described the origins of the business begun by her late husband while he was working as a teacher in the West Tisbury School.
"It was a simple consulting business back then that he did after school and weekends," she wrote. "For a couple years he helped people set up bookkeeping systems and databases from scratch. He taught BASIC, a computer language that at the time was believed you had to know in order in operate a computer. It's kind of humorous to think about that now."
The fledgling business grew to include board games and computers and along the way the Gregorys rented a few spaces, first in Oak Bluffs, then in Vineyard Haven. Around 1983 Pat Gregory left his teaching job to run the business full time. "As probably with most startup businesses, we never knew from week to week whether there would be enough left over after expenses for payroll," Ms. Gregory wrote.
In 1986, when the former Community Services building (also known at the time as the Tarlow building) came on the market, the Gregorys joined six other people to buy it; Edu Comp became the anchor tenant and has been in the same space ever since.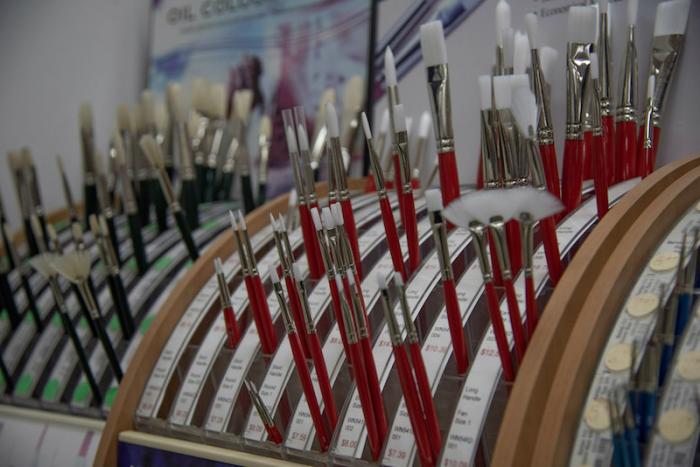 Ms. Gregory said her husband's sudden death in 2014 was a hard blow, and she thanked her son in law Dan Carbon for stepping in to carry on the business during an extremely difficult time.
"I don't know what I would have done without him," she wrote.
She also warmly praised and named the many loyal Edu Comp employees, whom she said ". . . have always been our backbone," including Brad Mendenhall, who has worked at the store for 29 years.
"Our decision to close our store was not easy to make," Ms. Gregory wrote. "Whenever a 'real' store closes, there is bound to be an impact on the community. Our sales have been steadily decreasing for years now due to online competition. Then along came Covid. We were closed for two months and then opened only curbside as we felt I was a safer working environment for our employees. We were very grateful to receive the government PPP and EIDL assistance. I also want a simpler life." She concluded, in part:
"Pat and I so enjoyed running Educomp together . . . It was like our third child . . . Many, many hours were spent envisioning how we wanted Educomp to be and we were very proud of what we had created together."

In their email to customers Monday, the three owners wrote:
"Our sincerest appreciation to you for your years of patronage and support. We will miss seeing your familiar faces and helping you with your office and art needs. It has been our pleasure to assist you and welcome you into our store," the three owners wrote in the email to customers Monday.