As the 75th Martha's Vineyard Striped Bass and Bluefish Derby heads into its final week, a look in the rearview mirror reflects a competitive tournament with large numbers of fish crossing the scale. Striped bass may have been out of the derby but schools of false albacore, bonito and blues have more than made up the difference.
That said, bone-chilling winds and plummeting temperatures made for an uncharacteristically slow Columbus Day weekend at derby headquarters. The number of fish coming in on weekends this year routinely eclipsed triple digits. However, this past weekend there were only about 10 fish weighed in each night, derby committee member Mr. Cassidy said.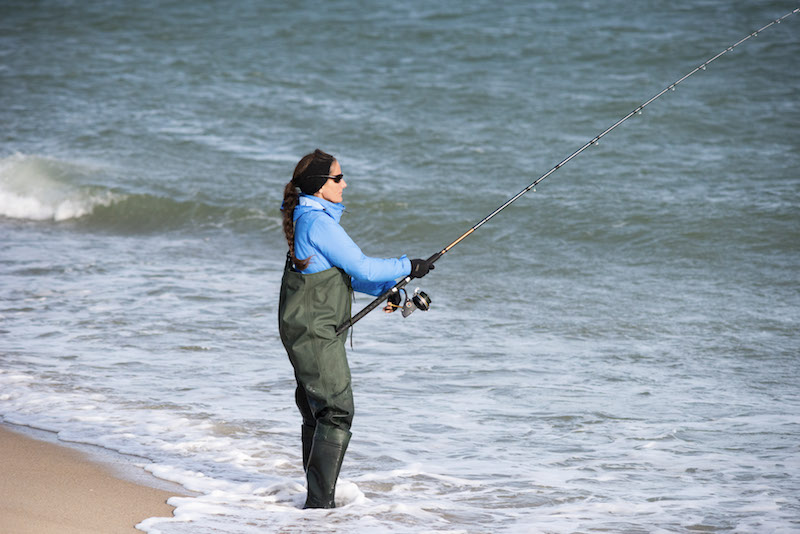 On Monday morning, Mr. Cassidy sat behind the sliding barn door of the weigh-in station, trying to block out an easterly wind.
"It's looking like the wind is going to die down and I'm hoping Wednesday, Thursday, Friday and Saturday the fishing will be booming to wrap it up," he said.
However, even with the low number of fish registered this weekend, there was still movement on the leaderboard. On Saturday, Christopher P. Belezos took the lead in the boat-caught bluefish division with a 17.86-pound blue, knocking out 11-year-old Aubrey Warburton, last year's grand prize winner. Mr. Cassidy said Mr. Belezos' group came in with not only his division-leading fish but also 12, 13 and 15-pound blues as well.
"They found a bunch of big bluefish but as big as it is, when he left here, my comment was, game on. It could be a real exciting finish," Mr. Cassidy said.
Currently, Peter C. Shepardson leads the shore-caught bluefish division with a 12.98-pound fish. In the bonito category, Greg G. Clark's 12.34-pound bonito leads the boat-caught division and John Thurgood's 10.48-pound fish leads the shore-caught division. For the false albacore, Stephen W. Luce's 11.4-pound albie leads the boat-caught division and Rudy S. Sanfilippo's 13.7-pound albie leads the shore-caught division.
As derby committee members made their picks on which fish might remain on top by week's end, high tide roared into Edgartown Harbor. Memorial Wharf was rather desolate but a few brave mariners charged head-on into the wind and rain with hearts full of hope for derby glory.