On Saturday at 10 p.m. the 75th Martha's Vineyard Striped Bass and Bluefish Derby weigh-in station will close its doors. Despite a pandemic and striped bass being out of contention, the annual tournament has been a success on all levels.
Blues, bonito and albies have been biting from the opening bell, and fish have crossed the scales in record numbers throughout the derby (nearly 10,000 pounds weighed in as of Thursday). The filet program, which traditionally donates fresh fish to senior centers, expanded to partner with Island Grown Initiative and help people in need all over the Island.
The derby also provided the perfect social-distancing pastime, easing the pain for 3,222 fishermen of a spring and summer spent in partial lockdown.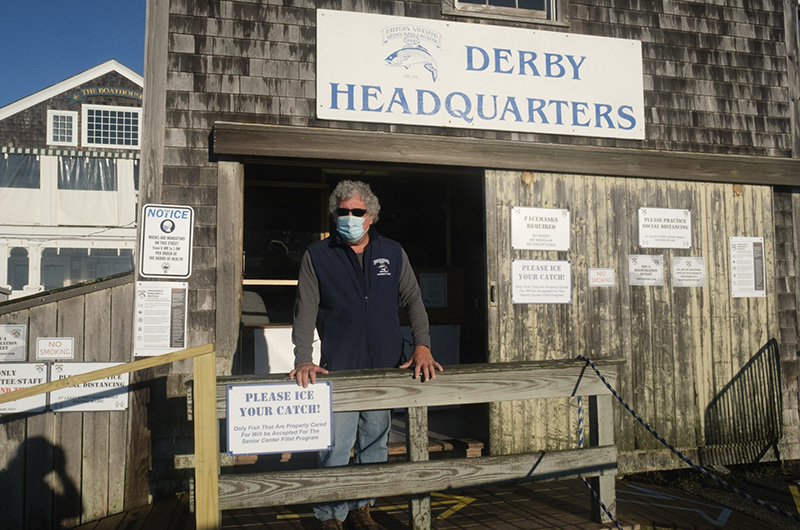 "The fishing has been phenomenal," said derby committee chairman Joe El-Deiry. "We are so glad we were able to make the derby happen this year."
And on Sunday a key will turn a lock and a grand prize winner will be the new owner of a Cape Codder 19 boat, courtesy of Cape Cod Marine.
The closing ceremony will be different this year, with only the six leaders of each division and one friend each attending the ceremony in person. The six division leaders will choose an envelope with a key in it and then derby president John Custer will test the keys in the lock.
The ceremony will be broadcast live on MVTV (cable channel 13) beginning at 2 p.m., and will be live streamed on the derby Facebook page.
Earlier in the day there will also be a drive-by pick up for the division and special awards from 10 a.m. to noon at the Edgartown School.
As of Thursday, division leaders are Christopher P. Belezos's with a 17.86-pound boat caught; Peter C. Shepardson's with 12.98-pound shore caught bluefish; Stephen W. Luce's with a 11.4-pound boat caught false albacore; Rudy S. Sanfilippo's with a 13.7-pound shore caught false albacore; Greg G. Clark's with a 12.34-pound boat caught bonito; and John Thurgood's with a 10.48-pound shore caught bonito.
But the derby has always been about much more than prizes. Like the story of 10-year-old William Connell who has been visiting the Vineyard with his mother Tracy Wadsworth and fishing the derby. Last weekend he fished off the Owen Park pier, his favorite spot, when he left his tackle box behind on the dock. When he returned the next day the tackle box had been cleaned out.
"I had watched him load the tackle box up with everything we would need to fish, the both of us," Ms. Wadsworth said. "I knew how much care he had put into choosing just the right lures, two flashlights and his new bait knife."
She contacted Wilson Kerr at derby headquarters to help spread the word about William's missing gear in case it turned up. When the derby committee members heard that a young, avid derby fisherman had lost all his tackle they decided to help out.
Mr. Kerr said derby committee member David Nash secured William a new derby hat and pin as close to William's number as possible. Mr. Nash also collected lightly-used tackle from members of the Martha's Vineyard Surfcasters Association. Mr. Kerr and Mr. Custer then put together a new tackle box with even more lures, a headlamp and a new bait knife.
On Saturday night at the Owen Park pier, Mr. Kerr and Mr. El-Deiry surprised William with his new lures and gear.
"We told [William] we understood what had happened and said that he fishes hard and is really part of what makes the derby so special," Mr. Kerr said.
"It's about understanding that we were all taught to fish when we were little," Mr. Kerr continued. "Someone took us out on the beach at four in the morning in the cold. This was a moment, especially this year with what everyone has been going through, to pay that back because we've all been given the same thing."