The all-Island school committee heard preliminary plans Thursday to bring all middle and high school students back into classrooms on a full-time basis, providing no hard dates but taking a cautious step toward complete re-entry even as some other schools across the state move in the opposite direction.
The prospect of bringing upper-grade students back to school has been long on the table since the committee voted to slowly phase-in school re-opening earlier this summer. With case rates low on the Island — despite recent case increases across the country and state — school superintendent Matthew D'Andrea announced plans to make the possibility a reality.
"I feel strongly that it's imperative for the benefit of our students that we look to keep bringing them back in person as much as possible," Mr. D'Andrea said Thursday.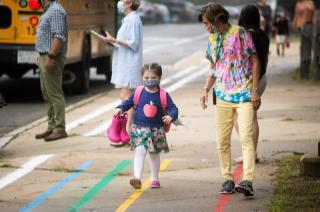 Working in partnership with the health and safety subcommittee, Mr. D'Andrea laid out a plan that calls for all middle schoolers — who are currently set to return once per week — back in the classroom four or five times a week for full school days, while high school students will return under a hybrid model. Mr. D'Andrea hopes to being the re-entry process in November, although no specific dates were provided.
Logistical details of the plan will not be uniform Islandwide, but decided by district principals based on the size of their school buildings and the feasibility of six-foot social distancing, Mr. D'Andrea said. District-specific plans will be presented at upcoming local meetings.
"The buildings have different needs, different space, different situations they need to deal with, so I'm not looking for a lockstep system," Mr. D'Andrea said.
Elementary school students have been slowly phasing back into school buildings since Sept. 17, with kindergarten through third graders currently attending in-person learning across the Island. Fourth graders, fifth graders and middle school students in certain districts are scheduled to start some in-person learning next week.
The plan for older students, though preliminarily backed by the health and safety committee, will depend entirely on the maintenance of low virus rates on the Island, as determined by four board of health metrics formulated weekly by health agents Maura Valley and Marina Lent, officials said.
According to Ms. Lent, who presented during the meeting, the schools will have to keep a close eye on the number of cases per two weeks, the proportional population count, the test positivity rate and the percentage of linked cases, all of which have remained low throughout the summer and fall.
Parents and committee members expressed gratitude for the plan, but some, like committee member Kimberly Kirk, voiced hesitations at the safety of such an ambitious re-entry.
Ms. Kirk also shared a letter on behalf of Tisbury School teacher Tamzin Partridge, who urged the committee not to move forward with re-entry, citing risks to teacher and student health. "Boston public schools have already had to close its doors and [Dr. Jeffrey] Zack's testing program has fallen by the wayside, is now really a great time to be talking about this," Ms. Partridge wrote.
Responding to the concerns, health and safety committee member Catherine Coogan clarified that no re-entry plans are final until health and safety approves each district's plan.
"Because each individual school is still coming up with their plans as to how this rolls out, there still needs to be some discussion regarding how that happens," said Ms. Coogan. The school will also follow protocols issued by the Massachusetts Department of Elementary and Secondary Education in the event of a positive case or outbreak, she said.
With re-entry coming into sharper focus, the discussion turned next to progress on a school-wide testing program, which has slowed after high expenses and concern over accuracy pushed the committee to rethink its initial plan.
On Thursday, committee member Alex Salop, who serves on the newly-appointed testing task force, said the group plans to meet with Georgetown professor and infectious disease expert Dr. Michael Soto next week to gather information about possible testing regimens.
Committee members urged Mr. Salop and the task force to move forward as quickly as possible. "We started talking about testing on August 24 and today is October 22. So let's go," said committee member Lisa Regan.
In other business Thursday, the committee heard updates from business administrator Mark Friedman on school finances, including its shared Covid expenses, which remain manageable at $26,000 so far.
Mr. Friedman also shared a preliminary draft of the FY22 shared services budget, which reflected contractual increases in salary rates — built-in according to the school's collective bargaining agreement with its faculty — as well as a handful of other assumptions. Total expenses in the budget will increase by $166,167, or 2.4 per cent from last year, Mr. Friedman said.
Following the presentation, committee chairman Robert Lionette moved to establish a budget subcommittee, composed of five school committee members and one alternate, to expedite the budget planning process going forward. The committee voted 7-1 in favor of the measure, with Roxanne Ackerman voting nay.
Before adjourning, the committee also voted unanimously to adopt a resolution on social and racial justice, proposed by the Massachusetts Association of School Committees this summer and recently approved by the Island chapter of the NAACP.