The Martha's Vineyard Regional High School has suspended all in-person learning at the building for one week after several staff members have been required to quarantine as close coronavirus contacts, according to a letter Sunday from school principa Sara Dingeldy.
The suspension of in-person learning at the high school comes two days after schools superintedent Matt D'Andrea announced Friday evening that he had indefinitely postponed any further expansion of in-person learning at all public schools on the Island due to the prior week's alarming rise in case numbers.
Ten individuals connected to the Island public schools have now tested positive for the virus, including six Thursday. Three positive cases have been reported at the high school, three at the Tisbury School, three at the Edgartown School and one at Project Headway — a preschool program operated under the public school umbrella.
Mr. D'Andrea's earlier letter from Friday had stated that all current in-person learning programming would continue.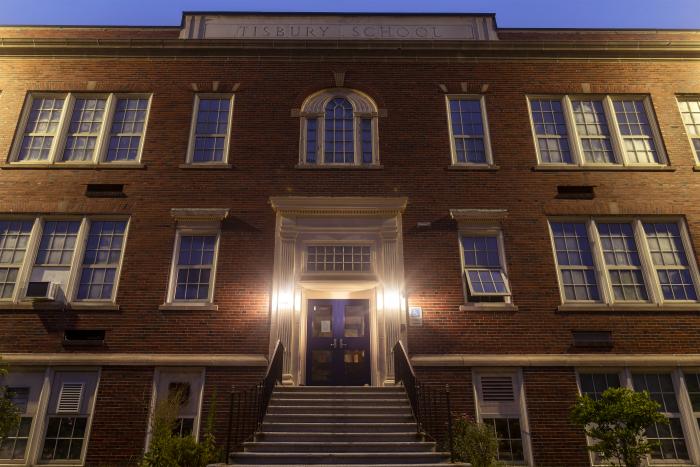 But in her letter to parents which went out midday Sunday, Ms. Dingledy wrote that contact tracers had identified several high school faculty as close contacts, forcing them to isolate and leaving the school's team of supervisors for in-person learning understaffed. The announcement from Ms. Dingledy on Sunday marks the first official roll-back of previously-instituted in-person learning programs at Island public schools.
"Due to Covid-19 now affecting members of our school community, and the emergence of community spread on the Island, we will be suspending in-person support this coming week, November 16-20," Ms. Dingledy wrote. "This means that no students will come into the building to work in the cafeteria or with teachers. Due to contact tracing, several staff members will need to be in quarantine, even those who receive a negative test result. This necessary quarantining will result in significantly reduced supervision in our student support spaces, making it impossible to run our program as we have since September."
Unlike Island elementary schools, nearly all high school students are learning remotely, although daily in-person supervision is provided for high needs students. Other students have been using the building infrequently for certain special programming, classes or extra-curricular activities.
Ms. Dingledy clarified in her letter that Mr. D'Andrea's announcement about the postponement of further expansions to in-person learning applied to the high school, which was planning to expand to a hybrid model for students on Nov. 30. The high school will move back into a five-block schedule from its current four-block day, in response to parent and student feedback about workload, Ms. Dingledy wrote.
"We will not move into a wider in-person hybrid model on Nov. 30 as originally planned," Ms. Dingledy wrote. "As Dr. D'Andrea stated, we will meet regularly to determine a date to bring more students back into the building, and we plan to update the community weekly about our deliberations."
The decision to postpone further in-person learning at the Island public schools came in a letter to parents sent by email around 8 p.m. on Friday. The letter represented a turn since Thursday, when Mr. D'Andrea said in an earlier letter to parents that the reopening process would continue unaltered despite the case rise.
"The heightened spread of on-Island positive COVID-19 tests has created great concern in our school community," Mr. D'Andrea wrote in the most recent corrrespondence. "After careful consideration, and in consultation with our Health and Safety Committee, all MVPS schools will postpone the start date of increased in-person instruction. This decision is made to minimize any impact of community spread in the schools."
In a letter Thursday announcing six of the cases, Mr. D'Andrea said he was confident that case transmission was not occurring within the schools, and said in a follow-up interview with the Gazette that all of the cases had external exposure to the virus that did not come from a teacher or fellow student.
The Edgartown School had already postponed its expanded in-person learning program, announcing the decision Monday after the first case of Covid-19 was reported in the school. The school, which has kindergarten through fourth graders in the building for most of the week, was scheduled to bring back middle schoolers for four days per week on Tuesday, Nov. 10. Middle school students are currently in the building one day a week — on Friday.
All other in-person learning expansions, scheduled to occur mainly this week and last, had been on track. Mr. D'Andrea previously said that middle schools across the Island were preparing to welcome students back more regularly beginning Monday Nov. 16, while an expansion of high-school in person learning was slated for Nov. 30.
But Mr. D'Andrea said in his letter on Friday that cases within the schools — combined with the rise in cases on the Island — made it wise to postpone all re-openings, telling parents he had put the brakes on the process, but not giving a date for its renewal. Mr. D'Andrea did not say that any of the cases had been spread in school buildings, but rather cited the need for a community-wide effort to stop the spread of the virus.
"As I noted in my communication on November 12th, school administration meets regularly with our Board of Health agents to look at current data," Mr. D'Andrea wrote. "The number of positive cases has increased exponentially over the last three weeks. In order to stem this growth that is occurring in our community, we must collectively take steps to stop the increase. The postponement of additional in-person instruction will reduce the probability of the schools contributing to the community spread."
With more than 60 cases reported this week and at least 55 currently active, the Island is seeing by far its largest virus surge since the pandemic began. The spike in cases — unprecedented until this month — has become broadly impactful, leading to the cancellation of two town meetings and the closure of a large Island grocery store, as well as other businesses.
On Thursday, Tisbury was labeled a "high risk" community by the state after reporting 30 cases within 14 days.
According to recently-updated state guidance from the Department of Secondary and Elementary Education, schools systems are encouraged to promote in-person learning even if communities are labeled as "high risk" for virus transmission by the state. The guidance says that in-person learning at schools has not been shown to contribute substantially to virus spread — a statement often repeated by Gov. Charlie Baker in press briefings.
"Districts are expected to prioritize in-person learning across all color-coded categories, unless there is suspected in-school transmission," the guidance states.
In his letter Friday, Mr. D'Andrea said that he would provide weekly updates on the reopening process, and added that it was his priority to get in-person learning back on track.
"It is the district's goal to bring our students back to in-person learning as safely as possible," Mr. D'Andrea wrote. "School administration will continue to meet with the Health and Safety Committee, and I will update the school community on a weekly basis as to when we will resume increasing our in-person instruction."
In her letter to parents, Ms. Dingledy wrote that the high school's reopening process had taken into account rising case numbers on the Island and expressed confidence that quality education would continue. She added public health officials had notified all contacts connected to the high school.
Lunch will still be available for pickup from 11 a.m. to noon each day near the high school greenhouse, the letter states.
"When we set this model up in August, it was to account for this type of situation, and I am grateful that we will be able to maintain stability at this time," Ms. Dingledy wrote. "We can continue to deliver a solid instructional model to all students, each and every day."