Many on the Island know her as the woman in the yellow rain boots, the leader of the Black Lives Matter kneel-ins every morning at Beetlebung Corner. But for Dana Nunes, longtime resident of Chilmark and Vineyard Haven, the title — and the spotlight — has never been the focus.
"I think a good way to describe it is I was not an activist, but the impetus," said Ms. Nunes on a bright Saturday morning, looking over a small pond in the backyard of her partner Ed Sussman's home. "I don't think of myself as an activist, I was the impetus for people to move, but all I did was stand up."
On Wednesday, after almost 25 weeks, the vigils will come to a close, as virus cases rise and temperatures drop. Sitting beside the pond in her trademark yellow boots, Ms. Nunes described how it all began.
The effort began small, as a personal initiative for Ms. Nunes to stand on Beetlebung Corner for a week, in honor of the black lives lost to racial-based violence.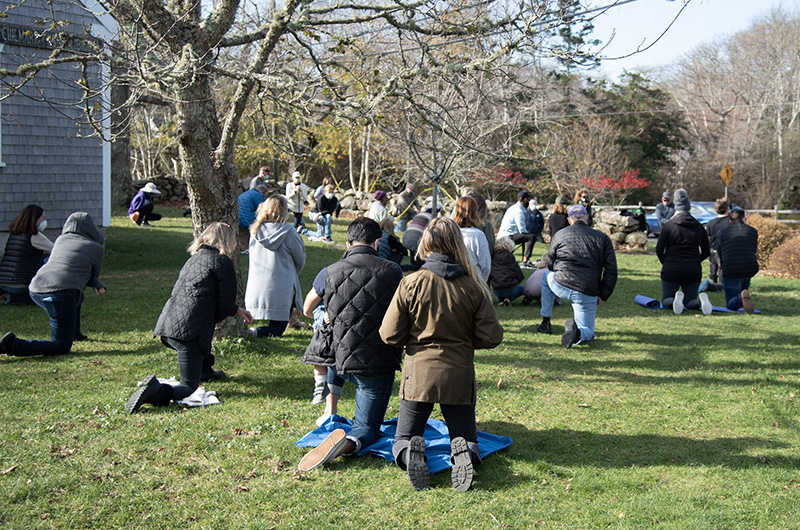 But her protest caught the attention of fellow Islanders, including the comedian Amy Schumer, a Chilmark seasonal resident, who quickly began joining her on the grassy corner. Soon, an average of 45 to 55 people began showing up, a devoted cohort of kneelers who returned every day to share the stories and honor the memory of those who have died.
"It was going to be my little protest," said Ms. Nunes. "But people came and as the summer went on, we discovered how much people care and how many allies we have . . . It really just fed my soul to see."
Though her easy confidence and quick wit would suggest otherwise, activism is new to Ms. Nunes, who spends her days as a mosaic tile artist who sells her wares at the Chilmark Flea Market, and a model for local artists.
Growing up in Kingston, Ms. Nunes recalled her childhood as a shy and soft-spoken girl. Her late mother Elsie, an outspoken advocate of social causes, was the activist of the family, she said.
"She was four feet 10 inches tall and about 90 pounds. She was tough as nails and she had an iron backbone," Ms. Nunes said, recalling her mother's work as the president of her local NAACP chapter and myriad other local organizations. "Unfortunately, she did not pass that on to me. She was just in everybody's face all the time, she never let up. That was not who I wanted to be."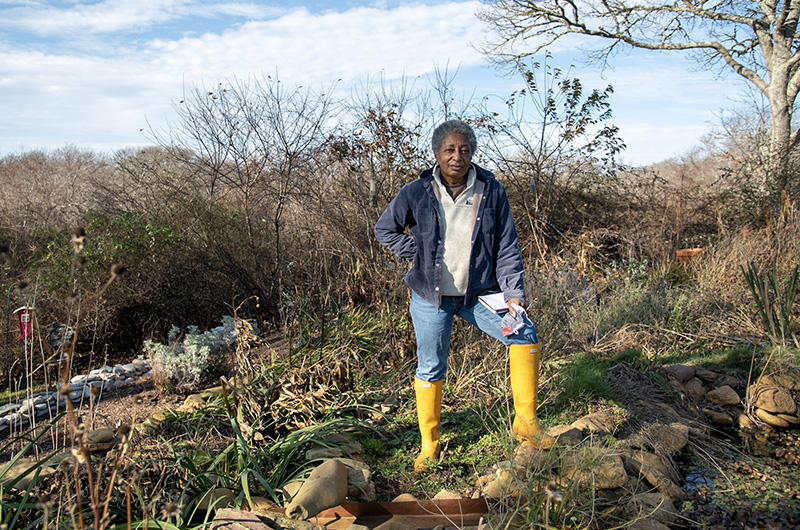 The death of George Floyd and the wave of protests that followed this summer marked the first moment Ms. Nunes followed her mother's lead. "Somebody needed to say something . . . But now, I'm never going to stop. You get a taste of it and you realize, how can I just sit back and not say anything anymore."
An Island resident since age 17, Ms. Nunes said the vigils have opened her eyes to the community in entirely new ways.
The kneel-ins attracted community members and visitors of all walks of life — from higher-profile seasonal residents like Ms. Schumer and Zach Iscol, a New York City mayoral candidate, to Ms. Nunes's next-door neighbor Andrew Celli, an attorney prosecuting police violence.
"We didn't know him before the summer, but we certainly know him now. He's a remarkable man, a civil rights attorney for 25 years, but for us, he was just our next-door neighbor," Ms. Nunes said.
She was also particularly struck by the participation of children in the vigils. "The young people are the ones that really give me hope. All of us old farts are out there, we've always been doing this in one way or another, but to see the young people engaged is fabulous," she said.
On a less positive note, the vigils have also opened her eyes to the opposition — and in many cases, bigotry — still alive on the Island, she said. "That's something that has really changed in me. The benevolence is gone, that certain little bit of grace is gone," she said of the experience.
The conclusion of the daily kneel-ins, though disappointing to many, was always part of the plan, Ms. Nunes said.
"A lot of people keep saying to me that it feels like church to them and they can't give it up," she said. "I'm not sentimental. We didn't want to see it just trickle out to the point where we've got five people. We wanted it to end because everything should have a beginning, a middle and an end . . . now it's time to move on to something else."
And there is plenty of work to be done in the Island's next chapter, Ms. Nunes said, noting the offshoots of Island activism that have already stemmed from the kneel-ins, like writing to Florida voters for Swing Left, to in-depth conversations at the Yard about anti-racist action.
The group of kneelers also recently joined forces with the Martha's Vineyard Diversity Coalition, a community-based initiative aimed at diversity, equity and inclusion work on the Island, who will continue leading initiatives going forward.
Ms. Nunes said she looks forward to following someone else's lead for awhile. "It's in their hands and I can't wait to see what they do," she said.
As for this winter, as she hangs up her clipboard and trades out her yellow boots for something warmer, Ms. Nunes said the summer has shown her one thing. "[I should have] a crowd of people here with me because it really is their story," she said with a smile. "Me, I was just somebody they followed."