In its first year as a credit-bearing academic course, the theatre class at Martha's Vineyard Regional High School has been giving nearly two dozen students an unexpected education in adaptability as they retool their planned Christmas stage show into a filmed performance. The show, complete with Minnesingers, screens this weekend at the Martha's Vineyard Drive-In by reservation only.
"It's a little bit complicated to explain, I suppose, but what isn't these days? It's all new territory," said theatre teacher Brooke Hardman Ditchfield, who with music teacher Abigail Chandler and 22 students has been working since late summer on It's a Wonderful Life: A Live Radio Play.
Originally planned for a weekend of socially distanced live shows at the drive-in, the period drama by Joe Landry—it imagines a 1940s radio troupe performing the script of the beloved Christmas movie It's a Wonderful Life—will instead appear onscreen, edited from three weeks' worth of recordings made during Zoom online classes.
"What we're going to present this weekend is essentially the final for this unit," Ms. Hardman Ditchfield said. "It also happens to be a really wonderful thing to watch."
This weekend's shows will also include the Minnesingers, who have recorded a series of songs that will run throughout the evening at the drive-in and provide a rare opportunity to hear the school's elite chorus in this music-muffling pandemic year.
Admission to the screenings is free with advance reservations, but donations to the singing group are encouraged, Ms. Hardman Ditchfield said.
"The Minnesingers have lost every single fundraising opportunity they had this year," she said. "They haven't had the spring show. They haven't had the Christmas show."
About three weeks ago, Ms. Hardman Ditchfield and Ms. Chandler learned from local health authorities that the Covid-19 surge would rule out in-person performances, even outdoors with social distancing and individual microphones for each performer.
"We'd been planning this since August," Ms. Hardman Ditchfield said, with a sigh. "It was very Covid-19-protocol friendly... Then we thought, 'Okay, can we film it?'" Her husband, Martha's Vineyard Film Festival programming director and drive-in impresario Brian Ditchfield, encouraged the idea, she said. "We talked to the students, and everybody agreed they wanted to do something. We didn't want to give up."
Class members easily made the transition to the virtual medium, she said, building elaborate sets in their homes, showing up in costume for class and putting in extra time when needed.
"They have been such troupers, and so dedicated. It was a crash course, not only in acting for film but acting for film over Zoom."
During in-class Zoom performances, Ms. Chandler would record a view including all the students while Ms. Hardman Ditchfield recorded individual speakers—the equivalent of wide takes and close-ups. The Ditchfields have been editing this virtual footage into the finished movie audiences will see at the drive-in on Friday and Saturday nights.
"We've kind of learned how to make something in this new medium. It isn't quite theatre, it isn't quite Zoom … it isn't TV, it isn't a live concert," Ms. Hardman Ditchfield said.
And it will be a radio play—a real one. With the help of Laurel Redington at WMVY, the performance will be broadcast on Dec. 20 at 7 p.m., Dec. 25 at 6 p.m. and Dec. 27 at 11 p.m.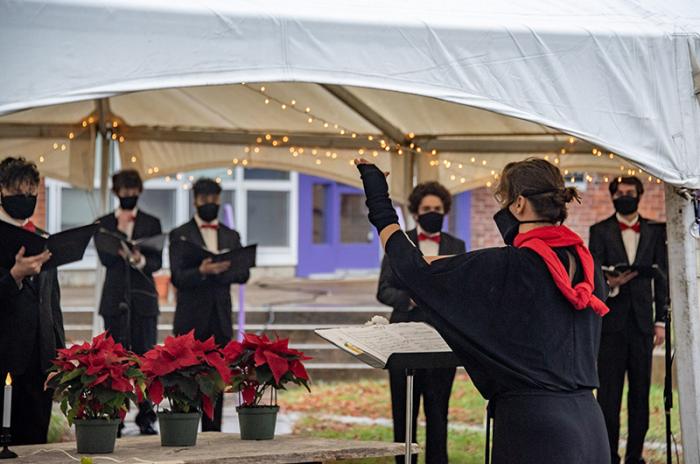 The show's cast includes MVRHS senior Hayleigh Lecoq as Mary Bailey, junior Emmett Favreau as George Bailey and senior Sarah Lytle as Clarence the angel. While this is the culmination of student work for the semester, it is just the start of the theatre department's 2020-2021 performance schedule.
"The pandemic hit, but we managed to plan a whole season of theatre," Ms. Hardman Ditchfield said.
In February, the class will present a concert of solo performances called Silver Linings Showcase, she said. "The plan is to film that and screen that around the time that we normally would have done the musical."
And in May, the class will performthe musical Bright Star by Steve Martin and Edie Brickell, in a newly-released concert version.
"I have been obsessed with this musical for years," Ms. Hardman Ditchfield said. "I think the music is brilliant, and the story is amazing. And it's based on a true story."
The current plan is for the May show to be performed outdoors at the drive-in and also live streamed. "We actually have the room at the drive-in to have live musicians, and the students, socially distanced," Ms. Hardman Ditchfield said.
It's A Wonderful Life: A Live Radio Play screens at 6:30 p.m. on Friday, Dec. 18 and 4:30 p.m. on Saturday, Dec. 19 at the Martha's Vineyard Drive-In in Oak Bluffs.
Admission is by reservation only at docs.google.com/forms/d/e/1FAIpQLScs2kzIrWE1WgH_ge0_8fAvZstZ18NaITi-AyP7sAH-9_Untw/viewform?usp=send_form.