There's something holy about Sean McMahon. Maybe it's the Jesus-beard and long, thick brown hair, sometimes flowing down his back, other times done up in braids that would have the Vikings and the Amish scrapping for proprietorship. Maybe it's the voice, the same, lilting voice that conjures Dolores O'Riordan in Cranberries songs at The Ritz.
Or maybe it's the fact that Mr. McMahon — familiar to most as the lead singer for The Brothers McMahon band — has found his spiritual place with a different sort of audience, as a faith-based religious leader on the Vineyard.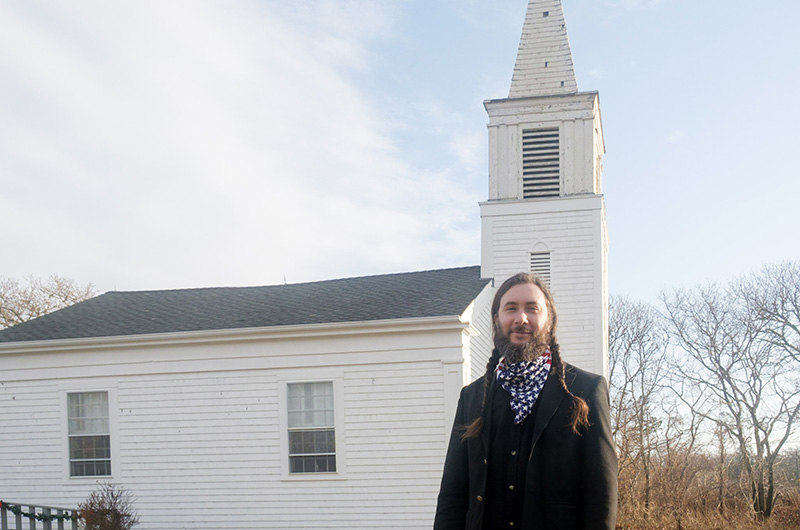 Last year Mr. McMahon was voted in by the deacons of the Community Baptist Church of Gay Head (Aquinnah) as the first pastor in residence at the ancient, tiny and remote parish in possibly a century. And while the role might surprise those who are more familiar with Mr. McMahon's Saturday nights than his Sunday mornings, it is in fact the culmination of a decades-long conversion process that began in his early 20s and has lifted him from stage to sanctuary. He says it's an experience that has ironically grounded his life. And it has given the Vineyard a new kind of spiritual voice, one just as profound from the pub as it is from the pulpit.
"I think they are kind of like inside-out versions of one another," he said in a recent interview. "The heart of The Ritz is celebration, and occasionally there can be underpinnings of repentance. I think Sunday is the opposite, because the fundamental impulse of Christianity, first, is your sense of repentance. And the heart of that repentance is love. That kernel pops like popcorn into a celebration."
He cast the dichotomy in simpler terms.
"At The Ritz, you're here to party. But you can feel too," he said. "And at the church, you're here to feel. But you can party too."
The party, music and rock-and-roll lifestyle came at a young age for Mr. McMahon, who grew up in Northampton and spent many of his early years on the road. But the need to feel, especially in a religious sense, only came later. And he never thought it would happen in a church.
"My mother is Jewish," he said. "Getting involved with the church was one of the last things on my mind. It was something I never intended to do, and I, frankly, was very opposed to it. But when I was caught off guard by my conversion, it became a natural next step."
The conversion began in Mr. McMahon's late teens and early 20s, as he became interested in world religions, including Buddhism and performing what he called due-diligence to his mother's background by reading the Torah. After exploring the Old Testament, he felt that it was only fair to move on to the new one. That's what stuck. Mr. McMahon described his conversion as a Berean experience — a Christian word that essentially means his adoption of the faith came out of studying the bible. An avid reader, he quickly became enmeshed in the bible's teachings and wanted to educate himself through further religious literature.
But the experience wasn't easy.
"It was a very difficult conversion," he said. "It wasn't like my heart changed. It was like my mind changed. I definitely lived a rough road — I lived on the road, doing the rock-and-roll lifestyle. So it took awhile for me to really live grounded into the gospel. But when my mind was changed in my early 20s, it really changed my life."
Between music tours, Mr. McMahon began to audit at the New York Theological Seminary. He became interested in music ministry, realizing that religion, like music, was rooted in spirituality. The seeds of the Holy Rock-and-Roll Revival, a Sunday-night mainstay at The Ritz (now closed for the winter), were sown.
"Most of my life, I've been a front man, so I always get to pick the music. And that's all to say, I pick music that feels good. So for me, personally, there's no difference between the secular music I like and spiritual music," he said. "It's all about just picking songs that lift my spirit."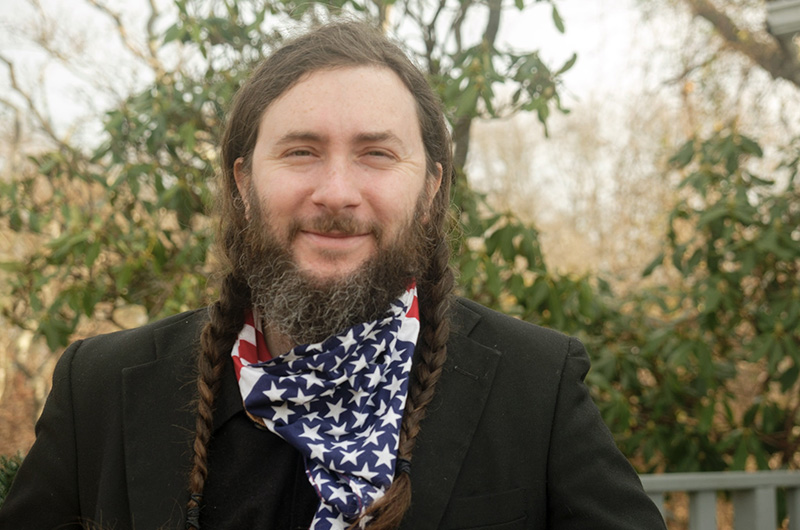 Music brought him to the Vineyard, but it's the church that got him to stay. After following his brother to the Island to perform gigs, Mr. McMahon met his future wife Siren Mayhew — also a musician — at a midnight mass at St. Andrew's church in Edgartown. They now have a toddler, Isla, and live in West Tisbury. They have done online "social distance-sings" throughout the pandemic, Isla often on Siren's hip, a guitar on Sean's.
His affiliation with the Community Baptist Church in Aquinnah took a slightly different tack. The church, which only has about 10 regular parishioners, many of them longtime Wampanoag community members in one of the smallest towns in the commonwealth, dates to before 1693. It is the oldest church on the Island. It is also the oldest Native American-founded Baptist church in the country, and one of the few places where Wampanoags could gather, hold positions of respect and speak their own language in a sacred setting.
Mr. McMahon said his faith drew him to Aquinnah.
"I was in prayer, and something told me to go where the
tribe was at," he recalled. "I didn't know much about the tribe on the Island, but I felt I had to follow this instinct. And so I was super surprised to find out that there was a church that was founded by the tribe on the Island. That felt like God answering my prayers. It was a miraculous little revelation."
He developed a rapport with the church's former pastor, Leo Christian — who also served as pastor at a sister church in Vineyard Haven — and became a regular, performing at Sunday morning services. Then last year the pandemic, which effectively shut down Saturday's late-night music scene, allowed Mr. McMahon to take on an even larger role at the church — and to wake up in time for a 10 a.m. service.
When Mr. Christian announced his departure, Mr. McMahon became the obvious choice as a replacement.
"I was all of a sudden able to be at all services," he said. "And once the lockdown was lifted, I threw out the idea of outdoor, drive-in services. From there on out, things started getting very synergistic. I sort of took on more of a leadership role, and they voted me in."
As a preacher, Mr. McMahon is licensed but unordained. He believes his long experience outside the church helps people understand the value of being inside it. And in his sermons, he likes to focus on a teaching from Galatians 5:6. Anyone familiar with John Lennon's lyrics would probably understand.
"It's about faith working through love," Mr. McMahon said. "There's this debate, faith and works. And I always say, it's right there in the bible, faith working through love. I'm always going to bring it home to love in my sermons."
He also finds himself leading a church that, despite celebrating its 350th anniversary last year, has few resources and a tenuous financial footing. Mr. McMahon wants to renovate the dilapidated parsonage, which has been plagued by tax issues in recent years. Love, sadly, is not all it needs.
"Our historic church, in some ways, has been in a state of decline. It's been neglected," Mr. McMahon said. "But our little church has a vibrant spiritual life. It needs revival. And so I look at these challenges not as a red light, but as God's green light, saying, you're not going to be able to do this without miracles. And, luckily for you, I'm in the miracle business, says God."
Maybe, though, the church's greatest miracle has already happened, when God paired the revolution with a revelation, and a rock-and-roll preacher found the parish at the end of the world. There's something holy about that.
"I always had this agreement in my soul," Mr. McMahon said. "I'm going to be a musician, unless you open the door to the ministry. And it happened. I got a very clear message that it's music, and it's ministry. It's rock and roll, and it's also the pulpit on Sunday morning. It's great. And I'm happy."