A months-long surge in coronavirus cases has hit record highs on the Vineyard in the past week, stretching the Island's public health infrastructure as officials scramble to contact-trace, treat and manage the unceasing caseload.
The Island recorded its highest running 14-day total number of cases on Monday at 168, and likely has the highest number of currently active cases, hospitalized cases and symptomatic cases since the pandemic began, with 94 active cases reported last Friday. State Department of Public Health data also shows that Dukes and Nantucket counties, once the best in the state with regard to Covid-19 spread, now have the third-highest incident rate in the commonwealth and an 8.5 per cent positivity rate.
Health agents have had to hire new contact tracers to keep up with the caseload or even refer patients to the state. They also said that transmission is no longer contained to specific industries, as it was back during the Vineyard's initial spike in October and November, but is occurring across all sectors of the Island.
"Spread is happening everywhere," Tisbury health agent Maura Valley said.
The deluge of cases comes just as health officials are simultaneously ramping up a still-early vaccination program on the Island and preparing for the future. All of the Windemere long-term care and nursing facility residents received the first dose of vaccine on Tuesday, and the Martha's Vineyard Hospital plans to hold its first vaccine clinic for 250 public safety officials and first responders on Friday.
More than 400 hospital and Island Health Care staff have been vaccinated, and 100 have received their second dose.
But in interviews this week, public health and hospital officials cautioned that with vaccinations for the general public not expected until the spring, there could be long, cold months ahead as the Island tries to hunker down and cope with unprecedented viral transmission. There are currently two patients hospitalized with the virus, both in fair condition, and one patient in serious condition who was emergency airlifted to Boston on Tuesday evening.
"These numbers are absolutely numbing," hospital president and CEO Denise Schepici said at a press briefing Wednesday morning.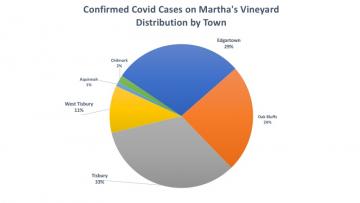 Describing the spread, Chilmark health agent and contact-tracer Marina Lent said in an interview that it has become extremely difficult to trace the root of virus cases on the Island, with a large number stemming from travel and even more from household spread — but by no means all.
"The obvious standout is households, because it is exposure over time, and it's indoor exposure," Ms. Lent said. "So household transmission is the most common direct link that we can make, and we've seen an increase."
Approximately 40 per cent of all 680 Island cases have been linked to a family, household or close social group member, according to data provided by Island health agents. But that still leaves approximately 60 per cent of Island cases of unknow origin.
Tisbury health agent Maura Valley described the mystery.
"A lot of people say they are being very careful, conscious of what they are doing, and have no idea where they got it," Ms. Valley said. "It's spreading in family groups, or smaller social groups, and that makes sense. It's easy to say these kids got it from mom or dad. But where did mom or dad get it? I have no clue. It's community spread, and it's very hard to pinpoint where the contact happened."
When cases first started to surge in October, many were contact-traced back to construction and trades. Officials said that's no longer the case.
"It's not just the trades," Ms. Lent said. "It's diffuse by now."
A portion of the recent spike over the past few weeks has been connected to specific families and case groupings that resulted from holiday travel.
"The holiday has been palpable," Ms. Lent said. "There was a certain Christmas effect."
There have also been a few incidents of specific social gatherings leading to cases, such as an 11-case cluster connected to a Bible study group, but Ms. Lent said those incidents have been rare — even as cases reached a record peak on Monday.
"Very little spread has been through frivolous risk," Ms. Lent said. "The measures we have put in place dramatically reduce the risk, but they do not eliminate the risk. You can have been doing everything right, and get the disease."
Island Health Care and the five health agents have collaborated on contact-tracing since early on in the pandemic. But when case numbers spiked in the fall, health agents quickly realized they needed more manpower than IHC's two dogged, but only human, public health nurses.
Expecting a surge in the summer and not seeing one, the fall case spike took health agents by surprise.
"We were not expecting what hit us in October," Ms. Lent said. "We were shocked."
The vast majority — more than 80 per cent — of the Island's cases have come in the recent three months.
"The big surprise was how long it took for our case numbers to start rising," Ms. Lent said. "We are by no means the hardest hit community. But we are by no means exempt."
Since then, officials have made at least five new hires, Ms. Lent said, helping them navigate a complicated tracing process that involves calling patients repeatedly and coordinating with their schools and employers, which are required to share close contacts.
"The style of contact tracing on Martha's Vineyard is different than some places off-Island," Ms. Lent said. "We are very hands-on, and willing to talk about various aspects of the person's immediate experience and engage with all kinds of questions they may have. Other places are more impersonal."
But in recent weeks caseloads have piled up, prompting health agents to schedule a structured, daily routine and develop a texting system to contact patients. This weekend, they had to refer patients to the state's contact tracing collaborative in order to keep up with the constant drumbeat of new cases, Ms. Valley said.
"We have definitely had to adjust," Ms. Lent said. "When we had a low caseload, it was possible for us all to be involved, and to communicate freely about each and every case in detail, and to glean good advice from everybody. And now we have had to really systematize, and draw in more contact tracers, and come up with a routine."
Ms. Lent didn't expect the case numbers to abate any time soon, even as the vaccine becomes more widespread. Vaccinated patients can still transmit the virus, and Ms. Lent said that she hoped a shot in the arm wouldn't make people feel invincible, with mask-wearing and social distancing still crucial, and case counts worse than ever.
"The vaccine is not immediate release," Ms. Lent said. "We're all so eager to get the vaccine and see the light at the end of the tunnel. Not yet."
Featured credit:
Source: Island Boards of Health
Featured photo: