Neal Rantoul has been photographing the landscapes and shorelines of Martha's Vineyard for more than 50 years, beginning when he was an undergraduate at the Rhode Island School of Design in the 1960s. It wasn't only the Island's natural beauty — and his parents' house in Chilmark — that drew him here, Mr. Rantoul told the Gazette this week. It was the way places looked the same from trip to trip, with views that stayed consistent as he experimented with different camera techniques and equipment.
"The Vineyard was this incredible constant," recalled Mr. Rantoul, whose career has included 30 years as head of the photography department at Northeastern University and more than 60 solo exhibitions. "It wasn't changing the way the rest of the world was changing."
That didn't last. By the 1980s and 1990s, in the face of a building boom, Mr. Rantoul was working with the Vineyard Open Land Foundation to document natural areas that were slated for development. There was a sense of urgency to the work, he told the Gazette during a telephone conversation from his home in Acton this week.
"My feeling was if I didn't do that, it wasn't going to get seen in its pure state," he recalled.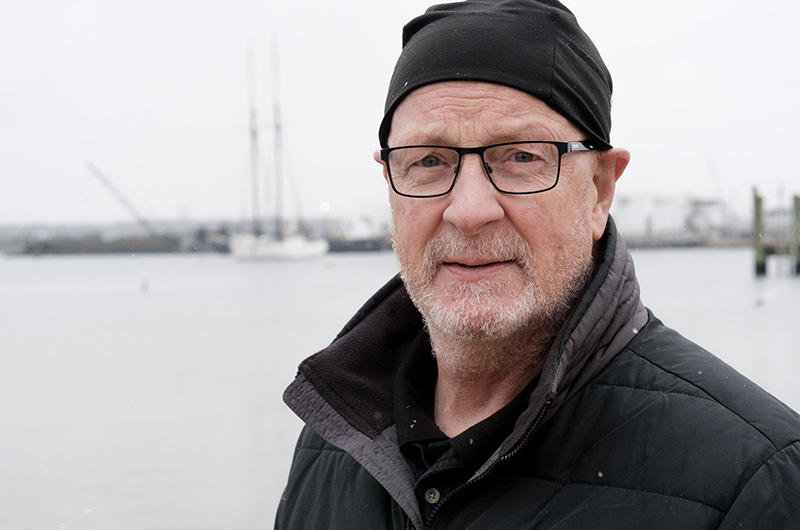 A new exhibition at the Martha's Vineyard Museum brings together these black and white darkroom prints, which Mr. Rantoul recently donated to the museum, with more recent aerial photographs in color of the Vineyard and nearby islands.
"It's a very strange time to be having an exhibition, but I don't see why you wouldn't," Mr. Rantoul said.
His inspiration in shooting the Vineyard's unbuilt places, he said, is Parisian photographer Eugene Atget, who at the turn of the previous century had sought to preserve views of the pre-industrial city. In recent years, Mr. Rantoul has been going aloft to photograph the Vineyard, taking to the air in a Cessna out of Katama to shoot from Chappy to Noman's Land. "From the air, things are seen in a different kind of way," he said. "It's a different perspective, kind of like mapping . . . Every time I go up, I discover stuff. And I think I know the Island pretty well."
The airplane also has allowed Mr. Rantoul to widen his field of operation, eventually including all of the Elizabeth islands as well as Muskeget and Tuckernuck.
"The Vineyard is kind of cool because it's big, but in about an hour of flight you can cover the whole Island," he said.
Mr. Rantoul's work shows that development is not the only thing bringing change to Island landscapes. Among the eroding Island spots he has flown over, camera in hand, Mr. Rantoul named Wasque and Lucy Vincent Beach among his favorites. "I liked to photograph the spire at Vincent because I knew that was going to be changing," he said.
But from the air, as well as at street level, Mr. Rantoul sees construction taking place at an unparalleled rate.
"The number of houses increasingly is pervasive compared to earlier days," he said.
Neal Rantoul: Above and On the Ground opens Jan. 22 and will remain on display through April 25 in the museum's Hollinshead and Cox galleries.