Herb Foster, the perpetually vibrant linguist, library trustee and World War II veteran who trained his beaming smile on everyone he knew and met, died Friday night at his home in Edgartown. He was 93 and had celebrated his birthday on Jan. 31 in traditional Herb Foster fashion, with a big party — this time a drive-by of more than 80 friends and well wishers, due to the pandemic. Invitations had gone out by E-vite early in the month.
Edgartown library director Lisa Sherman confirmed Mr. Foster's death.
"He always had a twinkle in his eye and it was so infectious," the library director said. "He was an amazing force of nature."
Mr. Foster had been a library trustee since 2006 and had taken out nomination papers to run again this year, Ms. Sherman said.
A lifelong educator and professor emeritus of the State University of New York School of Education, he was a prolific writer and speaker. Among other things, he had written extensively about Yiddish and Jive, including authoring books on the two slang languages.
He grew up in Brooklyn, N.Y, and his Jewish heritage cultivated his lifelong interest in Yiddish. His introduction to Jive started when he was teaching junior high students in Harlem.
"You have to learn the language of your students," he told the Gazette in a 2018 interview about his book Ghetto to Ghetto: Yiddish & Jive in Everyday Life. "Students have to learn standard English, but you have to learn their language, too." He also said: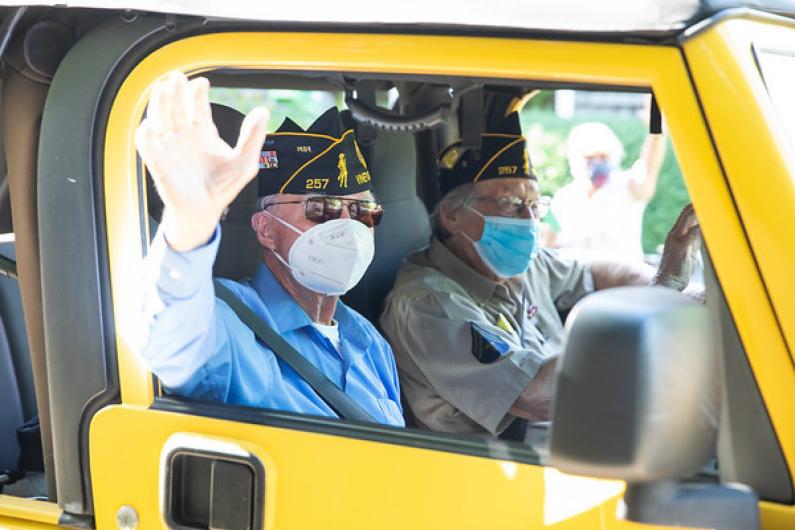 "Every group that came to America contributed their words to American English, but Jews and Blacks have contributed more words than any other groups. This is like a history book. No one has done this before. You have Yiddish books and Jive books, but no one ever put them together as two people who have suffered similar things, but are still alive and doing things."
It was classic Herb Foster: quirky, humorous and endlessly engaged with his subject matter.
Gregarious by nature, he loved people and also his adopted home town of Edgartown, where he had visited since the 1970s and had moved year-round with his late wife Anita in the 1990s. Also an educator, Anita died in 2006. They were married for 54 years.
Herb was known to just about everyone in Edgartown, where he cut a wide swath across socio-economic lines, from volunteering at the senior center to trekking the annual land bank cross-Island hike on National Trails Day every June.
A decorated World War II veteran and one of the last surviving Islanders from the Greatest Generation, he had served with the 24th Infantry Division in the occupation of Japan and was known perhaps best of all for his fixture role in the annual Veterans' Day and Fourth of July parades on the Island. This past summer when the Fourth of July parade was canceled due to the pandemic, Mr. Foster decided to take matters into his own hands.
With his friend and fellow veteran Bob Falkenberg, age 93, Mr. Foster revved up his yellow Jeep, and the two veterans drove through the streets of downtown Edgartown, following the traditional parade route, escorted by Edgartown police.
"I look forward to the parade every year," Mr. Foster said. "Despite what's going on in the country today, it is very important to pay homage to all those men and women who were killed fighting for our country."
After his impromptu parade, Mr. Foster said it had been emotional.
"We did it, despite all the obstacles" he told the Gazette. "I cried every minute of it."
Turning reflective, he referred to the poem Ulysses by Alfred Tennyson, which he felt encapsulated the moment.
"It talks about not having the strength we had then, but still being able to fight, to do something," he said.
It was one of his last public appearances in town.
His daughter Donna was caring for him at the time of his death. He is also survived by his daughter Andrea.
Services will be private, Ms. Sherman said.