After 15 years of directing vehicles from the Vineyard Haven Steamship Authority terminal onto Water street and holding traffic so pedestrians can safely use the crosswalk, traffic officer Eloise Boales is retiring from her post in Tisbury.
On Wednesday, a parade of emergency response vehicles hailing from both ends of the Island was waiting to surprise and honor Ms. Boales when the 3:15 boat came into Vineyard Haven. Close friends, family and coworkers met her by the terminal with flowers and hugs as she prepared for one final offloading before calling it a career.
"They got me good," Ms. Boales said with a laugh, "I was in tears and was like this is crazy, but it was awesome."
Ms. Boales was born on the Island and grew up in Aquinnah. After graduating from high school, she became a traffic officer in Oak Bluffs where she worked for five years before moving to Philadelphia to continue her career.
After 13 years in law enforcement in Philadelphia, she moved back to the Island. Former Tisbury police chief Dan Hanavan offered Ms. Boales a position within the department as a special police officer.
"And I said no. I'd been doing it for so long in Philadelphia, I just wanted to be a traffic officer, something low-key and that's where I stuck," she said.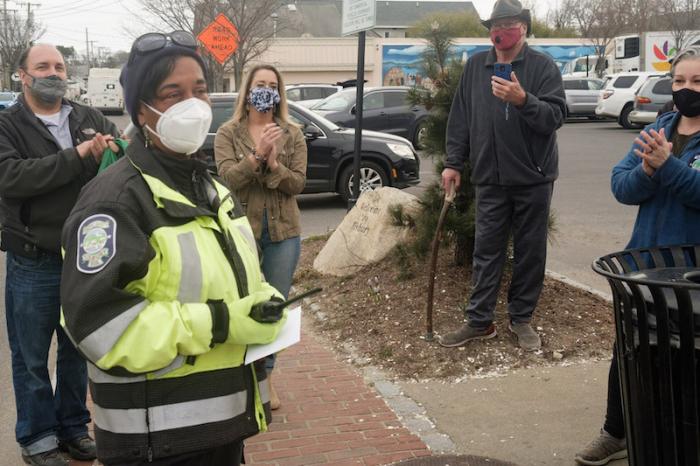 At the celebration, a parade of first responders led by Aquinnah police chief Randhi Belain waved out their windows. Sirens rang out and lights flashed as a call went out over the radio thanking her for her service and the Tisbury police department honored her with a plaque.
Ms. Boales turned to the crowd with open arms and said thank you to everyone in return.
Interactions with the friends she has made through the years will be the thing she misses most about working for the Tisbury police department, she said.
"I love people," Ms. Boales said. "It's family, after 15 years you know everybody and everybody knows me, even the off-Islanders. It's going to be hard."