The starting line in one of the longest off-seasons in the history of Vineyard track and field is finally in sight for the high school track squad.
After over a year with no meets, the Vineyard will host Sandwich in the first indoor track meet on Tuesday. Except this meet will not be held indoors. In fact, all the indoor track meets will be held outside this year.
The Cape and Islands league indoor track season usually consists of several multi-team meets held at the Reggie Lewis Center in Roxbury during the winter sports season. This year, the Reggie Lewis Center is unavailable after serving as testing site for Covid-19 and now a vaccination location. Teams will host meets this year at their outdoor tracks, and athletes will need to adapt to running indoor distances on an outdoor track.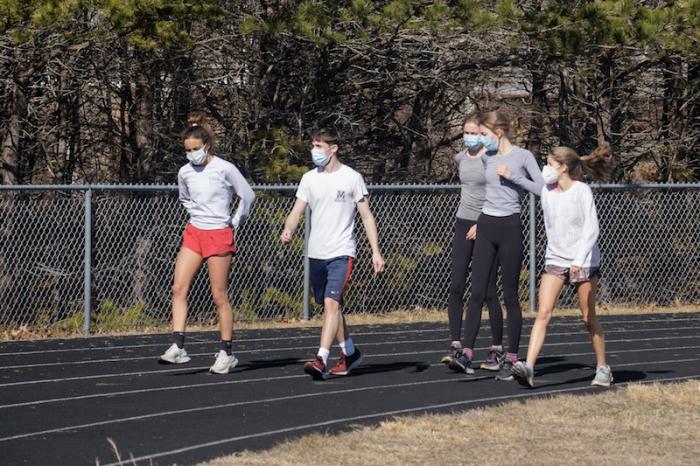 Earlier this week, practice began with head coach Joe Schroeder dividing his team up into two groups consisting of distance runners and sprinters. Assistant coach Don Brown worked with the distance runners in the state forest while Coach Schroeder led a series of stretching and light jogging with the sprinters on the track.
Coach Schroeder was upbeat about his team's upcoming meet.
"It's going to be exciting to get some competition in," he said. "It's going to be different but this whole year has been different."
The athletes are also ready for the meets to begin.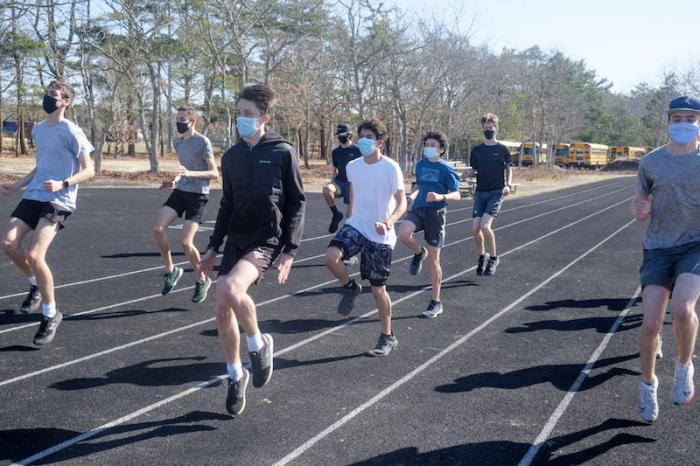 "I think all of us are looking forward to being back in competition," said Nate Porterfield. "I played basketball this past season and finally getting to play against teams after a whole year felt great."
Amber Cuthbert agreed. "I'm definitely looking forward to the competition we're going to have," she said.
Owen Atkins is also looking forward to traveling with the team again. "Just having some of the experience back will be great," he said.
Atkins noted another difference in the Fall II season. Instead of the weather gradually getting colder, as it does during a normal fall season, the runners will experience the weather becoming warmer as the season progresses.
Rules for spectators at home meets are the same as football games. Parents and siblings of student-athletes on the team are permitted to attend as long as they sign in with the athletic department before entering the facility.