The Vineyard football team took to the field Saturday against Sandwich on a beautiful March day for their first home game of the Fall II season. The teams were evenly matched, trading touchdowns in the early going, but in the end the Vineyarders fell 13-7 to the Sandwich Blue Knights.
Both teams struck early. On Sandwich's first possession, the Blue Knights exploited blown coverage by the Vineyard for an easy 2-yard touchdown pass.
Then, on the third play of the Vineyard's opening drive, Ty Mathew took a handoff from quarterback Zach Smith and busted through the Blue Knight defense for a 65-yard touchdown run.
With the game tied 7-7, both teams traded punts for a few quarters until Sandwich punched in a 2-yard rushing touchdown to make it 13-7 with 5:35 left in the fourth quarter. On the Vineyard's ensuing possession, Jayden Coyle made a heroic 15-yard run on fourth and five to keep the Vineyard's hopes alive but two plays later he fumbled and Sandwich recovered to seal the win.
"Physically I thought we did okay," said Vineyard head coach Donald Herman. "I thought we played hard but we did not play smart. When the teams are evenly matched it all boils down to who can execute."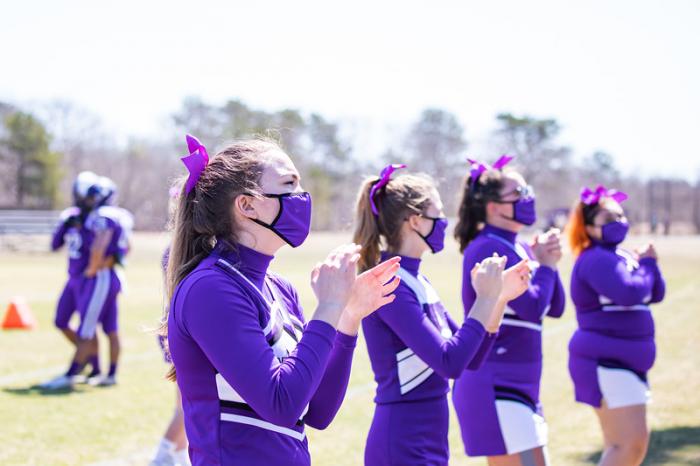 On offense, Mathew led the Vineyard in rushing with 87 yards on eight carries and a touchdown. Coyle also added 30 yards on the ground on eight carries. Smith was five for six for 33 yards in the air.
On defense, Hunter Meader led the Vineyard in tackles with eight solo tackles and one assisted tackle. Hiaggo Goncalves was also active with five total tackles, a sack and a fumble recovery. Alec Calverley had six total tackles and an interception in the first quarter. Braden Sayles also recovered a fumble and made six total tackles.
After the game, Coach Herman told his boys to look no farther than themselves when trying to make sense of the outcome. "Don't point fingers at anybody until you point fingers at yourself," he said.
"It's tough enough when you play an opponent but when you have to play against yourself that makes it that much tougher. We did so many things wrong today fundamentally and execution wise."
Most notably, Coach Herman said his team needs to improve on making their blocking assignments and contain better on defense if they want to get back to winning football games.
Sitting at 1-2 on the year, the Vineyard's next game has been postponed to a later date yet to be determined. Purple and White was scheduled to play St. John Paul II at home on Saturday but the Lions recently had a positive covid test causing a scheduling shake-up. The Vineyard JV football team is still scheduled to play Sandwich at 3:30 Monday at home.