Chilmark health agent Marina Lent — a former EMT who is now helping lead the Island's Covid-19 contact tracing effort — has vivid memories of picking up emergency patients who did not speak English, transporting them to the hospital without knowing their condition.
Contact tracers have faced a similar predicament throughout the pandemic.
"I've been on ambulance calls where we could not communicate," Ms. Lent said. "That doesn't feel good because you know you're giving differential care, you're giving a lower level of care. You can look them in the face, and smile, and show compassion. But you can't practice your craft."
But that is quickly changing.
Last week, Martha's Vineyard graduated 10 newly-trained Portuguese language interpreters through a highly-intensive, 60-hour course focused specifically on the art — and science — of medical interpreting.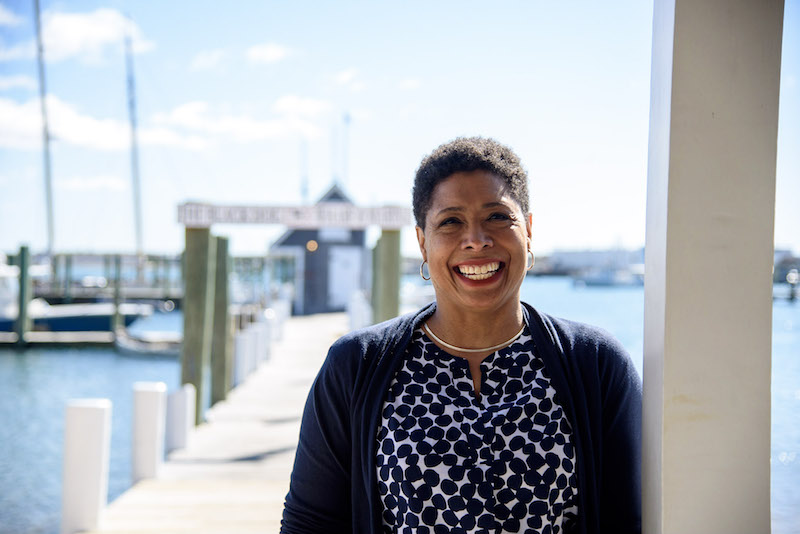 Their influence in the community has already been felt, from live-translated Covid-19 vaccine forums to tridactic contact-tracing phone calls, allowing health agents like Ms. Lent to seamlessly practice their ever-challenging craft — with cultural competency and compassion.
"It's like a Rubik's cube, trying to actually figure out where this disease is going," Ms. Lent said. "The medical interpreters have been superb interpreters. But it does also go beyond that. They have the ability to make judgments about what they're hearing."
All the students — who range from Martha's Vineyard Regional High School graduates to recent emigres from Brazil — had strong English and Portuguese language skills prior to enrollment. But now each one is now fluent in the unique, essentially trilingual task of interpreting between English, Portuguese and "medicalese" for Island doctors, nurses, EMTs and contact tracers — serving as a sort of special-ops, medical task force to the Island's growing army of pandemic-inspired interpreters.
"Now that we have a resource of trained interpreters, we're realizing it benefits many community organizations," said Sheryl Taylor, a language access coordinator and co-founder of the Communication Ambassador Program (CAP) who helped organize the course. "This was something we just never had before."
The course, organized by CAP in conjunction with ACE MV and funded by the Martha's Vineyard Community Foundation, took place over the spring and nearly doubles the pool of bilingual Islanders now at the ready to assist in the crucial effort to build communication bridges between the Island's medical practitioners and its large Brazilian population.
In a recent group interview, the interpreter graduates spoke glowingly about the class, describing it as an incredibly challenging but rewarding experience.
"I saw the way it could help my community, since we know how much the Island needs bilingual [people]," interpreter Priscila Martins said. "I thought this was the best thing to do at this moment . . . and I loved it."
Some of the interpreters, like Sasha Iammarino or Flavia Gaeta, grew up in bilingual households, comfortable switching informally between their English and Portuguese-speaking worlds. Others, like Izadora Santos or Ms. Martins, started speaking English more recently, after moving to the Island from Brazil for jobs at places like Martha's Vineyard Community Services. And others, like Poliana Bellan Wilson, had extensive interpreting experience, living in both Brazil and the United States before taking the course.
But none of the 10 students had previously learned the specific skills of medical interpreting — a part linguistic, part scientific craft that involves extensive training in everything from human anatomy to HIPAA laws.
"We literally studied every part of the body. Every bone. Everything in the medical field," said Sayra Guimaraes. "I felt like I was studying to be a doctor."
Called the Art of Medical Interpretation Certificate, the Cross Cultural Communication Systems online course was conducted over 12 five-hour online sessions and involves a dizzying, alphabet soup of medical acronyms, vocabulary and linguistic memory aides, as well as equally challenging seminars on confidentiality rules, emergency room procedures, common illnesses and cultural competency.
"It was about standards of practice, but also learning techniques to dissect medicalese, or medical terminology, which is a language in itself," Ms. Iammarino said. "Accuracy is important. But it doesn't mean word-by-word."
The class also includes more than 90 custom-designed medical role-playing scenarios, ranging from simple medical intakes to cancer diagnoses, all based on real-life cases. The scenarios force interpreters to establish their boundaries with patients, emphasizing their role as a conduit for communication rather than as a medical, psychological or personal aide for the patient.
Interpreters described the challenge of not over-empathizing with patients, or resisting the temptation to get pulled into sidebar conversations during appointments.
"We're there to interpret, and that's it," Ms. Gaeta said.
"The balance is really interesting," Ms. Bellan Wilson added, describing the need to adhere to confidentiality, but also use first person and take detailed notes. "It is amazing to see how everybody evolved and developed their skills."
Ms. Martins is using her skills to do release calls for the Island boards of health, reaching out to patients 10 days after their positive test for Covid-19.
"I love to talk, so I love it," she laughed. "And I mostly only have to do the good parts, where I tell people they are free the next day."
And Ms. Iammarino, who started as an interpreter working for the Island public health departments, is now working as a contact-tracer herself, independently conducting intake calls in Portuguese and cutting out the need for an interpreter altogether.
"It definitely helps prevent the spread to have somebody that speaks the same language asking all this information," Ms. Iammarino said.
Dr. Joe Hull, who has been helping with contact tracing, said the use of medical interpreters has completely streamlined an often tricky and time-consuming process. Whereas public health officials relied on a generic phone interpreting service in the past, they can now use Islanders who know Brazilian Portuguese and have the ability to connect personally with patients.
"Somebody who knows both languages very well, and knows some medicine, can pick up on many more things," Dr. Hull said. "And they are especially valuable if they are from the Island."
Ms. Lent said she hoped the expansion of medical interpreting services could have a broader influence down the road, in ambulances, emergency rooms and beyond — a rare, positive change jump started by Covid-19.
"That is the big silver lining of this pandemic," Ms. Lent said. "It has really pushed us to directly engage with the Brazilian community, and that is only a good thing."
The names of the graduates are as follows: Sasha Iammarino, Poliana Bellan Wilson, Priscila Ray, Fernando Lana, Izadora Santos, Priscila Martins, Sayra Guimaraes, Flavia Gaeta. There are an additional two students that are scheduled to complete the class at a later date.