The Vineyard high school boys tennis and lacrosse teams notched dominant wins in the first action of the spring sports season Friday at home against Falmouth and Sturgis East.
After missing out on their freshman tennis season due to the pandemic, head coach Kevin Lewis said his "super sophomores" played well in their first varsity match as the Vineyarders swept Falmouth 5-0 on the day.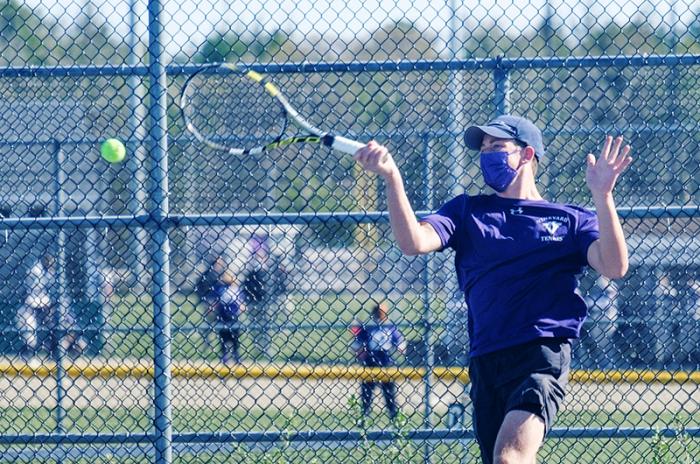 Senior Max Potter, the team's number one singles player, won his matchup with scores of 6-0 and 6-1. Fellow senior Eric Reubens did not allow a point in his second singles matchup as he was victorious 6-0, 6-0. Sophomore Jake Riis closed out the singles with a 6-1, 6-1 win at third singles.
In doubles, the sophomore tandem of Clyde Smith and Teagen Myers won their match by scores of 6-0 and 6-2. Junior Ben Belisle and sophomore Jack Marshard wrapped up the day for the Vineyard with a 6-2 and 6-4 victory in their doubles matchup.
"We took it to 'em," Coach Lewis said.
Next up for the boys is a busy week where they will take on Nauset on the road and Dennis-Yarmouth at home Friday at 3 p.m. before traveling to Nantucket Saturday to take on their rivals.
The girls tennis team plays their first match of the season Wednesday at home against Nauset at 3 p.m.
In boys lacrosse, four different Vineyard players each scored two goals and goalie Graham Stearns held the Storm scoreless in the second half as the Vineyard ground their way to a 10-3 victory.
Ed Cherry, Aiden Marek, Jesse Yakubian and Nick Ben David all found the back of the net twice for the Vineyard. Hunter Meader and Bizuayehu Horwitz also tallied goals for purple and white.
After the game, Vineyard head coach Chris Greene said the victory should be a confidence builder for his team. He also said he was pleased by what he saw and excited to be playing lacrosse again.
"We have a lot of new kids this year. Obviously, with the year off, it's a rebuilding process," Coach Greene said. "I was excited for some of our new players like Nick Ben David and Jesse Yakubian, these are guys that are going to have to step up for us later in the season."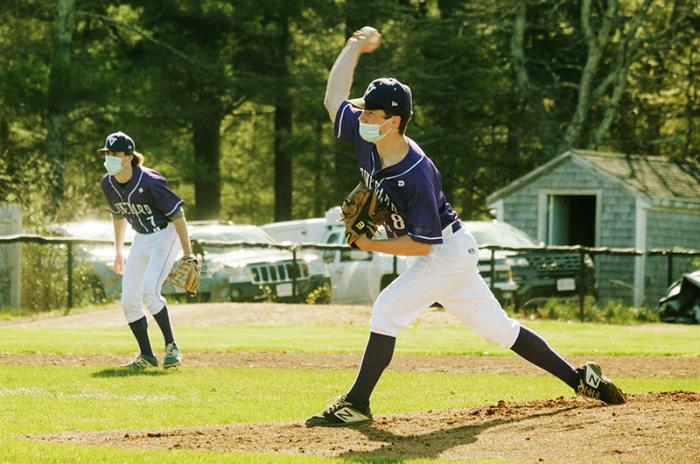 Coach Greene also said his boys got a boost from the play of Graham Stearns in net and stout defense from Mike Wallace keeping the Storm attack at bay. "Overall I'm pleased with where we're at, it was a great start," he said.
Next up, the Vineyarders travel to Monomoy on Monday before taking on Barnstable at home Thursday at 3 p.m.
The girls lacrosse team plays their first game of the season away on Monday against Saint John Paul II. Their first home game is Saturday against Nantucket at 12:30 p.m.
Also on last Friday, the softball and baseball teams had their first home games of the season. On the baseball diamond, the Falmouth Clippers got the better of the Vineyarders by a score of 5-0. The Monomoy Sharks bested the Vineyard softball team.
The softball team will look to bounce back Wednesday when they travel to Saint John Paul II before returning home for back-to-back games against Sturgis East on Friday at 3:15 p.m. and Nantucket on Saturday at 12:45 p.m.
For the baseball team, Wednesday marks the first of four games the Vineyarders will play in six days. First, the team travels to Nauset to take on the Warriors before returning home to play Dennis-Yarmouth Friday at 3:15 p.m. Then it's a quick turnaround and long trek to Nantucket on Saturday before returning home to play Sandwich on Monday at 3:15 p.m.
In other action, the sailing team tied Sandwich last week 1-1. The team normally has five races in a competition but ran only two due to lack of wind. Next up, the team takes on St. John Paul II at the Hyannis yacht club on Tuesday.
The track team is also active on Tuesday, beginning their season with a home meet at 3 p.m. against Barnstable.