Ten years ago, Anthony Piland Jr. was an aspiring pilot shadowing Colin Ewing at the Martha's Vineyard Airport during the Martha's Vineyard Youth Leadership Initiative's first annual job shadow day. Mr. Ewing was the longtime Cape Air station manager at the airport.
This summer, Captain Piland, 28, is flying into that same airport as a Republic Airways captain.
On Friday, after his second flight to the Vineyard that day, he was greeted on the tarmac by his mother, Mary Lou Piland, and father, Anthony Piland Sr.
Colin Ewing was there too, proud of the young man he mentored. After the job shadowing day, Mr. Ewing offered the aspiring pilot a job at the airport.
"I hired Anthony right out of Martha's Vineyard Regional High School as a ramp agent for Cape Air on the Vineyard," Mr. Ewing recalled. "I feel a sense of pride to see a Vineyard kid progress the way he has."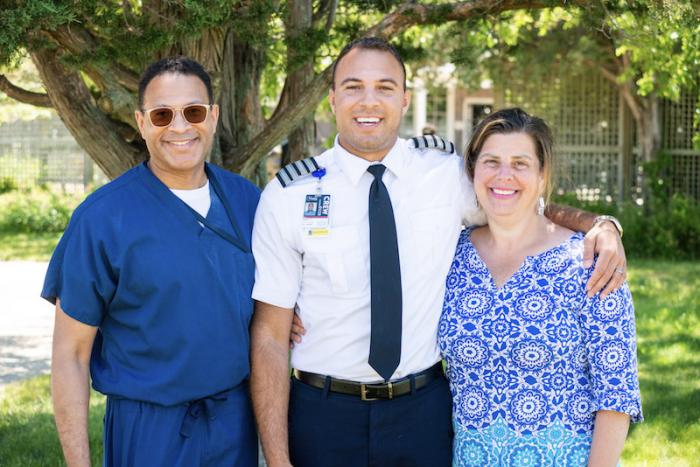 Captain Piland was equally effusive about his former boss. "I used to work for Colin and went for my first flight lessons here," he said, taking a quick break after the landing. "Colin's the best boss I've ever had."
After graduating from the regional high school, Captain Piland attended Bridgewater State University. Later, as his career progressed he became a first officer at Republic Airways. Last year, just before the pandemic, he was promoted to captain, although he was unsure what his status would be after the pandemic hit.
"I thought I was going to be a first officer again and I was not happy about it at all," he said. "But I got to keep my captain status."
As Captain Piland made his way back to the aircraft on Friday he had a simple message for anyone looking to achieve their dream: "Just show up and don't stop."