A clarion call is a strong rallying cry or a request for action. It is also the name of the featured exhibit this summer at the Mariposa Museum & World Culture Center.
"It's also the call of creativity, because each of these artists has followed that inner muse throughout their lives," said Karla Hostetler, executive director and curator of the museum, while reflecting on the name she chose for the exhibit.
The Mariposa Museum has had a flagship space for 20 years in Peterborough, N.H. and in 2019 it opened a gallery on Circuit avenue in Oak Bluffs. The first summer it featured And Still We Rise: Race, Culture, Visual Conversations, an exhibit of quilts by various artists that illustrates 400 years of African American history. This summer the museum is spotlighting artists who are all black men.
"This was an exhibit... by and about men and men's experiences," Ms. Hostetler said.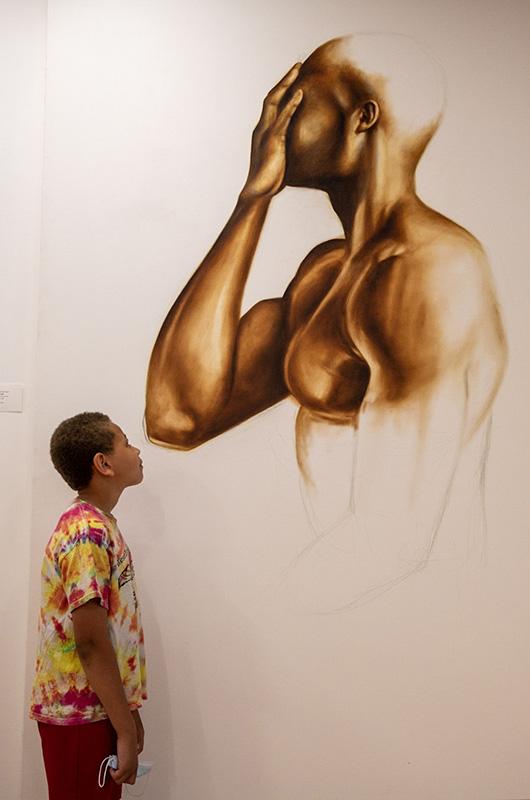 The two featured shows, by Danny Simmons and Dr. Imo Nse Imeh, run through mid October.
Danny Simmons is an accomplished artist and critically acclaimed poet and novelist. His poem To Be Made Beautiful, accompanies his artwork which he refers to as Neo-African Abstract Expressionism.
"The overreaching idea behind my art is the connection between modern art, African art and the spirituality that was found in African art, and try to transmit that back to African Americans, and actually people all over," Mr. Simmons said in a phone interview with the Gazette. "All of the paintings are tied together with a search for spirituality."
Mr. Simmons said he wants his art to be about connecting people to each other, especially for African Americans.
"And that's really the theme of all of my exhibitions," he said. "For people to find something deeper than what's on the surface within the work, connect to me as the artist, but to stand there and look at it and connect to each other and feel each other through the paintings."
The artist will be coming to the Vineyard later this summer and be at the museum on August 8.
Dr. Imo Nse Imeh is a scholar of African Diaspora art and is an associate professor of art and art history at Westfield State University. His current exhibit, Angels of 17 Years Boy, builds upon a previous performative piece he created called 17 Years Boy: Images, Sounds, and Words Inspired by the Death of a Young Black Boy. The earlier project commemorated Trayvon Martin and other slain black boys, illuminating the fatal consequences of evolving systems of racism.
From this earlier project Angels of 17 Years Boys was born, introducing new paintings which emerged from that experience. The new works feature angels depicted as large, brown-skinned beings ideologically connected to black men and boys in various stages of being or becoming.
Both featured artists in the exhibit reveal the power of art to tell the truth while offering moments of personal and social reflection.
Other exhibits this summer include puppets and block prints by Ashley Bryan, who will turn 98 years old in July, and the return of found object assemblage sculptor and civil rights artist, Kevin Blythe Sampson. Last summer Mr. Sampson worked with the Mariposa Museum to put on an exhibit at Union Chapel called Freedom Songs. This season, Mr. Sampson has teamed up with Mr. Simmons for Make Something Beautiful where the artists have invited members of the community to contribute pieces for an exhibit opening on July 4. The museum is also reaching out to local artists for a featured virtual exhibit of photographs.
The summer shows taken together reflect a continuum of tragedy and hope.
"We really have the contrast between lives cut short and the full flowering of other lives," Ms. Hostetler said. "And the women are still a part of it.
Our very first year there was all about women or by women, when we worked with the quilts and the African American history for 400 years through quilts of women artists. And they're still there, in our gift shop."
The Mariposa Museum is located at 57 Circuit avenue, Oak Bluffs. Hours are Monday through Saturday 10 to 6; Sundays 11 to 5.