In a ceremony at the Coast Guard boathouse in Menemsha Friday morning, Senior Chief Justin Logval moved up to master chief petty officer — the highest rank for an enlisted member in the U.S. Coast Guard.
Surrounded by other officers, family and community members two days before the Fourth of July, the new master chief expressed his deep gratitude for the connections between station Menemsha and the broader Island.
"The outstanding community support and willingness of our agency partners to include the Coast Guard in so much of what goes on in this part of the country is something we're extremely proud to be a part of," he said.
Master Chief Longval has served as officer in charge at station Menemsha since 2018.
In remarks, he also looked ahead.
"First and foremost, my priority will be to continue to serve the people who are going to be here in this region of southeastern Massachusetts," he said. "We have partnerships here that simply don't exist in other areas."
He said he is particularly proud of giving the station "a renewed sense of purpose to put [itself] in a very visible presence with [Menemsha's] fishing fleet." He also said he plans to request retirement in the fall of 2023 and will spend the time before then ensuring a smooth transition in leadership.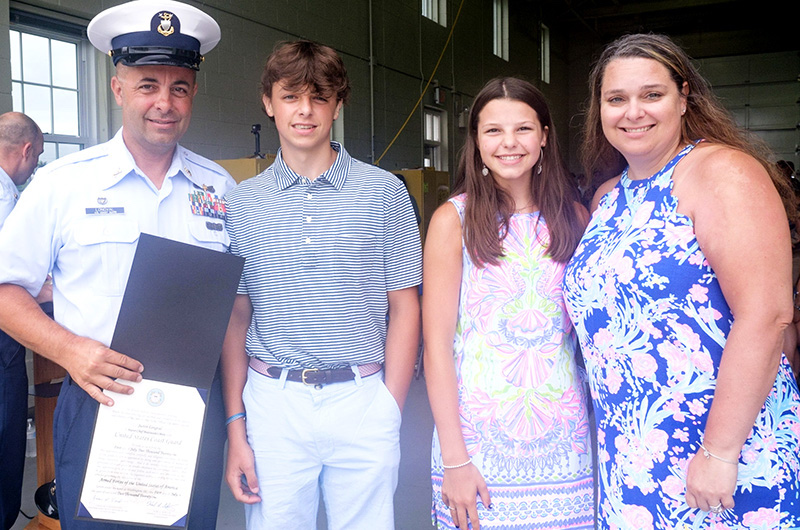 For the new master chief, the achievment caps decades of hard work.
"It's a new beginning for me in that it's always been my longtime goal . . . It's one step closer to being able to more capably serve these people," he said.
Also Friday, Station Menemsha was presented with the Coast Guard Meritorious Unit Commendation. A citation authorized by Rear Admiral Thomas G. Allan Jr. said the commendation was earned for meritorious service, outstanding maritime law enforcement missions and public affairs outreach.
At the outset of the ceremony, Brody Schilling was advanced from machinery technician third class to machinery technician second class.