As the hard-hit Massachusetts fishing industry work to get back on its feet from the pandemic, the state Division of Marine Fisheries announced last week the release of another $23.8 million in CARES act money to assist with recovery efforts.
Grant applications have gone out to seafood processors, commercial fishermen, shellfish farmers, and for-hire recreational vessel owners, Gov. Charlie Baker said in announcing the second round of funding.
"The fishing and seafood industries are integral parts of the economy, history, and culture of Massachusetts, and have suffered significant losses during the Covid-19 pandemic," the governor said. "We were pleased to coordinate the distribution of $28 million through the CARES Act last year and our administration remains dedicated to supporting these industries with this second round of federal relief funding."
Four months ago the U.S. Secretary of Commerce announced an additional $255 million in fisheries assistance funding for states with coastal and marine fisheries negatively affected by Covid-19. Massachusetts received the third-highest allocation, after Alaska and Washington state. 
Speaking to the Gazette by phone last week, Dan McKiernan, director of DMF, said Island seafood markets, charter and party boat operators, commercial oyster farmers, shellfishermen and commercial fishermen are all potential grant recipients. All were hit hard in the pandemic's earliest months.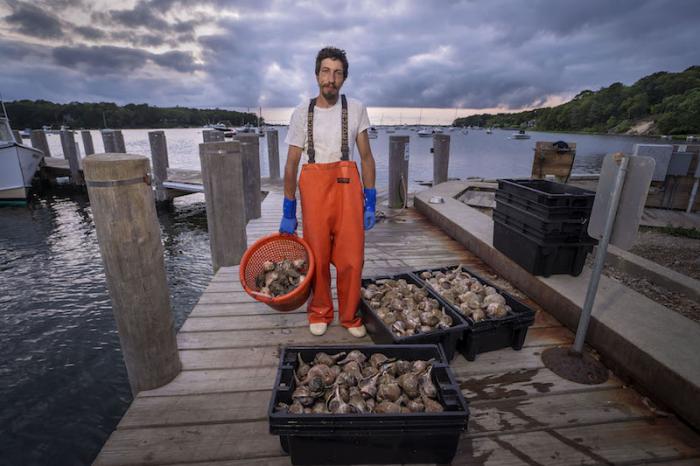 He said the DMF estimates cumulative losses among Massachusetts fishermen were close to $150 million in 2020. Normal commercial fishing revenues are around $600 million in the state.
"The worst of the losses happened in the seafood industry in general in March, April and May [of last year]. Most things then started to open up a little bit, but that wasn't the case for oysters farmers, or other for-hire businesses," Mr. McKiernan said. "And even on the commercial side, demand was off for the year. It's very unique to each business."
Applications were mailed on July 20 to eligible permit holders in four industry sectors, and are due back by August 28.
DMF is offering assistance with applications by email, phone, and at a series of in-person workshops next month.
Applicants must demonstrate they lost at least 35 per cent of their gross earnings during some period last year, related to Covid. Applicants will be required to disclose their previous five-year earnings and list 2020 earnings.
"The delta between what they earned last year, and their normal revenues of the previous five years, would constitute the maximum amount of payments that they could receive, with some caveats," Mr. McKiernan explained.
The release of millions more in aid comes as the Vineyard's working waterfront continues to demonstrate resiliency in the face of pandemic losses, with new ventures aiming to restore vibrancy to the fishing industry. Aquaculture, especially oyster farming, is expanding. And the Martha's Vineyard Fishermen's Preservation Trust, a nonprofit devoted to supporting the Island fishing industry, recently took over the former Menemsha Fish House with a newly established seafood collaborative that allows local fishermen to wholesale their catch. Day-boat sea scallops, local lobsters, fluke, tuna and other finfish are all part of the regular landings at Dutcher Dock these days.
Mr. McKiernan emphasized the importance of a robust fishing industry, which he said crosses many boundaries.
"It's a pretty important business, but it's also culturally important," he said. "A lot of communities take pride in their waterfront, and in the fact that they are a seafood producing town. And it's a recurring source of income for these ports. It's not one time, it's not like taking oil out of the ground. It's renewable, and that's important too."
The workshops to assist with grant applications are as follows:
August 11, 1 to 7 p.m., Cape Cod Commercial Fisherman's Alliance, 1566 Main St., Chatham, MA 02633.
August 12, 1 to 7 p.m., Mass. Lobstermen's Association, 8 Otis Place, Scituate, MA 02066.
August 17, 1 to 7 p.m., DMF New Bedford Office, 836 S Rodney French Blvd, New Bedford, MA 02744.
August 18, 1 to 7 p.m., DMF Gloucester Office, 30 Emerson Ave, Gloucester, MA 01930.
Noah Asimow contributed reporting.