Island artist Margot Datz, known for her fanciful images of animals, people and mermaids as well as larger-scale murals, brought a new crop of paintings to the Grange Hall in West Tisbury Saturday for her annual one-day art show.
Titled Make Believe, this year's exhibition was rich in the elements that have gained Ms. Datz a devoted following over the years: animals decked in flowering finery, birds and insects in their habitats and scenes that evoke old fairy tales and legends, all rendered with meticulous brushwork in gleaming, gemlike colors.
"I've been using animals as metaphors for life as humans," Ms. Datz told the Gazette. "I get to get closer to tender topics by veiling them in whimsy — but it's a very serous whimsy. It's painstaking, one-hair-paintbrush painting."
Ms. Datz also takes pains to make sure her animals are lifelike, bar the occasional flower crown or moth necklace.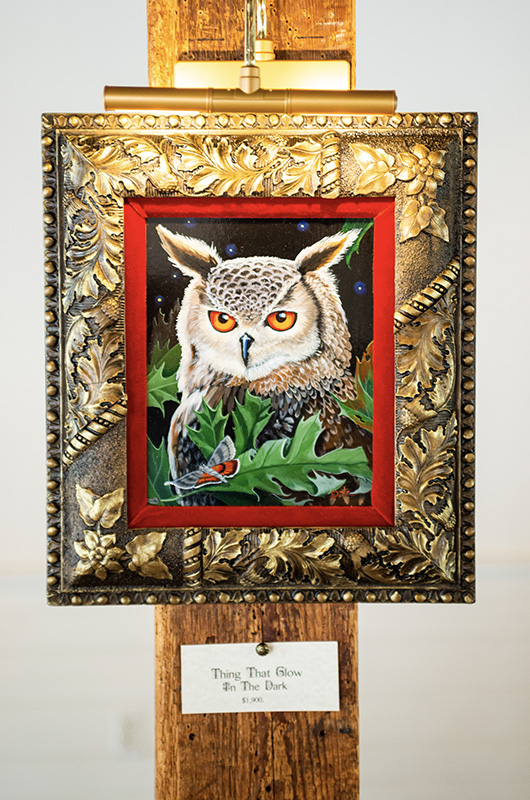 In Astonishment, a small painting of a tassel-eared squirrel appearing to gaze in wonder at the sprouting nut in its paws, a slight breeze is blowing through the creature's hair, adding to the sense of wonder in the moment.
A chipmunk carrying a gone-to-seed dandelion, in Make a Wish, is rendered equally meticulously, from the stripes on its back to the colors of its flanks and tail.
But fantasy is always close at hand. In Odalisque, a white hamster reclines in a bordello setting with a gold-corded red velvet curtain. The oval painting is set in one of the antique picture frames Ms. Datz collects for her annual shows, this one featuring crushed velvet with a fancy golden edge.
"This is the kind of painting you would see hanging over the bar in a hamster saloon," Ms. Datz wrote in her accompanying note.
Ms. Datz also captured larger, more exotic animals for this show. Feral Pharoah portrays a regal caracul — a wild cat found in Africa and the Middle East — and Dear Vulture is an unexpectedly dignified profile of another African/Middle Eastern species, the Greater Yellow Headed Vulture.
Along with the animals and birds, this year's show included three paintings with human subjects, all allegorical images highlighting themes that run throughout the artist's work.
Grace, in which a shining figure leads a child through a dark wood, returns to a theme Ms. Datz also explored in last year's exhibition, Into the Bewilderness.
"I love using a fairytale setting, because they're so archetypal, and … there's a suspense in a child in the wilderness that I think a lot of us can innately relate to," she said.
The other two works are portraits that make explicit Ms. Datz's theme of nature and humanity as part of a single force, rather than as adversaries.
In Dawn, the artist's daughter is crowned by a forest at daybreak, its roots cascading like hair. Going to Seed pictures Ms. Datz as an icon of ripening nature, gowned in corn, wheat and nopales, with a headress of seed pods and cones. Like the squirrel in Astonishment, this benign Medusa of mellow fruitfulness holds a sprouting nut in her hands. But her eyes meet the viewer's instead, as if to say "This is who I am."
By the end of Saturday's four-hour show, every new work had sold with the exception of Feral Pharoah, which Ms. Datz said she expects will find a buyer soon. Her next project, she said, is for the Net Result fish market in Vineyard Haven.
"It's going to be a real splashy fish market when I'm done," said Ms. Datz, who has previously painted murals of marine life at Martha's Vineyard Hospital and the Edgartown Library.
"I would love to be done by Labor Day," she added.