There's almost nothing traditional about the Rev. Michael Nagle. He sky dives. He flies bi-planes. He rides a motorcycle. He says mass in Portuguese as well as English. He even has a tattoo.
But Father Nagle's path to the priesthood was strictly traditional. There was a feeling, a quiet, confident sort of knowledge that he would spend his life helping people.
"It maybe sounds trite, but it was kind of a calling," he said, sitting in his office in the Good Shepherd Catholic parish rectory in Edgartown on a drizzly summer afternoon, his desk piled high with stacks of notes and service schedules.
"I always felt like I wanted to do something with people. But [there was] this sort of, which way to go? Going to the clergy was the strongest pull of anything else — it was just something I had a strong feeling for. So I followed that inclination."
Now 75, Father Nagle has led the Good Shepherd Parish of Martha's Vineyard for nearly three decades. He has dedicated much of his life to the Island community, guiding congregations through daily mass, presiding over countless baptisms and catechisms, providing spiritual guidance to Islanders — Catholic or otherwise — and uniting the Island's three Roman Catholic churches into a single parish.
Next Wednesday, after 28 years on the Island and 50 years in the service of the church, Father Nagle will retire from the Good Shepherd Parish. He joins a cohort of five priests who will retire from the Fall River Diocese this month.
"After 28 years, you're with people through all sorts of stages in their lives, from birth, to growing up, to marriage, to death and funerals," he said in his familiar deep, warm voice. "To be a part of people's lives is really a privilege. It makes the job worthwhile."
He was born in Dothan, Ala., but at a young age his family moved north to the tightly-knit, Roman Catholic neighborhood in Fall River, where spent his childhood studying and sailing the waters of Buzzard's Bay.
His family attended church regularly, but not frequently, although he said he has learned to choose his words carefully after once describing his family as "moderately religious."
"My mother took great offense to that," he recalled with a laugh. Turning serious, he added: "I was impressed with [the priests' and sisters'] dedication, their passion for the job and for helping people and I wanted to imitate them."
He pursued both religious and secular studies, earning seminary and traditional bachelor's degrees before earning a doctor of ministry from Andover Newton Theological School, where he studied psychology through a theological lens.
"I studied psychology to get a better insight into human nature, and how people function so that I could be more
helpful," he said. "You add in the spiritual direction and all these things just sort of combine to give you inroads to discussion with people."
After being ordained as a priest in 1972, Father Nagle hopped around among coastal parishes from New Bedford to Provincetown.
The genesis of his journey to the Vineyard falls somewhere between random and reluctant.
Still early into his first pastorate in Taunton, he received a call from a bishop asking him to move to a church called St. Augustine's in a far-off place called Vineyard Haven.
"They give you five minutes to make up your mind and I tried to give him a bunch of excuses why I shouldn't go with it," he recalled. "I think it all came down to the fact that I didn't have a reason to say no. And so finally I said yes."
In his long tenure at the Good Shepard Parish, Father Nagle has helped establish a large-scale food pantry, providing 250 meal boxes to Island families every other week. When his congregation began to include many Portuguese-speaking Brazilians, he booked a flight to Vitoria, Brazil and stayed for a month in order to learn the language. In the years that followed, he recited mass in Portuguese as best he could, he said, displaying a prayer book annotated with diphthongs and transliterations.
Perhaps most notable of all, in 2004 he was responsible for uniting the three Island Catholic churches — St. Augustine's in Vineyard Haven, St. Elizabeth's in Edgartown and Our Lady Star of the Sea in Oak Bluffs — into a single parish, returning the Vineyard Catholic community to its original form for the first time since the 1800s.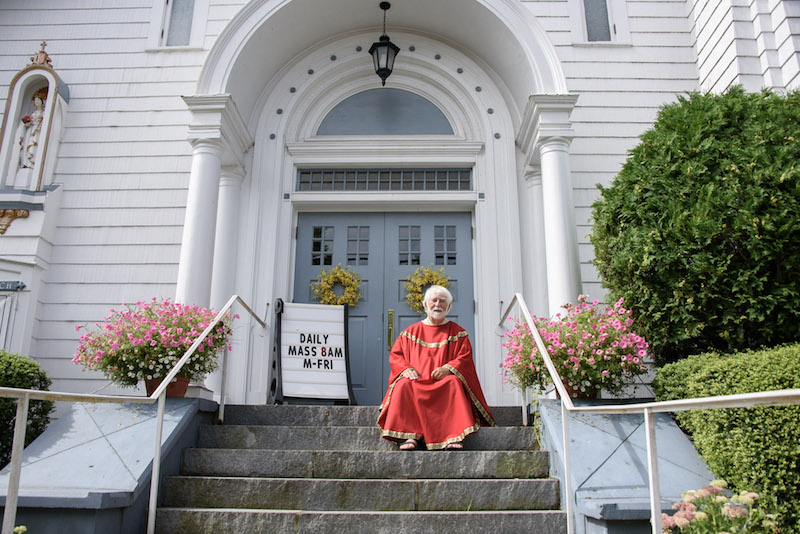 "Rather than three separate communities, there was oneness," he said.
But there's more to Father Nagle than the robes.
Until recently, he could be seen zooming around the Island's dusty roads on his Harley Davidson motorcycle, whether for recreational rides or house calls. He said he traversed much of western Europe on a motorcycle riding while studying theology in England. He stopped riding last year, though, said the machines had become too heavy for him.
And like any priest, Father Nagle has spent much of his time exploring what lies above. But unlike others, he does it literally, from both the pulpit and the cockpit. He belongs to a select group of clergy who hold pilot's licenses, and is experienced at flying bi-planes, gliders, hot air balloons and other aeronautic contraptions.
"I just like to get up and look out at nature," he said, describing the views of lapping waves and far-off skylines on clear days. He took up flying 15 years ago, after discovering a passion for sky-diving. Some 300 plane jumps later, he decided it was time to see the sky rather than fall from it.
"For me it is sort of like a stress reliever. I just go up and leave all those cares behind. I've seen it hundreds of times and it's always different," he said. Flying also inspired a secret beneath the robes — a tattoo of a glider cresting a mountain, he said with a grin.
"People think of stereotypes of what kind of person a priest might be, and I don't exactly fit into that mold," he admitted. But having pastimes helps his work as a priest. "It actually opens doors to talk," he said.
The hardest moments as a priest have been guiding parishioners through the quieter but formidable challenges of daily life, he said.
"There are sometimes impossible situations where somebody is sick and dying or a relationship that isn't working," he said. "I think a lot of the clergy, we like to be problem solvers. The [big challenges] are the things you just can't fix."
Through the ups and the downs, Father Nagle has been guided by a single philosophy dating to the very start of his career.
"My philosophy is whatever I can do to help people, I'm here to be of service," he said simply. "We don't worry too much about whether they're Catholic or not . . . whatever I can do to help them to get beyond their limitations."
When Father Nagle retires this month, he will be succeeded by the Rev. Paul Fedak, a graduate of St. John's Seminary in Boston. Like the priest before him, Father Fedak will be a wash-ashore with a journey ahead.
Father Nagle said for now he plans to stay on the Island — with exception of spending hard-earned winters at his condominium in Florida. But he isn't planning to come by church much, at least at first. He wants to give Father Fedak time to find his way.
But he can still keep watch in his own way — oversight is easy at 10,000 feet.
"Being here for a long time, it's almost like turning your family over to somebody else," he said, turning reflective. "There's always so much that seems to be left hanging, stuff that you haven't finished and would like to see through." He paused for a moment and smiled. "But that's the next guy's job."