For Lisa Dawley, manager of the Animal Shelter of Martha's Vineyard, every day at the office can be an emotional roller coaster.
"My best day is when I make a great adoption, and my worst day is when I make a great adoption," she said.
Ms. Dawley has been at the helm of the shelter since its opening in 2009, a period of time that she said feels more like minutes than years. As a no-kill shelter, she works tirelessly to find forever homes for the shelter's dogs, cats and guinea pigs.
"Once they come into the shelter, we will stop at nothing to save them. Whatever they need, they get," she said.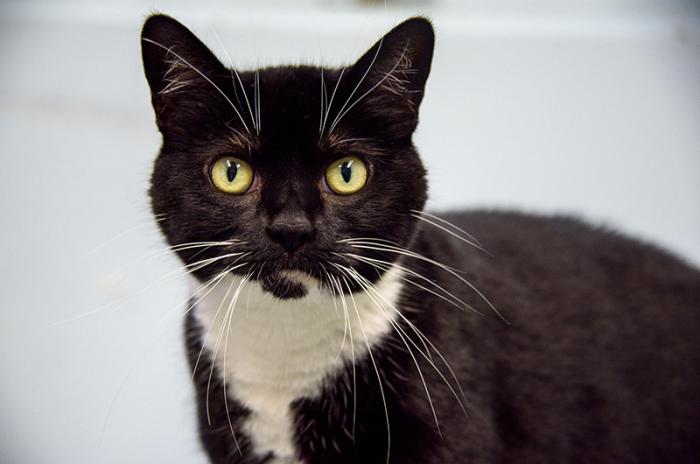 Sometimes, that forever home is the shelter itself. Four cats are likely permanent residents and they strut around the facility with the wisdom and authority granted by their extended tenures. One of these is Holly, a seven-year-old tabby cat, whom Ms. Dawley describes as her "dog trainer."
"If you need to know if your dog gets along with cats, come on in and Holly will school [them]" Ms. Dawley said.
According to Ms. Dawley, an essential part of supporting the animals is providing a clean, safe and homey environment. One might mistake the shelter's waiting room for a living room, with its cozy seats, classical music, colorful walls and teeming bookshelves. Just like walking through the front door of so many houses, visitors are greeted upon entry by a dog — in this case, the Golden Retriever Nellie, whom Ms. Dawley adopted from the shelter.
"Occupational hazard," she joked as she patted her pet.
Animals find their way to the shelter for a myriad of reasons. Some are dropped off by their former owners who can no longer care for them, due to loss of employment, a death in the family, the development of a new allergy or any other reason. Ms. Dawley insists that the shelter practices a "no judgment" philosophy — they just want the animals to be safe and are happy to help families and animals in need.
"Should your adoption not work out, the door's always open," she said.
Ms. Dawley said she and her volunteers work to ensure the animals are ready to fit well into their future homes, wherever that may be. She recently paired a gaggle of kittens with the owners of a fruit and vegetable farm on the Island, and the cats are now controlling the mice and vole population there.
"I call them blue collar workers," she said.
Volunteers play an essential role in keeping the shelter running. "They do whatever they do best," Ms. Dawley said. They scrub the floors, weed the garden and walk the dogs. A volunteer plumber fixes the toilet; a volunteer carpenter lays the bricks out front.
The shelter relies on the community's monetary support, which takes many different forms. Some weddings solicit donations in lieu of gifts, some funerals in lieu of flowers. Island children host lemonade stands and donate their earnings. Prior to the pandemic, the shelter hosted an annual garden party benefit. Now they have shifted to an online auction in addition to an appeal letter around the holidays. Ms. Dawley said she had concerns over the online fundraiser's success but that it ended up "amazing."
Ms. Dawley has the winning combination of both managerial experience and animal expertise to make running the shelter a natural fit. She studied animal science and equestrian studies in school and then managed horse farms and worked in a veterinarian's office. She took a position in an attorney's office after having children to have a less irregular work schedule, she said. But being an office worker never quite clicked.
"That was trying to fit a square peg into a round hole," she said. So, in 2009, when Janet Norton, a founder of the shelter, and veterinarian Dr. Steve Atwood, Ms. Dawley's former boss, recommended her for the role of manager, she jumped at the chance.
"I was like, there we go, this is it," she recalled.
Today, 12 years later, Ms. Dawley gets to spend every day, all day with animals— just like she always wanted.
The ASMV hosts a nail clipping clinic this Saturday, August 21, from 10 a.m. to 1 p.m. at the shelter. The cost is $20 per pet and masks are required. You can learn more about animals up for adoption in the Gazette's weekly Please Adopt Us column.