Martha's Vineyard marked the 20th anniversary of Sept. 11 in quiet ways Saturday morning, with church bells tolling and emergency responders standing at silent salute to commemorate the nearly 3,000 people who died in the terrorist attacks in New York city, and thousands more whose lives were affected.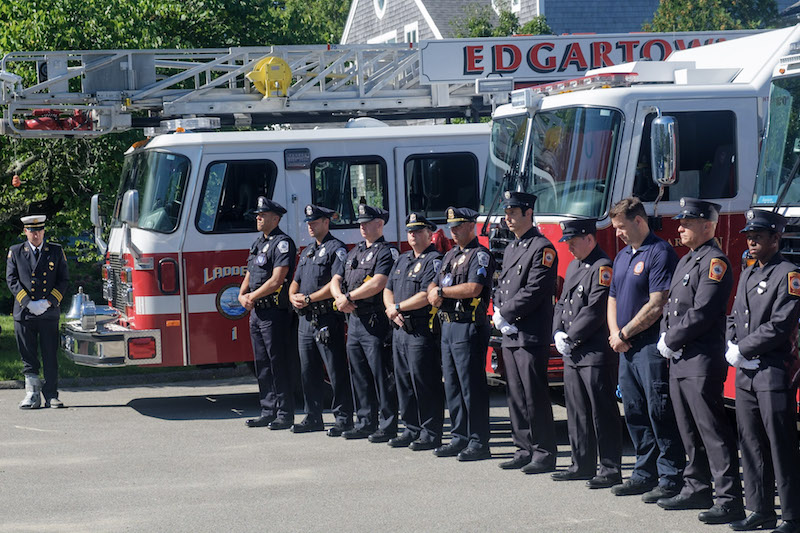 At the Federated Church in Edgartown, the Rev. Dr. Charlotte Wright sat on the stone and brick steps of the 1828 building, and with congregation member Jim Butterick welcomed Gretchen Regan and her teenaged sons Nate and Brett, who arrived just before 8:45 a.m.
Nate and Brett had the responsibility to ring the church bells 20 times, one for each year since the tragedy. People paused and listened, and a hush fell over Edgartown as the bells rang out; even the insects and birds on South Summer street seemed to take a pause.
The ringing of church bells has a long civic history in the lives of New England towns, once serving as a call for firemen to tend to a local fire. The Federated Church building itself, built on the site of Thomas Mayhew's original parish, was the town meeting place. Reverend Wright noted that the church honors the bell-tolling tradition every day at 9 a.m. and 6 p.m., when hymns ring out from the belltower.
Her own recollections of the tragedy included ministering to people in Longmeadow, where she was posted at the time.
Bells also tolled at the First Congregational Church of West Tisbury.
The Edgartown and Oak Bluffs fire departments marked the anniversary with solemn ceremonies.
In Edgartown just before 10 a.m., fire department members in full uniform gathered outside the station, where three trucks were driven out for the occasion. Bells were rung 20 times at the start of the service, which included lowering the flag to half mast and a reading of the Firefighter's Prayer by service member Kara Shemeth. The prayer's ending speaks of the hope that firefighters will continue to serve with confidence and courage.
As Edgartown police chief Bruce McNamee played Amazing Grace on the bagpipes, traffic came to a stop. Cars respectfully idled at the intersection of High street and Katama Road as the notes rang plaintively through the air.
A similar ceremony played out at the same time in Oak Bluffs at the fire station off Wing Road, where service members, boys scouts and others gathered on a blue-sky day that had a hint of fall in the air.
In Edgartown, selectman Michael Donaroma invoked the now-familiar phrase associated with the 9/11 tragedy.
"We should never forget," he said.