Boat building takes its cultural place with architecture and fine art in the watercolor drawings of Maine artist Abe Goodale, on display at the Workshop Gallery in Vineyard Haven this weekend. Mr. Goodale's portraits of shipwrights at work, including Islander Ross Gannon of Gannon and Benjamin Marine Railway, quietly celebrate their craftsmanship and concentration in detailed graphite drawings washed with subtle color.
"His skill set is obviously something to be admired — he is just incredible," said Workshop partner Wil Sideman.
Alongside his portraits, Mr. Goodale also depicts the builders' tools — drills, planes, a battered Craftsman vise — as well as the finished works, from graceful schooners to trim fishing boats.
"He's extremely good at lifelike drawings and paintings, but then he has this ability to work with line," Mr. Sideman said, pointing out where Mr. Goodale has left in his draftsman's lines, adding both a sense of motion and an architectural dimension to his image of a shipwright handling a plank.
The artist visited boat builders around New England to create the series now on display in Vineyard Haven.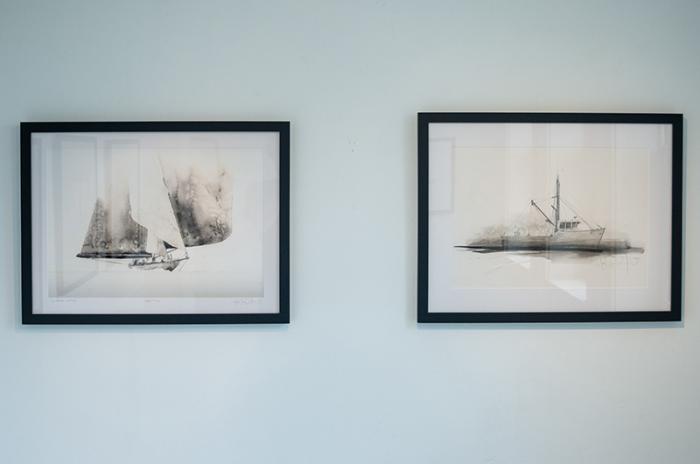 "This is an ongoing project he's been working on . . . documenting working waterfronts," said Mr. Sideman, who was working at Gannon and Benjamin when he met Mr. Goodale.
"He came by, interested in documenting the shop and the shipwrights here and what was going on," Mr. Sideman said.
Mr. Goodale spent a day at Gannon & Benjamin, taking photographs from which he developed his artwork. Mr. Sideman thought little more of it until several months later, when he visited the artist's website.
"I really enjoyed what he was doing, and so I reached out to him," he said. "We felt that it was something exciting to share with the community here, and given what's going on with Gannon and Benjamin purchasing the property here, and the working waterfront idea . . . we just felt this is the perfect work to show."
Originally planned for 2020, the show opened this month in time for last weekend's Moffett Race and this weekend's Pat West Gaff Rig and Schooner Race, Mr. Sideman said.
In addition to the framed works on display, the Workshop is offering unframed prints of Mr. Goodale's work, making it more affordable for those who are not art collectors, Mr. Sideman said.
The Workshop Gallery is hosting a reception for Mr. Goodale's show on Saturday from 4 to 7 p.m.
A cooperative of four working artists with studios upstairs, the gallery is open irregularly. But appointments are easy to make and are encouraged, Mr. Sideman said.
The gallery is located at 32 Beach Road in Vineyard Haven, where the Van Ryper ship model workshop operated from the 1930s through the 1950s. The phone number is 207-344-7644.