Edgartown Harbor sparkled brilliantly in the sun Saturday afternoon as families from the Vineyard and beyond gathered for the annual ceremony of remembrance at the Edgartown Lighthouse Children's Memorial, where small, engraved granite cobblestones honor hundreds of young lives lost.
"This Island has put into sharp focus the absence of the children and yet the presence of such beauty," said speaker Jody Cukier, whose daughter Julia has had a stone in the memorial for more than 10 years.
This year's ceremony of remembrance marked 20 years since the children's memorial opened in 2001 with just over 100 names on the stones. Now the number is close to 900, with 55 children's names added in 2021 alone.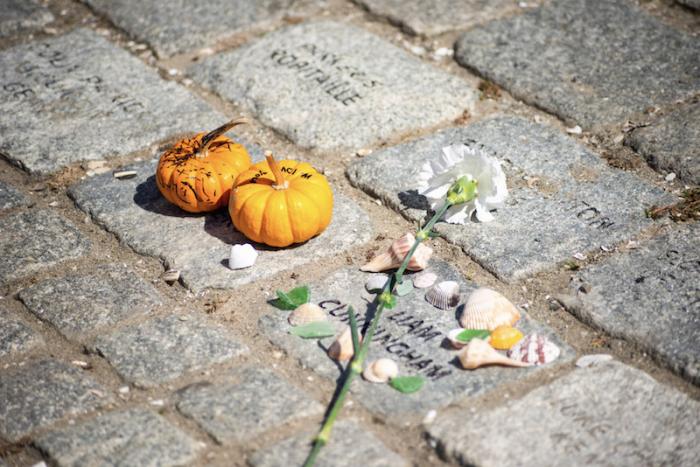 Heather Seger, director of the Martha's Vineyard Museum — which hosts the annual ceremony — welcomed the newly grieving families to a group that has grown over the years.
"In addition to the children we honor here today, we hold each other in the light," she said.
Keyboardist Jeremy Berlin played warm and tender jazz versions of comforting songs such as Over the Rainbow and This Little Light of Mine as families quietly listened or tended their children's stones, decking them with flowers, tiny pumpkins and beach shells, sweeping away accumulated sand and darkening the engraved names with ink markers.
The memorial's simplicity is a comfort in itself, with no dates to underscore the poignant loss of lives cut short by illness, accident and even murder: Seven-year-old Grace McDonnell, whose stone is nestled on the northeast-facing side of the monument, was killed in the Sandy Hook shootings nearly nine years ago, Ms. Seger said.
Former museum director Matthew Stackpole recalled how the memorial began as the vision of grieving Island father Rick Harrington.
"The concept was powerful and moving, and his advocacy passionate and unwavering," Mr. Stackpole told the crowd. "Lighthouses exist to guide and welcome people to a safe harbor."
Mr. Harrington's idea not only won over the museum board, but encouraged local businesses to make donations and enter into partnerships to build the memorial, Mr. Stackpole said.
"This idea created a village," he said. "Everyone who played a significant role gave something of themselves to the project. I believe everyone involved was moved, personally and permanently, by the experience."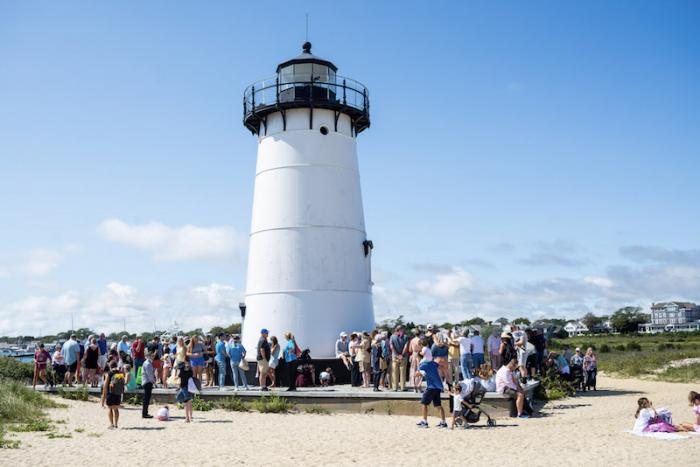 A baby squealed and older children dug quietly in the sand as Mr. Stackpole recalled the first ceremony of remembrance at the lighthouse 20 years ago.
"It was clear that day, and every day since then, that this memorial does make a difference in dealing with the horrible reality to which it speaks," he said. "The fundamental reason museums exist is to help us remember."