Jeff Robinson of Vineyard Haven at the helm of his Alden-designed Phra Luang finished first in the schooner division of the Pat West Gaff Rig and Schooner Race Saturday, capturing the Ingrid B. Robinson Memorial Cup, named for his late wife Ingrid.
His crew included son Ben, grandsons Odin and Runar Finn and five-year-old granddaughter, also named Ingrid.
Mr. Robinson and Phra Luang last won the cup in 2011, 10 years after Ingrid Robinson — a keen competitor who had helmed the family schooner in many races — died of cancer at 61, Ben Robinson said.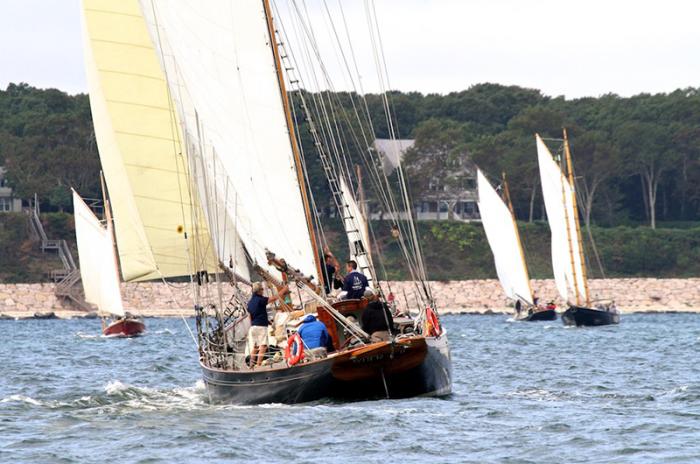 "It was a great day," said Nat Benjamin, whose Gannon and Benjamin Marine Railway sponsors the annual contest, hosts the after-race party and designed and built a number of the competing boats.
Race committee chair Scott DiBiaso said the wind was steady throughout the race, apart from about a 20-minute lull.
In the gaff rig division, newly renovated 24-footer Maybe Baby took first with Andy Chapman skippering, with Alex Goldhill in Lisca second and John McDonald third in Lucky Duck.
Saturday's other top-finishing schooners were Island boats as well, with James Lobdell's vintage Alden Malabar II taking second place and Robert Soros's Gannon and Benjamin-built Juno (captained by Mr. DiBiaso) in third. Mr. Benjamin and his family finished fourth in Charlotte.
Juno also won the Zeb Tilton prize for crossing the finish line first, though corrected time placed her in third place.
The schooner fleet of 11 also included classic yachts Rebecca, of Mystic, Conn., and When and If, an Alden design commissioned by George S. Patton in 1939 and restored at Gannon and Benjamin in 1994.
In the gaff rig division, 14 vessels took part.
The Pat West races are the last hurrah of the racing post-season, taking place the weekend after the annual George Moffett Race sponsored by the Holmes Hole Sailing Association. After Saturday's finish, competitors' dinghies headed for the Gannon and Benjamin wharf and beach, where cold drinks and hot chowder awaited.
Children, dogs and eventually musicians also joined the party, with the Dock Dance band setting up to play beneath the rising, nearly full moon.
Updated to correct the date Phra Luang first won the Ingrid B. Robinson Cup and to include the skippers of the top gaff rig finishers.