A long-planned center for Islanders struggling with substance use disorder has had to overcome its own challenges in recent years.
Located on the Martha's Vineyard Hospital campus, the Red House peer recovery center recently reopened after its launch early last year was cut short by the Covid-19 pandemic.
It wasn't the first false start for the facility, which housed the hospital's billing department until the mid-2010s.
Now a weekday gathering place and referral center for people affected by drug and alcohol abuse, the Red House was initially envisioned as a two-bed crisis and stabilization center run by Martha's Vineyard Community Services, which entered into a 10-year, $1-a-year lease with the hospital in 2017.
But the crisis center never opened and MVCS leaders switched their focus to the peer recovery model, which is supported with funding by the state department of public health.
After a grand opening in February 2020, the Red House was still trying to attract members when the pandemic closed its doors.
With insufficient interest in its few online offerings, the center's staff began leaving for other jobs. By mid-July of this year, no employees remained.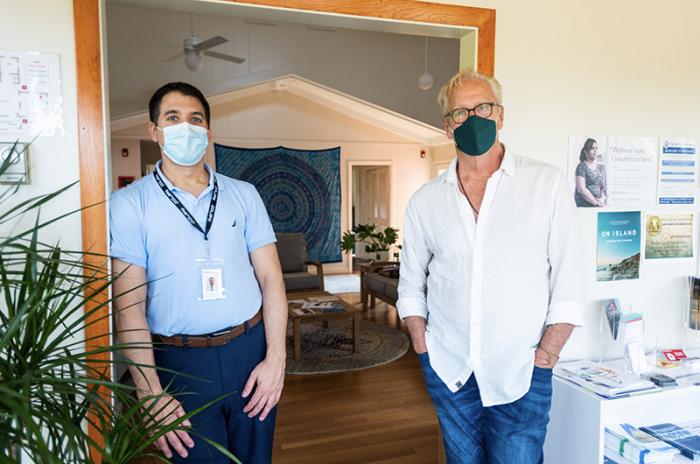 To relaunch the facility, MVCS chief executive officer Beth Folcarelli hired program director Adam Gendreau, formerly of the Falmouth-based Gosnold addiction treatment center, and appointed Robert Cropper, on loan from his job leading the MVCS recovery coaching program, as interim outreach manager.
Since August, the two men — with the help of volunteer chefs — have been hosting meals at the center and welcoming recovery program meetings as they seek to build the Red House membership.
People on every path of recovery are welcome at the center.
"Not everyone is part of A.A. (Alcoholics Anonymous) or N.A. (Narcotics Anonymous)," Mr. Gendreau said.
The Red House hosts both groups, alongside Smart Recovery, meditation-based Refuge Recovery and other support group meetings, including in Brazilian Portuguese, in the evenings. Daytime offerings include a yoga class tailored for people in recovery, Mr. Gendreau said.
During September, designated National Recovery Month by the U.S. Department of Health and Human Services, the center is serving a free lunch three times a week in its sunny open kitchen that doubles as a casual café.
The Red House also has a spacious living room for gatherings, a breakout room for smaller meetings, bookshelves packed with recovery guides and manuals for the taking and an enclosed porch for internet-connected computers to use in job and housing hunts.
"There are myriad services that somebody coming into recovery needs to hook up with," Mr. Cropper said.
What the center does not offer is coaching, therapy or other services, beyond staff support and referrals. The Red House will be programmed by the people who use it, Mr. Cropper said.
"That's the way the state wants it," he said, referring to the Massachusetts Bureau of Substance Addiction Services, which is funding the Red House at $400,000 a year for four years as part of a network of peer recovery centers around the commonwealth.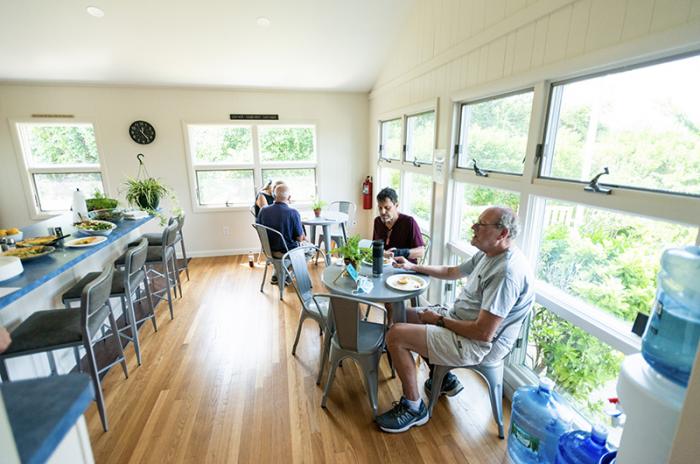 "I think this is where the state of Massachusetts gets this right," continued Mr. Cropper. "The whole peer recovery model really became prominent in New England, and in Massachusetts they really put their money where their mouth is, so there's lots of trainings to get people to recovery centers and recovery coaching."
For those who need more than peer support and self-help, the center's partnership with the hospital allows for quick referrals to clinical services.
"It really works well when you pair a peer with a clinician at the hospital," Mr. Cropper said. "That's when you get great success."
The center can also bolster clients in the MVCS counseling program who need social support, Ms. Folcarelli said.
"We can make some excellent linkages for people," she said.
Last week at the Red House, more than half a dozen people sat down to a noon meal featuring two quiches and a salad prepared by Lucky Hank's chef-owner Douglas Smith. A clipboard on the counter held a list of sign-ups for Red House membership. Close to 50 people enrolled during the relaunched center's first month, Mr. Cropper said.
"The membership doesn't require anything of them, but it enables them to be a part of the decision-making that happens here," he said. "They really drive what this becomes," Mr. Gendreau said.
With an initial membership meeting coming up next month, both men said the center's number one concern — like that of many another Island business — is staffing.
"Our biggest need right now is people," Mr. Cropper said. Recruitment is under way both on and off Island, Mr. Gendreau said.
Ms. Folcarelli said the Red House is a key element in the MVCS strategic plan, which was ratified by the nonprofit's board this year and is now being finalized.
"One of our key focus areas strategically is to serve our community where our community is most comfortable and receptive to services," she said.
"A safe, wonderful, receptive place for people who are in all stages of recovery fits right into that particular part of our vision."
More information about the Red House, including a schedule of meetings, is posted at mvcommunityservices.org/services/peer-recovery-support-center/.