Brian Athearn isn't used to sitting still and keeping quiet, especially at the Agricultural Hall. But on Wednesday, the Agricultural Society president stayed in his seat and listened to a string of speeches in his honor, before accepting the Spirit of the Vineyard Award.
Mr. Athearn's wife, Kate, smiled behind her mask and held her husband's hand as the audience of about 50 heard him described as a tireless volunteer, a visionary leader and collaborator and a man who will do anything for a friend.
"He leads by example and he volunteers hundreds of hours a year to keeping our programs and our buildings and grounds going," said Rebecca Haag, executive director of Island Grown Initiative and an Agricultural Society trustee.
As society president, Mr. Athearn has welcomed aquaculture farmers, helped bring back 4-H and co-launched the Island's first farm bureau branch in four decades, Ms. Haag said.
An avid hunter, he works with Island Grown every deer hunting season to donate and process venison for distribution through the food pantry, community suppers, councils on aging and other hunger-fighting programs on the Island. His MV Hunt Club even facilitated the distribution of meat from a donated moose killed off-Island.
Mr. Athearn's willingness to say yes and take on endless projects gave Ms. Haag the chance to razz him gently.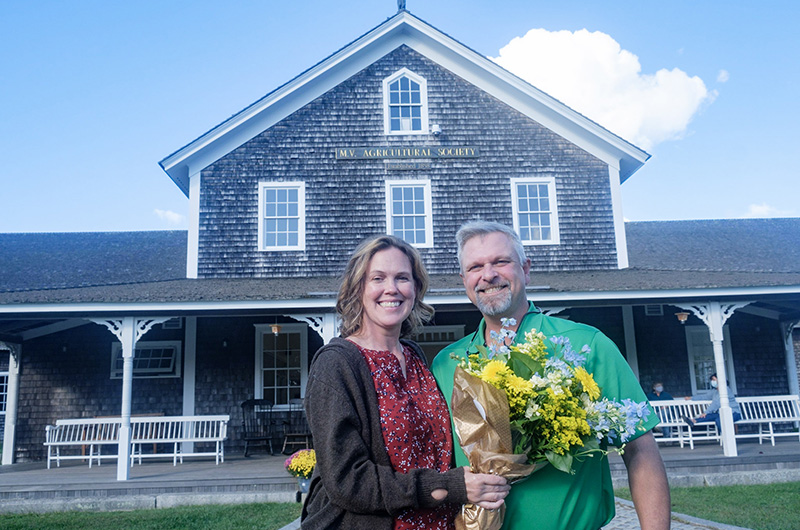 "He embodies to me what many of us share as a spirit of the Vineyard," she said. "He often speaks before he thinks. He acts before he analyzes. He over-commits and endlessly apologizes for dropping the ball. Now, that could be my plumber, my landscaper or me," Ms. Haag said, as the audience laughed.
"But he also leads with his heart and not his head," she continued. "He loves the Island, its people and its tradition, and he gives so much more than he takes. And isn't that truly the spirit of the Vineyard?"
Frequently breaking into applause, listeners also heard from two of Mr. Athearn's friends, Garrison Vieira and Joe Capece.
"He cares about people … and the community in general," said Mr. Vieira, an Agricultural Society vice-president and a lieutenant with the West Tisbury police department who joined the event in uniform."I've learned a lot from Brian."
Mr. Capece spoke with gratitude of how Mr. Athearn kept him company while he was recovering from breakthrough Covid by phoning him so the two could watch the same movie online together.
"It made me think about what a great friend Brian is (and) how selfless he is," Mr. Capece said. "In any situation he is in, he elevates people's spirits, (and) no matter how much he takes on in his life, he'll drop everything to help a friend."
Accepting the award, Mr. Athearn kept his thanks brief, with a characteristic mix of humor and seriousness.
"I feel kind of silly getting an award for something every single one of you in this room has helped to accomplish," he said. "Everything I do, I do on the shoulders of all of you. That's really what it comes down to."
"I always said that I'm going to spend the second half of my life paying this town and this Island back for the first half," he continued, as the audience began to chuckle. "I'm almost there," Mr. Athearn added, as the chuckling turned to peals of laughter.
"But keep coming, keep helping, keep volunteering, and there's not much we can't accomplish here."
Mr. Athearn's award was presented by Polly Brown, president of Vineyard Village at Home and a co-founder of the Spirit of the Vineyard Awards which recognizes dedicated Island volunteers.
The plaque, with Mr. Athearn's name added to those of more than 20 other Islanders honored with the annual award, hangs just inside the Agricultural Hall entrance. He also received an engraved glass bowl to take home.