They may be fish out of water, but the fine-art seascapes, whimsical cartoons and color-rich abstracts in this year's Bass in the Grass auction are helping to raise thousands of dollars for scholarships, artists and the Edgartown Board of Trade.
Schooling in the town's Main street mini-park throughout derby season, the nearly two dozen decorated wooden bass silhouettes are sponsored by businesses from all over the Island who commissioned artists to create one-of-a-kind pieces for the online auction.
While most of the artists are local, Hob Knob commissioned internationally known Jamaican wildlife painter Guy Harvey for its entry.
Mr. Harvey's realistic rendering of a striped bass stands in sober contrast to its neighbors, which range from painter Alena Grady's sumptuous view of Menemsha Basin and Dutcher Dock, with an ocean sunset on the reverse, to cartoonist Paul Karasik's minimalist drawing The One That Got Away, a smiling bass with a real hook trailing a broken fishing line.
Like the derby itself, Bass in the Grass has a tote board. On Thursday morning, Ms. Grady's work, commissioned by Rockland Bank, topped the rank with 27 bids reaching $1,600.
Deborah T. Colter's Hungry Bass (Sandpiper Realty), a wildlife seafood buffet, was second with two dozen bids totaling $1,350 and Rachael Cassiani's compelling abstract Night Catch, for Edgartown Meat and Fish, third with $1,250 bid.
Other standouts in the show include June Schoppe's Sea-Bass Cats, a colorful regatta in Edgartown waters for Old Sculpin Gallery; Susie White's gleaming, bubbly abstract Slinking Through the Eel Grass for Point B Realty; Margot Datz's fish-covered Merman for Cape Cod Five and Leah Fraumeni's Beach Comber, a bass-shaped assemblage of driftwood, shells and other beach treasures sponsored by the Harbor View Hotel.
While paintings — particularly seascapes — tend to top the bidding, Island artist Carly Herosian held a place in the top 10 Thursday with her scallop-shell sculpture Maiden Menemsha, sponsored by Catboat Charters. Departing completely from the template — a trophy-style wooden silhouette that is provided, but not mandatory — Ms. Herosian crafted her own, more dynamic fish shape.
"I wanted to really make it a lively, engaging bass this year," she said.
Ms. Herosian credits Bass in the Grass, in which she's been taking part since it began in 2018, as the springboard to her career as a shell artist on the Vineyard.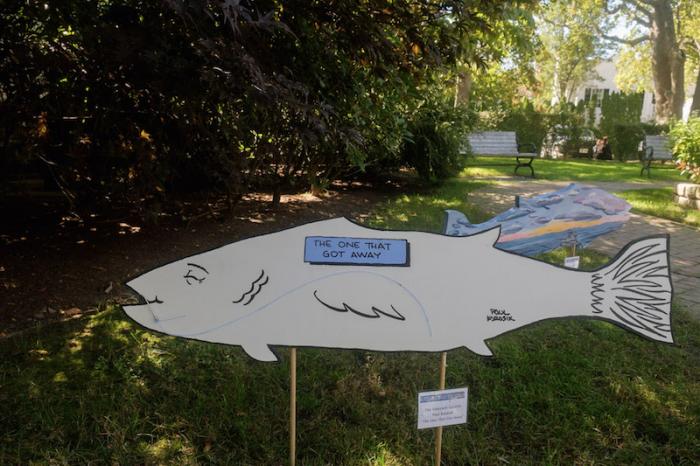 "I've always had an idea of the scallop shells as scales," she said. "Bass in the Grass really gave me the opportunity to bring this idea to life."
Island photographer LA Brown took advantage of this year's Bass in the Grass to collaborate with her niece and business partner Gareth Brown on a mixed-media bass with a folk art look. The two, who run the Kin gallery and shop on Edgartown's Kelley street, applied vintage neckties from Gareth Brown's collection — she makes them into headbands for sale at the shop — to decorate the bass's tail.
LA Brown then finished the body of the fish with her own photography and cut-up circles and strips from an old painting. Her husband Brendan Langley, whom she met at the derby, weatherproofed the work for its sojourn in the park, she said.
"He marine-painted the outside of it, which created a really nice consistent color … a cohesiveness," Ms. Brown said.
Artists receive 50 per cent of the proceeds from the auction, with the remainder split evenly between the board of trade and the derby scholarship fund.
"The whole point is to benefit the community," LA Brown said. "There's a lot of good that happens from these fish."
Visit mvderby.com to bid on some bass. The auction closes Oct. 17 at 11:59 p.m.