It's not every Sunday that the Federated Church displays dozens of pairs of wildly patterned socks in its historic Edgartown sanctuary. But Oct. 31 was a special service, celebrating the 25th anniversary of organist, music minister and noted sock stylist Peter Boak.
Former ministers, longtime parishioners and members of the Island Community Chorus and the Federated choir, both of which Mr. Boak directs, turned out to honor him on a sunny, breezy Halloween morning.
Interim pastor Charlotte Wright — the latest of nine Federated ministers Mr. Boak has served with over his quarter-century there — compared their professional relationship to a three-legged race.
"We are bound together to make this work," Reverend Wright told the congregation during Sunday's service in Mr. Boak's honor. "Peter ties his leg to the pastor and says, 'Okay, trust God... so here we go. If we are together, neither can we fail,'" she said.
Federated Church moderator Jim Butterick called Mr. Boak a stalwart of the church. While praising his work during the pandemic to help establish the church's podcast, Mr. Butterick also looked back at Mr. Boak's leadership of the church choir on overseas tours in pre-Covid days, and appealed to the music minister to stay another 25 years.
"Peter, I've never not been amazed by your energy, your zeal, your knowledge, your love and your caring for us, and we hope you know that you are loved back in equal amounts and maybe even more," Mr. Butterick said.
Violinist Rebecca Laird joined Mr. Boak for Sunday's service, playing Bach's Air on a G String as the prelude, Gabriel's Oboe from The Mission soundtrack by Ennio Morricone for the anthem and, as postlude, a pensive rendition of Jay Ungar's Ashokan Farewell — better known as the theme from 1990 public television series The Civil War — with Mr. Boak's organ sounding remarkably like an acoustic guitar.
But despite the valedictory tone of the final piece, originally written as an end-of-summer-camp lament, Mr. Boak is not bidding farewell to the Federated Church, where he has served for nearly half of his career.
"I started playing in church when I was a junior in high school... so I've been on an organ bench for 53 years," he said at a reception in his honor in the parish hall following Sunday's service. "Twenty-five of them have been at this church [but] every Sunday feels fresh and new," Mr. Boak said. "It still feels like a new job."
With the exception of the Rev. John Schule, who died in 2020, and Rev. Amy Edwards who died in 2016, all of Mr. Boak's former Federated ministers either attended the party or sent their greetings.
Sharon Eckhardt smiled as she recalled hearing the organist and choir rehearsing on Sunday mornings as she walked from the parsonage on South Water street to the Summer street sanctuary, while David Berube reflected on what it meant for Mr. Boak to be the minister of music.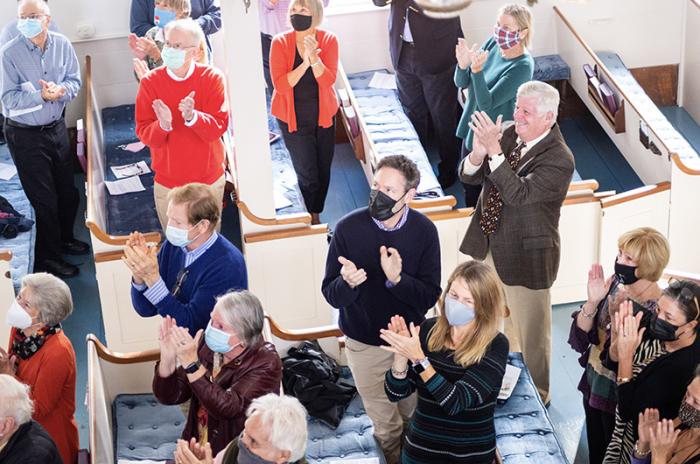 "That was never just a title for you. That is who you are," Reverend Berube said. "It was always a blessing to me to have a ministry partner in this work."
Reverend Wright's immediate predecessor Richard DenUyl, who left the Federated pulpit in November, 2020, emailed a tribute to Mr. Boak from his new post at New Haven's Center Church on the Green.
"Looking back at the four churches I served, you are clearly the best Minister of Music I have ever worked with," wrote Reverend DenUyl, who also thanked him for his personal hospitality.
"Not only did you prepare fabulous meals, but I also got to kill off a whole bottle of wine with a wise and wonderful 100-year-old," Mr. DenUyl wrote, recalling evenings spent with Mr. Boak and his late father Robert, who died last month at 102.
"Every minister needs a place where they can drink and rant and swear and laugh till they cry, knowing that it will not be used against them. It was a real gift," Mr. DenUyl wrote.
Along with tributes, cake and more killer socks, Mr. Boak also was given a pair of dress shoes with rhinestone heels.
"These will go with my socks just beautifully," he said.